Portrait: Quatuor Diotima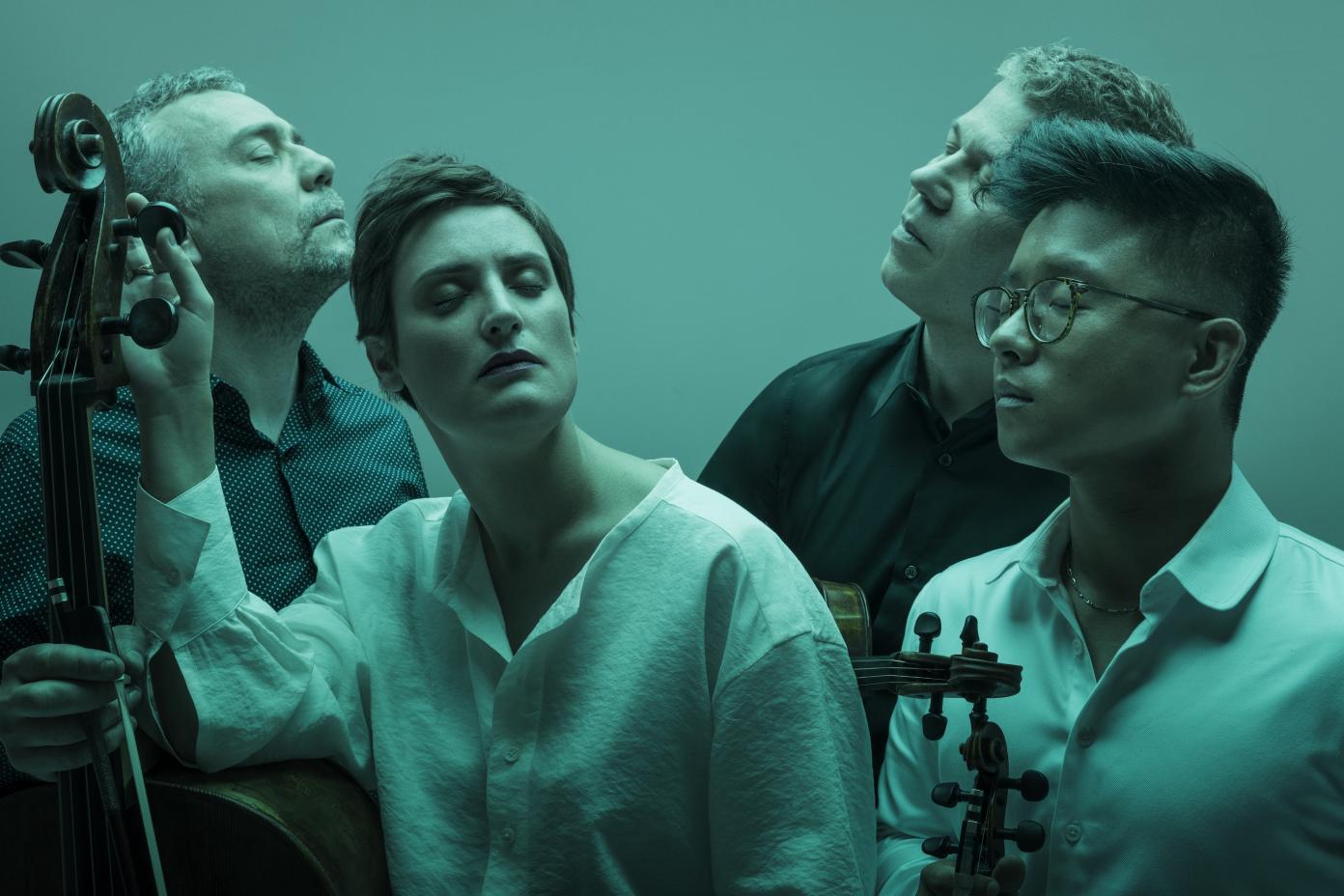 In 2013, the University of Chicago launched a residency program named Don Michael Randel Ensemble-in-Residence, that hosts nationally and internationally renowned musical ensembles. For the 2021-2022 season, the University of Chicago has invited Quatuor Diotima to participate in this program, with the support of Jazz & New Music,  a program of the FACE Foundation and the Cultural Services of the French Embassy in the U.S. After a residency at the Bouffes du Nord in Paris from 2012 to 2016, at the Scène Nationale d'Orléans and at Radio France since 2018, Quatuor Diotima – with Yun-Peng Zhao (violin), Constance Ronzatti (violin), Franck Chevalier (viola) and Pierre Morlet (cello) – will be received by the University of Chicago and will participate in workshops and discussions with composition students while giving public performances. 
A musical and temporal dialogue: from the great classics to contemporary masterpieces 
After playing a piece by Alain Bancquart in Darmstadt, Germany, four laureates of the Paris Conservatory continued the adventure of their string quartet, creating Quatuor Diotima in 1996. The name of this ensemble reveals its musical ambition: "Making previous pieces meet those of the composers with whom we are working with," as the cellist Pierre Morlet so aptly said. Indeed, the name Diotima is not a random choice and reminds us of the heroine in Hyperion, by German romantic poet and philosopher Hölderlin . It also evokes the work Fragmente-Stille, and Diotima by Luigi Nono, an Italian contemporary music composer. This choice to work with a broad musical palette—ranging from avant-garde romanticism to contemporary works by composers including Miroslav Srnka, Gérard Pesson, Toshio Hosokawa, Alberto Posadas, Mauro Lanza, Tristan Murail, and Rebecca—creates a direct dialogue between music history and present-day innovations. "We always try to insert creation into music history, because the history of creation is a continuous history. Its strength is the same in the time of Beethoven, Berg or Lachenmann," said violist Franck Chevalier. 
Discover Miroslav Srnka: Chamber music album with Quatuor Diotima  
Spectators who discover the influence of great composers of the past on today's artists through Quatuor Diotima's work have a unique perspective on music history. The texture of melodies, strings, the overlap of instruments arouses enthusiasm and, above all, curiosity. Each season Quatuor Diotima uses the influence of their music to reveal foundational music pieces including those by Schubert, Enesco, Janáček, Beethoven, and Bartók— all the while offering album-portraits of current composers.  
Quatuor Diotima: what is next in these coming months 
What were Beethoven's 16 quartets in the 19th century? What were Bartók's six quartets in the 20th century? These pieces are celebrated for their avant-gardism and their unique language of communication. Quatuor Diotima provides listeners with a personal interpretation of these masterpieces through an autobiographical exploration of these great composers. The group also explores parts of European music history in their performances, including at the Festival de l'Orangerie in Sceaux, France, the George Enescu Festival in Bucharest, Romania, the Beethoven Fest in Bonn, Germany the Festival Música in Motril, Spain the Muziekgebouw in Amsterdam, the Auditorium of Radio-France in Paris, the Onassis Cultural Center in Athens, the Zaryadyehall in Moscow, the Scène Nationale d'Orléans, and at their upcoming performance at the University of Chicago. 
In their residency program at UChicago,  the group will also showcase exceptional female composers of today, with Brains by Misato Mochizuki, Unbreathed by Rebecca Saunders, and String Quartet No. 2 by Ursula Mamlok. These emotional pieces are full of audacity, passion, and poetry.
While continuing to perform the scores of these virtuous artists, Quatuor Diotima will unveil new projects in the 2020-2021 season by working on the repertoire of Ravel, Chausson, and Brahms and through presenting the world premiere of Code is Poetry by Luis Codera Puzo. They will also reveal new pieces by Mauricio Sotelo, String Quintet with Marc Coppey by Enno Poppe, a new piece by Alberto Posadas, String Quartet n°7 by Bruno Mantovani, and more on the European scene. 
Sign up to receive exclusive news and updates