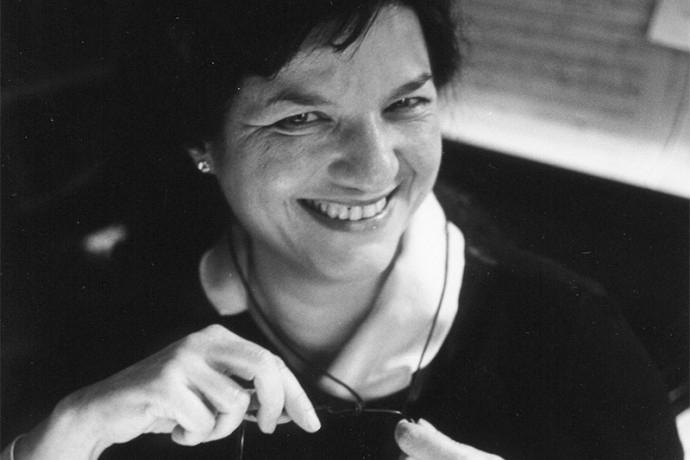 After a US premiere in San Francisco, Los Angeles, and Santa Barbara in 2017, French composer Pascale Criton returns for a new Sounding Limits tour with the duo Tarozzi/Walker for premiere performances on the East Coast, and in the Midwest. 
With the support of the Jazz & New Music touring grant of the FACE Foundation in collaboration with the Cultural Services of the French Embassy, ISSUE Project Room (New York) aims to present two performances of the Sounding Limits program during 2021. Pascale Criton will then participate in a lecture and conversation with students of composition and microtonality at Columbia University. The Sounding Limits tour will continue in Chicago at Constellation with the Frequency Festival, and at the University of Chicago's Gray Center for Arts and Inquiry where the composer will again address an academic community through a lecture and conversation.
Pascale Criton: dive into the world of micro-intervals 
Pascale Criton has been passionate about minute variations in sound, microtunings, and multisensory reception for many years. She first studied composition with the microtonal pioneer Ivan Wyschnegradsky, and continued her studies with spectralist Gérard Grisey, and contemporary music composer Jean-Etienne Marie. Pascale Criton then followed electro-acoustic training at the CIRM (1980-82), and musical computing training for composers at the IRCAM (1986). Her work focuses on the sound continuum and her writings use the scordatura (an unusual tuning of a stringed musical instrument for some special effect). 
Between 1974 and 1987, she was the music advisor of the philosopher Gilles Deleuze. In 1999, the Ensemble 2e2m dedicated a portrait-concert and a publication to Pascale Criton under the name of Pascale Criton, les univers microtempérés. Her avant-gardism also pushed the State to commission Artefact (2001) for instrumental ensemble, Gaïa (2004) for soprano, double bass clarinet, percussion, live electronics with real-time video devices, and Histoires sensibles (2013) for twenty deaf participants and live electronics among others. Her compositions continue to cross borders and are admired by an international audience at Tectonics in Glasgow, at Ars Electronica in Linz, at Ijsbreker Institute in Amsterdam, at the Festival Archipel in Geneva, at the III Pianoforum in Heilbronn, and at the American Festival of Microtonal Music in New York. 
Today, Pascale Criton is the artistic director of ART&FACT. After having been a member of the Musical Theatre Company of Les Ulis and having worked with Transcenic in the production of Ecrans noirs (1982), she returns to the combination of artistic genres to present with ART&FACT performances connecting architecture, music and voice. Ausculter, écouter le son dans l'espace du Couvent de La Tourette, Musique de l'Architecture, Centre Culturel de Rencontre du Couvent de la Tourette (2008); Promenade, Voyager avec Le Corbusier commissioned by Louis Vuitton-La Quinzaine Littéraire, Villa Savoye (2009) and Music in situ, Le Corbusier et la couleur, Rendez-vous sur l'architecture à la Villa Savoye, Centre des Monuments Nationaux – France Culture (2009) are among her creations. 
Soon, she will once again present the Sounding Limits project with her collaborators Silvia Tarozzi and Deborah Walker in the United States. This project includes a series of compositions that take us into the world of micro-intervals with instruments tuned to 1/16th of a tone. 
The Sounding Limits tour with Silvia Tarozzi and Deborah Walker 
The Sounding Limits program includes 3 compositions: Circle Process (2012) for solo violin, Chaoscaccia (2014) for solo cello, and Bothways (2015) for violin and cello. The Italian string duo Tarozzi-Walker carries this project co-authored with Pascale Criton. Reflecting on gestures and techniques to unveil new musical and creative forms since 2008, this dream team uses a violin and a cello tuned in 1/16th of a tone to untie time and space. 
When speaking about micro-intervals, it is important to keep in mind that we are asking performers to play on completely different instruments… Silvia Tarozzi finds herself with a 4-string D violin and Deborah Walker holds a 4-string B cello when they play the five moments of Bothways: Shift, Talk Trails, Coalescent, Impulse, and Sways. The artists discover new sounds and rhythm and reveal a unique musical vocabulary that takes us to a new dimension. Another proof that the human ear has not yet heard all that an instrument has to offer! 
Sign up to receive exclusive news and updates