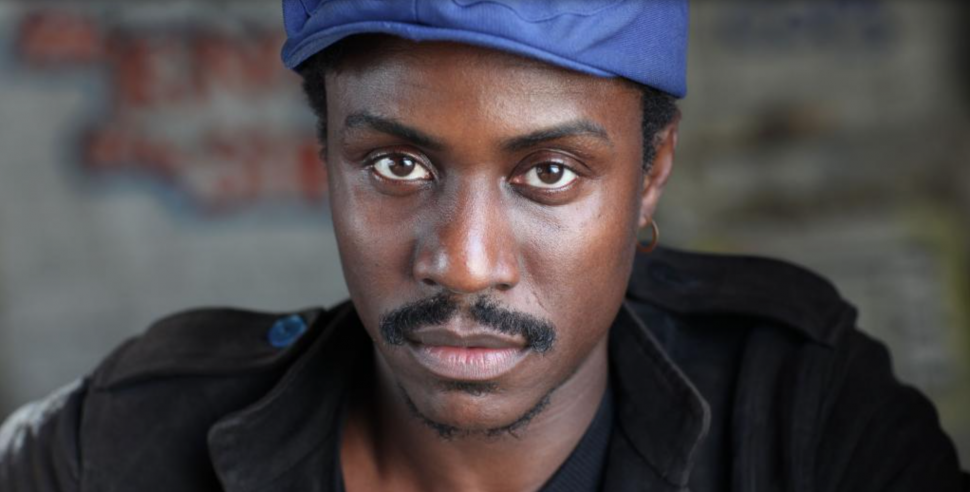 Guy Régis Jr is a playwright, director, actor and founder of « NOUS Théâtre », the first contemporary theatre movement in Haiti. His avant-garde work blends radical writing with committed poetry, and his reputation has made him an essential playwright of our time. Let's take a look back at his career and at one of his masterpieces, De toute la terre le grand effarement (And the Whole World Quakes: The Great Collapse). 
Guy Régis Jr: a man of conviction 
Born in Port-au-Prince, Haiti, in 1974, Guy Régis Jr spent his childhood between Liancourt, Haiti and the capital with his mother and grandmother. At school, he developed a passion for the French language, writing poems for his classmates. A few years later, while studying anthropology and psychology, Guy Régis Jr enrolled at the Institut Français, where he attended conferences for writers. In 1997, he started work as a stage technician, working alongside artists including author Syto Cavé and choreographer Karine Saporta. 
This unique experience led him to create the Nous Théâtre Association in 2001. To mark the rebirth of Haitian theatre, the collective walked the streets, dressed in black, to pay remembrances to the lost theatrical practices. Through this act, Guy Régis Jr affirmed his desire to use art as a means of global change. In 2003, the show Service Violence Série was a phenomenal success. Sketches, slogans, and rituals are intertwined to denounce violence, dictatorship, corruption, and injustice in Haiti. The multidimensional show was subsequently performed at the Théâtre National in Brussels, the Liège Festival in Brussels, and at the festival Les Francophonies, Des écritures à la scène. 
"As I got to know theatre, I realized it could get people thinking, just like real life can," Guy Regis Jr said. 
His creativity is endless—he wrote poems including Le Temps des Carnassiers in 2000, and short films including Pays sauve qui peut (2001), Black out (2001), and Monsieur Le Président (2011). He also translated the works of Albert Camus, Maurice Maeterlinck, Marcel Proust, and Bernard-Marie Koltès into Créole. Aiming to develop the living arts in Haiti, he participated in the project Migrants in 2012 and 2013, was director of the theatre section of Ecole Nationale des Arts d'Haïti from 2012 to 2014. He is currently the artistic director of the Festival Quatre Chemins. Guy Regis Jr has penned groundbreaking texts including Ida and monologue déchet, which was presented in 2007 on the Tarmac de la Villette stage in Paris. For his 2009 text Le Père, Guy Regis Jr received the Association Beaumarchais prize for contemporary theatrical writing in the Caribbean. Guy Régis Jr is also a Open Society Foundation Soros Arts fellow in 2018 for A City of Poetry, a project he conceived of and set in the streets of Port-au-Prince. 
After an earthquake devastated the Haitian capital in 2010, Guy Régis Jr wrote De toute la terre, le grand effarement, translated into english, And the Whole World Quakes: The Great Collapse. The piece was staged at the Festival d'Avignon in France. The piece is part of the body of texts that mark a turning point for contemporary Haitian literature. 
And the Whole World Quakes: The Great Collapse—how the 2010 earthquake revolutionized contemporary Haitian literature 
When a magnitude 7.0 earthquake leveled the capital of Haiti in 2010, the lives of its inhabitants were turned upside down. Likewise, contemporary Haitian literature embraced a new genre: The earthquake writings. Ever since the 2010 earthquake, Haitian literature shifted from focusing on the regimes of former presidents François Duvalier and Jean-Claude Duvalier to the catastrophe. Guy Régis Jr (De toute la terre le grand effarement), Yanick Lahens (Failles), Marvin Victor (Corps Mêlés), Makenzy Orcel (Les Immortelles), Pierre Moïse Célestin (Le Coeur sous les décombres), Dominique Batraville (L'Ange du Charbon), and Dany Laferrière (Tout bouge autour de moi) are among the authors who have enriched and contributed to this new genre.
And the Whole World Quakes: The Great Collapse is a symbolic work by Guy Régis Jr. His text illustrates the dramatic consequences of the earthquake for the Haitian population, which saw its country as a breeding ground for neo-colonialism. The story features two sex workers who survived the collapse of the brothel Bèl Amou. Looking at the sky, they count the seemingly endless shooting stars, each representing a person who died buried under the remains of collapsed buildings, but also the number of people who fled the country, and the number of planes carrying "international aid." The two women, wearing French and American uniforms, play this funeral game while sharing a moment of violent eroticism—an allegory of the struggle of the two powers in Haiti. The piece's poignant lyricism is an accusation against the international community. 
After being published by theater publishing house Les Solitaires Intempestifs in 2011, De toute la terre le grand effarement was performed at the Festival d'Avignon. A staged reading of the play, translated into English by Judith Miller as And the Whole World Quakes: The Great Collapse and directed by Kaneza Schaal, was presented in 2019 at The Martin E. Segal Theatre Center in New York under the project Caribbean Theatre Action/Actions Caribéennes Théâtrales, curated by Stéphanie Berard. 
This year, a FACE Contemporary Theater grant was awarded to the new project Quake, a collaboration between Guy Régis Jr, Kaneza Schaal, performers Gina Athena Ulysse and Cheyanne Williams, and the Abrons Art Center in New York for a production in 2021 and 2022. 
Sign up to receive exclusive news and updates