France Shone at SXSW 2022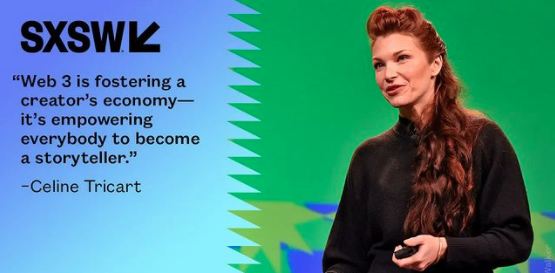 At South by Southwest, French creation showed its strengths in the VR industry to an international audience. Villa Albertine highlighted creators making impact with VR.
South by Southwest is a major festival dedicated to digital creation and is a must-attend event for all players in the digital industry, from start-ups to investors, from large corporations to entrepreneurs.   
France stood out with two awards for virtual reality: On the Morning You Wake (To the End of the World) by Dr. Jamaica Heolomeleikalani Osorio, Mike Brett, Steve Jamison, Pierre Zandrowicz, and Arnaud Colinart won the Jury Award for XR Experiences, and (Hi)story of a Painting: The Light in the Shadow by Quentin Darras and Gaëlle Mourre received the special Jury Recognition for Immersive Storytelling. 
During the festival, several VR projects from French productions were showcased: Goliath: Playing With Reality (2021), Minimum Mass (2020), Liminal Lands (2021), and Patch XR (2022).
Céline Tricart, the award-winning filmmaker behind short VR films Sun Ladies and The Key and Villa Albertine resident, presented a keynote speech at the festival, issuing a challenge to established storytellers as well as the new breed of blockchain-based NFT peddlers: tell better stories and make them more collaborative. 
Also during the festival, Villa Albertine presented a panel titled "It's time for change! How VR creators impact our society" at DadaLab in Austin, in the presence of the French Ambassador to the United States. We invited Pierre Zandowicz, May Abdalla, and Katayoun Dibamehr to share about the urgency to initiate change through tech and narration. For the panel, Zurich-based French artist Melodie Mousset launched her new tool for music in the metaverse, Patch XR.   
This year marked the first time a French delegation composed of ten start-ups (Evergig, Meludia, Openclassroom, Metuilab, Whyd, Qobus, Azendoo, Bobler, Sounderbox, and Djehouti) was present at SXSW. Selected by UbiFrance, these French start-ups aim to bring the voice of French tech to the US and expand their entrepreneurial ecosystem abroad. 
Sign up to receive exclusive news and updates