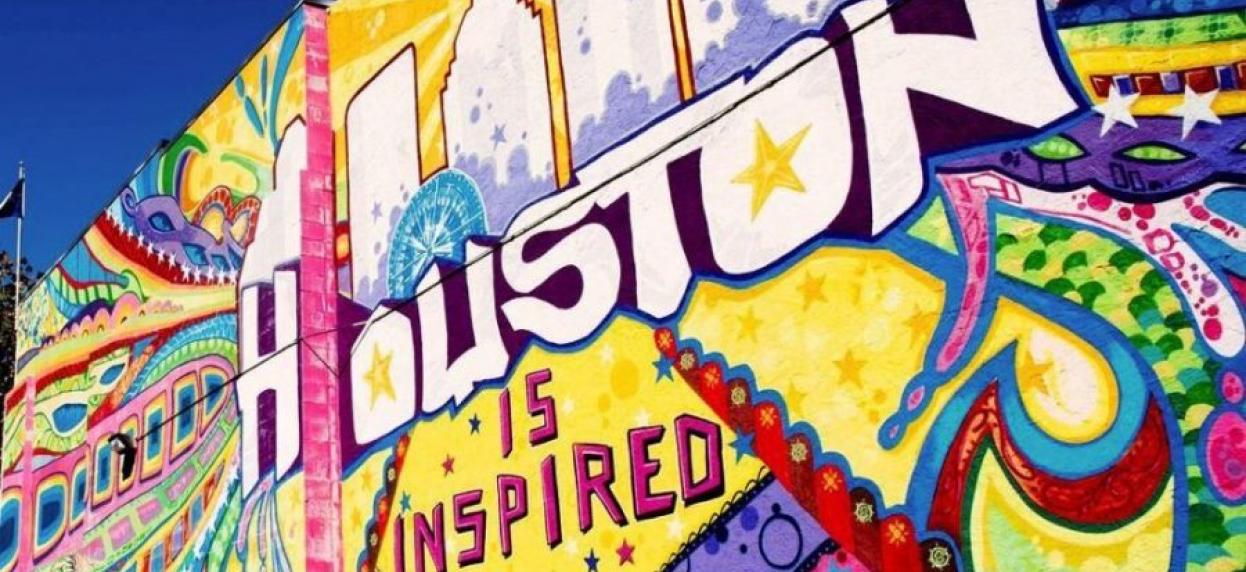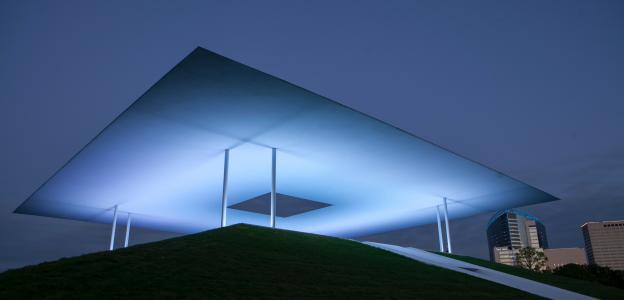 For its inaugural season, Villa Albertine will host residency programs all over Texas, including in Houston and Marfa. These two cities are a study in contrasts for the Lone Star state: dubbed the "Bayou City," the former is a sprawling, multicultural metropolis and a hub for the oil and aerospace industries, whereas the latter is a small rural desert community near the Mexican border and a mecca for contemporary art.
"Houston is Inspired." The iconic mural, now a Houston landmark, is an invitation to take a new look at a city renowned for its industry, but less so for its cultural diversity and vibrant art scene. Despite its occasionally extreme weather conditions, Houston has a cosmopolitan population: taxes and housing are slightly less expensive than on the West Coast, and the city enjoys a robust economy driven by the oil, aerospace, and healthcare industries. These factors help explain the gradual influx of young creatives into Houston and, more generally, into Texas as a whole (thanks to Rice University, UT Texas, and dynamic video game companies).
Houston intends to become a major city for art and is already home to a large number of institutions. The Houston Theater District has the second largest concentration of theater seats in the US after Broadway and, further south, the Museum District is one of the largest in North America. French philanthropists Jean and Dominique de Menil, heirs to the Schlumberger fortune, transformed Houston into a hotspot for the arts with the creation of the Menil Collection, the Rothko Chapel, the Cy Twombly Gallery, and more. Local social initiatives include the Project Row Houses, a combination of social housing, business incubators, and residencies for African American artists in a neighborhood of renovated shotgun houses. Houston is a true source of inspiration to those interested in exploring less-established art scenes than those on the coasts, which may mean venturing further – to Austin for the SXSW Festival, or through the desert to reach Marfa.
A nine-hour drive from Houston, Marfa lies near the Mexican border. This small town of less than 2,000 inhabitants has become an art oasis in the desert and a world-famous contemporary art outpost. The story began in 1979, when minimalist artist Donald Judd decided to leave the bustle of Manhattan for the solitude of Marfa. He bought a disused military base from the US army, where he set up his foundation to display major art installations of his own work and that of major artists, such as John Chamberlain, Dan Flavin, Roni Horn, and Ilya Kabakov. With its unique combination of rurality and eccentricity, Marfa has grown into one of the world's great contemporary art centers, where a new generation of artists has kept the flame alive.
While Texas, and especially Houston, is home to the greater part of the US space industry, Marfa is an ideal place for stargazing in the desert. Fifty years after the Apollo 11 mission and the first human on the Moon, the fantasy of space exploration has taken a new turn with SpaceX's ambitious plans for a colony on Mars and Blue Horizon's goal of enabling sustainable life in space.
Villa Albertine's presence in Houston and first residents in Marfa serve as a reminder that artists and thinkers have always been interested in exploring new frontiers and that today, more than ever, they need to keep that curiosity alive.
Sign up to receive exclusive news and updates