Léa Hirschfeld: Disability and Dignity Through Podcasting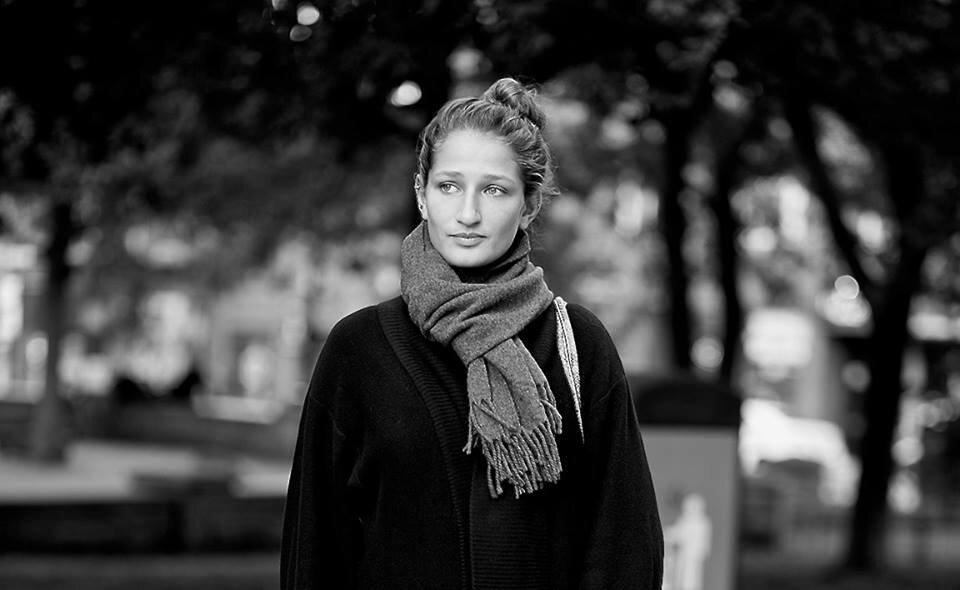 By Léa Hirschfeld by Dalia Rubinstein
Villa Albertine resident Léa Hirschfeld is the creator of the podcast Décalés, which highlights the different dimensions of disability – intellectual, physical and mental – and recounts both the lived experience of disability and the experiences of loved ones. During her residency, Léa traveled throughout the United States, discovering how disability is experienced across the country and sharing the stories she discovered along the way.
July 26, 2023 marks the 33rd anniversary of the Americans with Disabilities Act (ADA), a milestone piece of civil rights legislation which affords key legal protections to Americans with disabilities. Disability justice is becoming a growing conversation in the artistic world: at the 2022 Oscars, actor Troy Kotsur made history by becoming the first deaf person ever to win the Academy Award for Best Supporting Actor in the film CODA (Child of Deaf Adult), which swept the Academy Award for Best Picture that same year. Still, the topic of disability often remains taboo, and despite important strides, room for progress is considerable.
I checked in with Villa Albertine Resident Léa Hirschfeld, the Paris-based creator of the podcast Décalés ("Out-Of-Sync"). Born out of personal experience, Léa's podcast aims to shed light on disabilities – intellectual, physical, and mental – and covers both the first-hand experience of disability and the experiences of friends and family. During her residency, Léa travelled throughout the United States, exploring the landscape of disability across the country, and sharing the stories she discovered along the way. Through her residency, Léa's podcast will become bilingual, tell new stories, and reach new audiences. Together, Léa and I spoke about her project, her time with Villa Albertine, and how podcasting as an art form can bring new recognition, comfort, and voice to those experiencing disability.
Your project touches on a deeply personal topic. What are your earliest memories of disability?
I grew up with an older brother who has a cognitive disability. It was my norm, but I could also tell that nobody around me had a sibling like mine. When you're a kid, you're aware of all kinds of things that adults think you don't notice yet. I was invited to birthday parties, and he wasn't. I got to go to the local public school, but we couldn't find a school for him. Public spaces like the metro or the supermarket were challenging. It was hard for him to learn and understand social codes. That's when, as a sibling or a parent, you are confronted to the onlook of others. Some people get it, some others don't. It can be really tough.
What do you feel is misunderstood about disability?
Like many, I was a bit of a rebellious teenager. I looked to psychologists for help, but whenever they heard "disability", it was case closed. Their vision was simple: my brother had taken up too much space in my home life, and I had lacked love and attention. At first, I felt helpless, because the truth was, I missed my brother, and I needed help better communicating with him. Then I realized they simply didn't know better. I felt very betrayed, even though I knew they had good intentions. That's when I started feeling responsible for doing what I could to change people's perspective on disability.
When I was 19, I learned about a place called Zeno Mountain Farm in Vermont, the place I would go on to build my residency around. I spent a month there in the summer of 2015, and have returned every year since. I discovered this amazing hippie summer camp designed for adults with and without disabilities. For the first time, disability was just part of life – and even more so, an opportunity to be creative. Those who used wheelchairs were put on adapted windsurfs; we put on musicals and made movies. Everyone was under the spotlight. Everyone was valued. And everyone got the support they needed. We were having a blast – I couldn't see why anybody wouldn't want to be there! Zeno is a place where everybody belongs, that gives you a comfortable seat in the world to know that you are wanted and valued. It becomes a chosen family, because we all have a story in common, a sensitivity to the world, a way of creating the ideal society that we would like to live in. I was also learning about disability and how to live with it, in a way that I couldn't really do at home because the emotions were too strong. Growing up with something only gives you one perspective on it – your own. You really have to get out there to understand it.
How did your podcast emerge?
I had left the house when I was 17, and when I was 25 – Covid hit. I asked my parents if I could live on their couch for a few weeks and moved back in with them and my brother. For the first time in nearly eight years, he and I had a day-to-day relationship. We would cook together, make bread together, exercise together. My whole life I had felt like we didn't "get" one another, and now I was seeing the impact that we were having on each other, how we made the other grow. For the first time, I felt balance between us, what I imagined a "true" brother-sister relationship was like. During the confinement, I started to see him differently: as a 28-year-old man. I posted a piece to my Instagram page about this experience, which opened me up to a whole new world. My writing got picked up by the Huffington Post and the Journal of Wild Culture, and the response was considerable. I started receiving hundreds of emails, phone calls, and Instagram notifications from people who all had a relationship to someone with a disability – siblings, parents, all profiles, and all kinds of disabilities. People wanted to share their story; most of them were doing it for the first time. There was a lot of loneliness, a lot of distress and confusion about where to go next. The testimonies were honest, they were raw, and they identified a lot of systemic problems – in schools, in the medical world, at work. Many of them shared the same bruises. I knew that I had to do something with all these conversations.
So, I decided to learn how to edit, and to start a podcast. I didn't want to focus on one specific disability, but rather on the notion of handicap at large and feeling "en décalage", out-of-sync. I ended up naming my podcast Décalés, after this idea. The podcast asks, what does it mean to grow up with somebody who has needs that are more special than yours? How does this affect family life? I decided that the first season would focus on sibling relationships – the area in which I felt I had the most legitimacy. I wanted to go in depth and bring in different perspectives. I interviewed people ranging from 11 to 80 years old. The stories were all so different and from such different time periods, yet they still had so much in common with one another.
I did a second season with participants who themselves have disabilities – mental, intellectual, physical. I spoke to a girl who has multiple sclerosis, a guy who is bipolar, another with down syndrome. We've seen some people with cognitive disabilities on TV, but I had never heard someone with down syndrome on a podcast before. It's like we don't trust them to go in depth about their own stories.
What stories did you gather during your residency with Villa Albertine?
I had always known that I wanted to do a project around Zeno, the place in Vermont where it all started. So, when I discovered Villa Albertine's call for applications, I knew that I had to apply. As part of my residency, I have been to Vermont, Boston, New York, North Carolina, Atlanta, Los Angeles, and San Francisco, and have been able to connect on different areas in different cities. I interviewed the founders of Zeno about the genesis of their project. I interviewed neighbors, parents, researchers, siblings, and twin siblings. For the first time, I interviewed almost a full family.
As I've moved throughout the country, I have learned how people's lived experiences are affected by their environments. I've also learned things which, coming from France, I would not have thought to ask. For example, I've learned that just moving from one state to another can be a huge consideration. I spoke to a woman with cerebral palsy who was born in Connecticut and moved one state away, to Massachusetts, for her studies. She is now in her 40s and would like to move back to Connecticut, but for her to switch from one state's health system to the other, the wait time would be of about a year. One year represents thousands of dollars for someone who receives the amount of in-home care which she vitally needs. So now she's stuck. In many of my conversations, we talk about the dignity of choice, the dignity of risk, the dignity of being able to explore without being infantilized – you can't know the limit until you try. Being supported by the Villa Albertine in this project, being able to work within the Villa Albertine network gives me a lot of strength as an independent creator. It also sends the message that institutions are following the move and opening the conversation. It's very motivating and special. And it's just the beginning.
To learn more about Léa Hirschfeld and her project, visit the website of Villa Albertine. Season 3 of Léa's Podcast, Décalés, is now available on all major streaming platforms.
Sign up to receive exclusive news and updates