Baker's Blues: St. Louis Remembers Josephine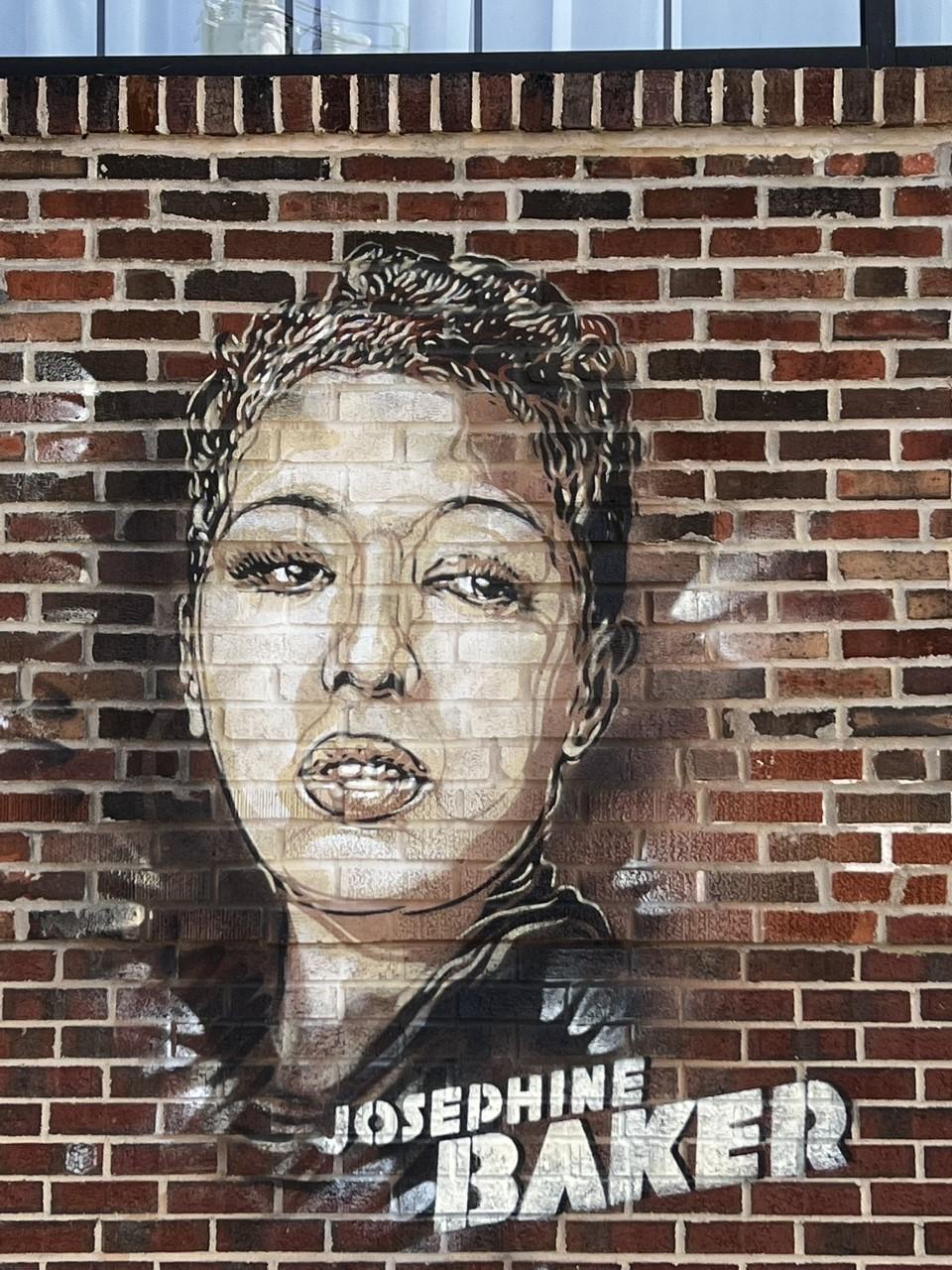 Josephine Baker's entry into the Pantheon has been the subject of many interpretations. While in Paris, President Macron inscribed the artist and resistance fighter in a universalism inherited from the Enlightenment; in St. Louis, on the same day, through the voice of Mayor Tishaura Jones, her fate was intimately linked to that of the Black community, proof that on both sides of the Atlantic, Josephine Baker continues to play a political role.
On Tuesday, November 30, the day Josephine Baker was inducted into the Panthéon in Paris, she was also commemorated in her hometown. To some, it might seem paradoxical to celebrate Baker in a place that she disdainfully recalled as a backwater town where she had experienced daily misery and racism. It was here that she witnessed the racial violence of July 2, 1917, described in a petition to Congress as "a very orgy of inhuman butchery during which more than fifty colored men, women and children were beaten with bludgeons, stoned, shot, drowned, hanged or burned to death—all without any effective interference on the part of the police, sheriff or military authorities."
Being born in St. Louis in 1906 meant living at the gateway to the South, the last train stop before 'colored' passengers had to move to separate carriages in order to enter a region where they had no right to a vote, a job, or an education. At that time, the city did not enforce the same apartheid codes as the South, but it still bore the marks of the Jim Crow laws that had restricted African American constitutional rights. Evidently, Baker's love of Paris did not exist in a vacuum; it must be understood alongside her hatred of St. Louis, where she experienced genuine trauma, as alluded to in her speech during the 1963 March on Washington, DC: "When I was a child and they burned me out of my home, I was frightened and I ran away."
But her talent, too, is part of the musical backdrop of a city that had a proud stake in developing Scott Joplin's ragtime, Chuck Berry's pioneering rock 'n' roll, and Miles Davis' jazz. To be Black in St. Louis meant finding refuge in dance and the music hall. This is evidenced in "Saint Louis Sound," an exhibition partly dedicated to the 'Black Venus,' which promotes the outstanding cultural heritage of a city that has produced so many trailblazing musicians.
St. Louis had, in fact, already paid tribute to Baker long before her induction into the Panthéon. Lois Conley, Director of the city's Griot Museum of Black History, founded in 1997, reminds us that one of its permanent galleries is dedicated to the icon. Featuring a wax sculpture of Baker in an evening gown, the gallery goes beyond the clichéd 'banana two-piece' to portray her as the role model and 'great woman' she was, in the words of Conley. For her, the failure of the US to properly acknowledge Baker speaks to its relegation of African-Americans to the rank of second-class citizens. This is why she sees it as utterly vital to continue representing and commemorating the star in her home city of St. Louis.
Indeed, St. Louis remains, now more than ever, an epicenter of social and racial division in the US. Were she alive in 2021, Baker would be able to recognize the same geographical barriers of division; the same gated communities; and the infamous Delmar Divide, named after the boulevard that sections off the disadvantaged Black neighborhoods in the north of the city. Given all this, it is hardly surprising that the initial protests that birthed the Black Lives Matter (BLM) movement took place in the St. Louis suburb of Ferguson, in response to the murder of Michael Brown by a white police officer on August 9, 2014.
The "Girl from St. Louis" (as she was nicknamed by a Fox reporter) who delivered her anti-racism speech in 1963 alongside Martin Luther King would find that her struggles are being led by progressives today, who are still fighting for the reform of a police force fraught with cultural and institutional racism.
While she has been lauded by French President Emmanuel Macron as a symbol of French diversity and defender of the values of the republic, St. Louis commends Baker mainly for having spearheaded the struggles that paved the way for Black Lives Matter. It was this facet of Baker, the pioneer of militant activism, that was praised by Tishaura Jones, the first Black woman to be elected as mayor of St. Louis, on April 21, 2021. In her speech at Washington University during the commemoration organized by the French Connexions Center for Excellence, she described the icon thusly: "Josephine, a Saint-Louis native, exemplifies what makes our city so special.
From the Dred Scott case to the Black Lives Matter movement to the Funsten Nut strike, our city has been a quiet leader on civil rights, not always getting our due. Josephine proudly put St. Louis on the map in the most powerful and profound ways, taking those values we celebrate with her no matter how high she climbed or how famous she became." In this way, Jones inscribed Baker in the region's long history of activism, from the Dred Scott decision of March 6, 1857 (whereby the Supreme Court refused to grant freedom to Scott, an enslaved Black man, despite him having been moved from Missouri to a free territory) all the way through to the Black Lives Matter movement. Jones also reminded her audience of a lesser-known strike from 1933, led by the Black women workers of the Funsten pecan factory, who successfully petitioned to be paid the same as their white colleagues.
While President Macron in Paris was enshrining Baker in a legacy of universalism passed down from the Enlightenment, Jones spoke in St. Louis of the intimate links between Baker's story and the history of the Black community in her hometown. The former described Baker as "a black person who stood up for black people, but, first and foremost, a woman who defended humankind … And let no one today distort or misappropriate her universal struggle! This was not a struggle to define herself as Black before defining herself as American or French, nor one to declare the irreducibility of the Black cause."
By contrast, Jones situated Baker's actions as part and parcel of St. Louis. She quoted from Baker's homecoming concert, on February 3, 1952, which she agreed to do only after she was given assurances that the audience would be integrated: "After her performance, she delivered a riveting speech," Jones said. "Asking the pivotal question that still resonates with us today: 'Americans, the eyes of the world are upon you. How can you expect the world to believe in you and respect your preaching of democracy when you yourself treat your colored brothers as you do?'"
Certainly, Paris and St. Louis differ in how they remember Josephine Baker and interpret her ideological fight. The speech at the Panthéon told of how she represented values of universal brotherhood that stretch back to the French Revolution: "You are entering this Panthéon because although you were born American there is no one more French than you." Jones, however, alluded to the way Baker has continued to inspire the African American community in its ongoing struggle against systemic racism. In either case, it is clear that Baker still occupies a vital role in the politics of our two countries.
Lionel Cuillé is Teaching Professor of French studies, Washington University in St. Louis, and director of the French ConneXions cultural center.
References:
Missouri History Museum 
Radio interview with Lois Conley
Speech by Emmanuel Macron at the Panthéon, November 30, 2021.
Speech by Mayor Tishaura Jones at Graham Memorial Chapel at Washington University in St. Louis, November, 30, 2021.
Sign up to receive exclusive news and updates