Visual Arts Center in Austin Presents Exhibition with Frac Bretagne – Art Norac Recipient Corentin Canesson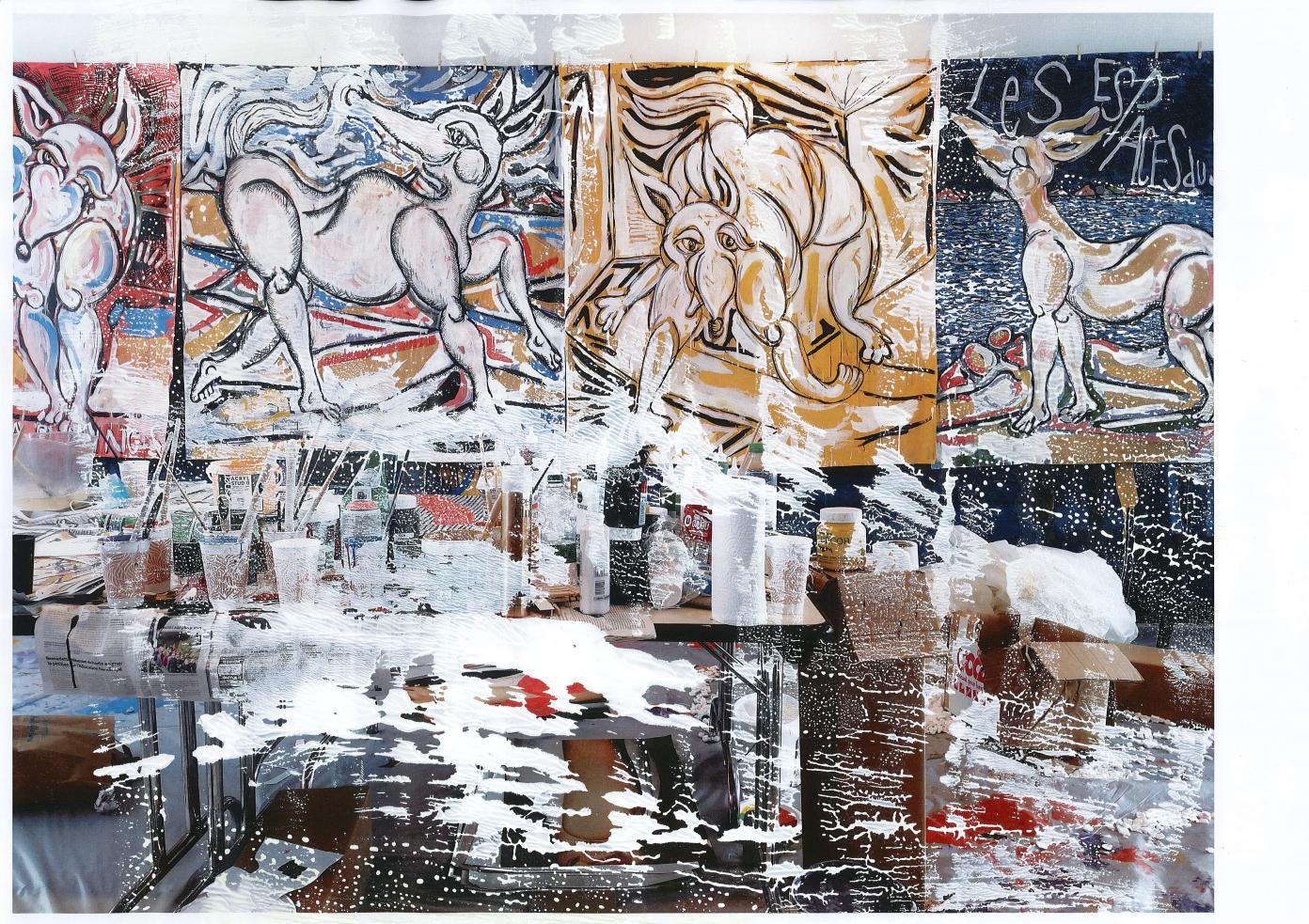 Visual Art Center
2300 Trinity St
Austin, TX, US 78712
January 28-March 12, 2022
Confronting the legacies of painting through a reconsideration of conventional modes of display, Sleep Spaces / Les espaces du sommeil is a group exhibition, featuring works by Corentin Canesson alongside contributions by 37 other artists. The exhibition, on view at the Visual Art Center in Austin, TX from January 28 – March 12, 2022, is supported by Villa Albertine.
Sleep Spaces is named for a poem by the influential French surrealist poet Robert Desnos between 1919 and 1929. Written with the kind of free associations that are characteristic of surrealist automatic writing, Desnos' "Les espaces du sommeil" combines the sounds and sights of the night, of dreaming, with the constant refrain, "there you are… there you are." In Sleep Spaces, the surrealist strategy of combining disparate and seemingly incongruous references, objects, and symbols becomes a curatorial conceit to construct new associations, achieved by combining historical and contemporary works of art. These groupings challenge us to consider how we interpret works of art and how curatorial choices aid in this process.  
Canesson's site-responsive installation attempts to do just this, by fostering new modes of interpretation through surprising moments of connection. The exhibition also features an ambient soundtrack with music from Canesson's experimental band, TNHCH. 
Corentin Canesson: Sleep Spaces / Les espaces du sommeil is organized as part of the Frac Bretagne – Art Norac Award of which Canesson is the 2021 award recipient. Created to promote the work of emerging artists from the Brittany region of France, the award is supported by Frac Bretagne, a leading institution in the western region of France, and Art Norac, an organization dedicated to the patronage of the arts.  
The exhibition is supported by Villa Albertine / FACE Foundation and Galerie Sator, Paris.  
About Corentin Canesson
Corentin Canesson (b. 1988, Brest, France) lives and works in Paris and Brest, France. He received his DNSEP at École Européenne Supérieure d'Art de Bretagne, Rennes (2011) and attended Hochschule für Grafik und Buchkunst, Leipzig (2010). He has had solo exhibitions at the Galerie Sator, Paris (2020); Gallery Nathalie Obadia, Paris (2018); Centre d'art Contemporain le Crédac, Ivry-sur-Seine (2017); Centre d'art Contemporain Passerelle, Brest (2015); amongst others. His work has also been in group exhibitions at Musée Zadkine, Paris (2021); Frac Bretagne, Rennes (2021); Art au Centre, Liége (2020); Frac Champagne-Ardenne, Reims (2019); Les Abattoirs de Toulouse (2017); and Jean Brolly Gallery, Paris (2020, 2016). Canesson received the Frac Bretagne-Art Norac Award (2021) and participated in the Ricard Prize sponsored by the Pernod Ricard Corporate foundation (2019). He co-directed Standards, Rennes (2008-2014) and is a curatorial resident at DOC!, Paris. He is a guitarist in the experimental band TNHCH.  
Sign up to receive exclusive news and updates