Théâtre Raymond Kabbaz and Théâtre Erick Moreau Present: Successful Women, Inspiring Stories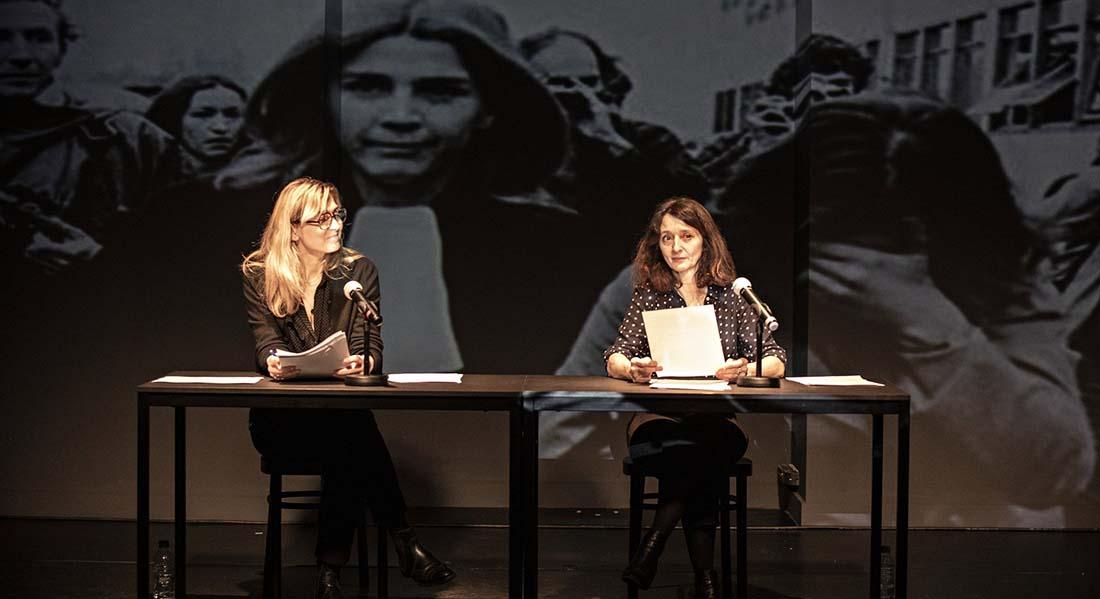 Théâtre Raymond Kabbaz
10361 West Pico Blvd.
Los Angeles, US 90064
March 5, 2022 | 8pm
Théâtre Erick Moreau (TLF) and Théâtre Raymond Kabbaz (TRK), the performance spaces at Le Lycée Français de San Francisco and le Lycée français de Los Angeles, are proud to present Je ne serais pas arrivée là, si…(I wouldn't have made it here, if…).
Two shows are scheduled on
Tuesday, March 3 at 7.30pm in San Francisco
Saturday, March 5 at 8pm in Los Angeles
JE NE SERAIS PAS ARRIVÉE LÀ, SI… (I wouldn't have made it here, if…)
By: Annick Cojean
Directed by: Judith Henry
Starring: Julie Gayet and Judith Henry
Text published by: Grasset and Fasquelle
75 min., no intermission.
The performance will be in French, with English supertitles.
Tickets can be purchased here for Los Angeles and here for San Francisco. 
The performance is suitable for ages 18 and up.
I wouldn't have made it here, if…
Simple words that ask a greater question: what made me the person I am today? What happy coincidence, accident, encounter, or choices have I made that set the course of my life in motion?
Adapted from a series of revelatory interviews by Annick Cojean, a special correspondent for Le Monde and one of France's most widely admired journalists, we delve into the intimate lives of trailblazing women who have shaped French culture, like Christiane Taubira (politician and 2022 French presidential candidate), Gisèle Halimi (lawyer and essayist), Virginie Despentes (writer, novelist, and filmmaker), Françoise Héritier (anthropologist and ethnologist), Nina Bouraoui (novelist and songwriter), and Amélie Nothomb (novelist).
Performed by celebrity French actress Julie Gayet and Judith Henry (who also directed the production), we are exposed to the thoughtful and surprising answers to the prompt "I wouldn't have made it here if…". It is through these interviews, with women of different generations and backgrounds, that one generation of women speaks to the future, and through this dialogue, a shared history is written.
Celebrated in advance of International Women's Day on March 8, a day of global recognition of the achievements of women around the world, this production offers a uniquely French perspective on women's role in society.
The performance is followed by a Q&A with Annick Cojean and moderated by Pulitzer Prize and Emmy award winner Patt Morrison, a writer and columnist for the Los Angeles Times. Patt has interviewed a myriad of brilliant people such as Jimmy Carter, Ruth Bader Ginsburg, Leonard Cohen, Stephen Hawking, Oprah Winfrey, and so many others. 
About Théâtre Raymond Kabbaz : 
Théâtre Raymond Kabbaz (TRK) is a non-profit dedicated to the promotion of art and culture in Los Angeles. This 220-seat theater welcomes multidisciplinary and multicultural shows. TRK's mission is to be an open window on French and international cultures and to inspire and sustain a lifelong appreciation for the arts.
For more information, please visit their website.
About Théâtre Erick Moreau – TLF:
Erick Moreau was the President of the Lycée Français Board of Directors for 6 years. He passed away in 2021 after a courageous and hard-fought health battle.  
In addition to these events, the TLF offers acting classes, starting this year. It is open to all French speakers from the Bay Area who wish to learn performing arts in a theater. 
For more information, please visit their website  
Sign up to receive exclusive news and updates