St. Louis Robert Classic French Film Festival 2023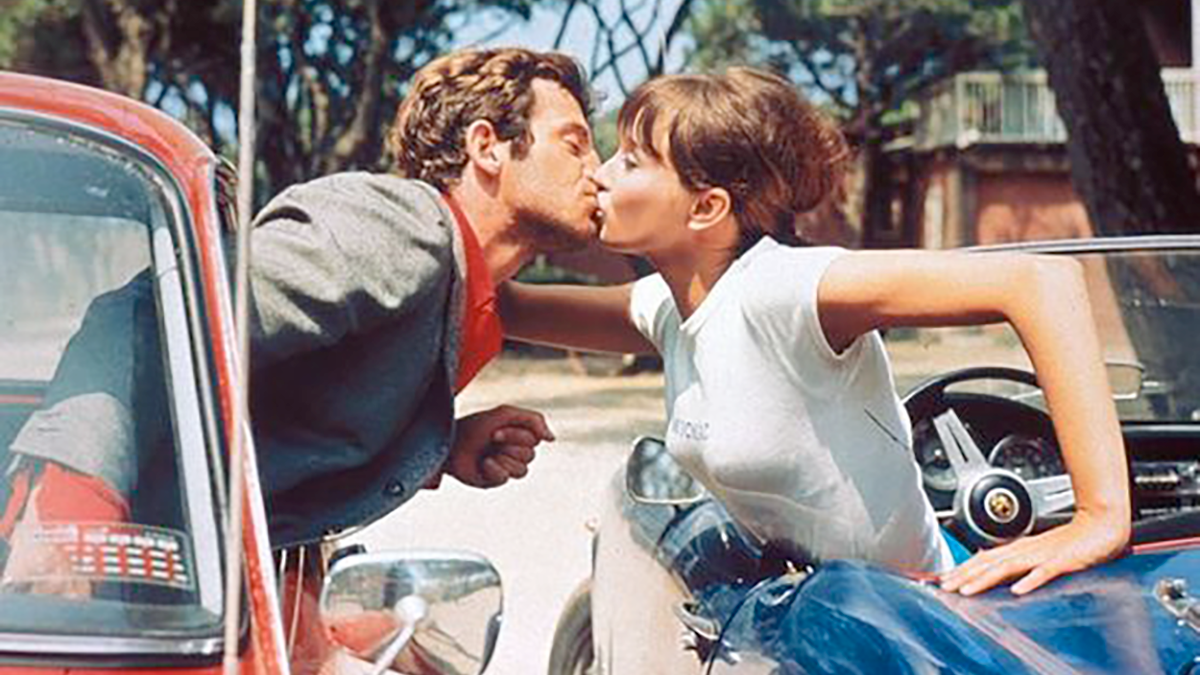 Webster University
Winifred Moore Auditorium
Webster Hall, 470 E. Lockwood Ave.
Webster Groves, US 63119
April 14 - April 30, 2023
The 15th Annual Robert Classic French Film Festival — sponsored by Jane M. & Bruce P. Robert Charitable Foundation — celebrates St. Louis' Gallic heritage and France's cinematic legacy.
Films in other languages will feature English subtitles.
FRIDAY, APRIL 14 AT 7:30PM CT
Pierrot le Fou
France / 1965 / 110 minutes
Directed by: Jean-Luc Godard
Cinema St. Louis honors the late Jean-Luc Godard with a screening of one his most celebrated films. Ferdinand (Jean-Paul Belmondo), unhappily married and recently fired from his job, abandons his family and runs off to the Riviera with the enigmatic Marianne (Anna Karina). Ferdinand, whom Marianne calls "Pierrot," tries to find artistic fulfillment between bouts of criminal adventure, but keeps getting entangled in Marianne's violent life.
SATURDAY, APRIL 15 AT 7:30PM
Chocolat
France / 1988 / 105 minutes
Directed by: Claire Denis
Claire Denis draws on her own childhood experiences growing up in colonial French Africa for her multilayered, languorously absorbing feature debut, which explores many of the themes that would recur throughout her work. Returning to the town where she grew up in Cameroon after many years living in France, a white woman (Mireille Perrier) reflects on her relationship with Protée (Isaach De Bankolé), a Black servant with whom she formed a friendship while not fully grasping the racial divides that governed their worlds. This new restoration arrives in time for the film's 35th anniversary.
SUNDAY, APRIL 16 AT 7:30PM
Martin Roumagnac
France / 1946 / 108 minutes
Directed by: Georges Lacombe
This tragic postwar romance is a tale of class anxiety and classic Romantic fatalism, run through with a typically French frankness about sex and gender. Gabin is the titular character, an unpretentious and proudly working class building contractor, who falls in love with Dietrich's ravishing shopgirl Blanche, quite unaware that she comes trailing a notorious sexual history and attracts the determined ardor of every man she meets. Among her current lovers (the American title was The Room Upstairs) is a local politician who plans on marrying Blanche once his terminally ill wife dies, but Gabin's sensible lug doesn't care, though it's clear that the ever-opportunistic Blanche will choose wealth over love. Until she doesn't. Both Lacombe's film and Dietrich's performance have a sphinx-like attitude toward this femme fatale, and that still-gestating film noir stereotype is subtly deepened. Blanche is not judged or made to seem amoral. The men that buzz around her are not villainized, either – they're just following their toxic hearts, in a culture where women like Blanche have so few options. Meanwhile, as the melodrama heats up, Gabin and Dietrich radiate pure matinee charisma, in the only movie these two icons ever made together.
FRIDAY, APRIL 21 AT 7:30PM
8 Women
France / 2002 / 103 minutes
Directed by: François Ozon
In an isolated snowed-in country house, a matriarch and her neurotic family try to discover who murdered her husband. François Ozon directs a veritable powerhouse ensemble featuring some of France's most well-known and well-regarded performers, including Catharine Denevue, Isabelle Huppert, Emmanuelle Beart, Ludivine Sagnier, and Fanny Ardant.
SATURDAY, APRIL 22 AT 6:30PM
Jeanne Dielman, 23, quai du Commerce, 1080 Bruxelles
France / 1976 / 202 minutes
Directed by: Chantal Akerman
A singular work in film history, Chantal Akerman's Jeanne Dielman, 23, quai du Commerce, 1080 Bruxelles meticulously details, with a sense of impending doom, the daily routine of a middle-aged widow—whose chores include making the beds, cooking dinner for her son, and turning the occasional trick. In its enormous spareness, Akerman's film seems simple, but it encompasses an entire world. Whether seen as an exacting character study or one of cinema's most hypnotic and complete depictions of space and time, Jeanne Dielman is an astonishing, compelling movie experiment, one that has been analyzed and argued over for decades.
The film was recently ranked atop the BFI Sight & Sound's Greatest Films of All Time list, representing a cataclysmic shift in the film's perception and legacy.
SUNDAY, APRIL 23 AT 7:30PM
The Wing or the Thigh?
France / 1976 / 104 minutes
Directed by: Claude Zidi
Charles Duchemin, a well-known gourmet and the publisher of a famous restaurant guide, is waging a war against fast-food entrepreneur Tricatel to save the French art of cooking. After having agreed to appear on a talk show to show his skills in naming food and wine by taste, he is confronted with two disasters: his son wants to become a clown rather than a restaurant tester and he, the famous Charles Duchemin, has lost his sense of taste.
Featuring a whimsical score by the incomparable Vladimir Cosma, this is a rare opportunity to see this delightful French comedy on the big screen.
FRIDAY, APRIL 28 AT 7:30PM
Le Magnifique
France, Mexico, Italy / 1973 / 95 minutes
Directed by: Philippe de Broca
François Merlin's (Jean-Paul Belmondo) real life as a pulp novelist coincides with his rich fantasy life where he imagines himself as his main character Bob Saint-Clar, international superspy. His pompous publisher Pierre Charron (Vittorio Caprioli) doubles as the villain Karpof and his lovely neighbor Christine (Jacqueline Bisset) as his imagined lover Tatiana. Our second film to feature Belmondo is also part of our year-long Golden Anniversaries programming, which features films celebrating their 50th anniversaries.
SATURDAY, APRIL 29 AT 7:30PM
Fat Girl
France / 2001 / 86 minutes
Directed by: Catherine Breillat
Twelve-year-old Anaïs is fat. Her sister, fifteen-year-old Elena, is a beauty. While the girls are on vacation with their parents, Anaïs tags along as Elena explores the dreary seaside town. Elena meets Fernando, an Italian law student; he seduces her with promises of love, and the ever watchful Anaïs bears witness to the corruption of her sister's innocence. Fat Girl is not only a portrayal of female adolescent sexuality and the complicated bond between siblings but also a shocking assertion by the always controversial Catherine Breillat that violent oppression exists at the core of male-female relations.
SUNDAY, APRIL 30 AT 7:30PM
Shoot the Piano Player
France / 1960 / 85 minutes
Directed by: François Truffaut
François Truffaut is drunk on the possibilities of cinema in this, his most playful film. Part thriller, part comedy, part tragedy, Shoot the Piano Player relates the adventures of mild-mannered piano player Charlie (Charles Aznavour, in a triumph of hangdog deadpan) as he stumbles into the criminal underworld and a whirlwind love affair. Loaded with gags, guns, clowns, and thugs, this razor-sharp homage to the American gangster film is pure nouvelle vague.
Sign up to receive exclusive news and updates