Proust Celebration : Marcel Proust Reading Night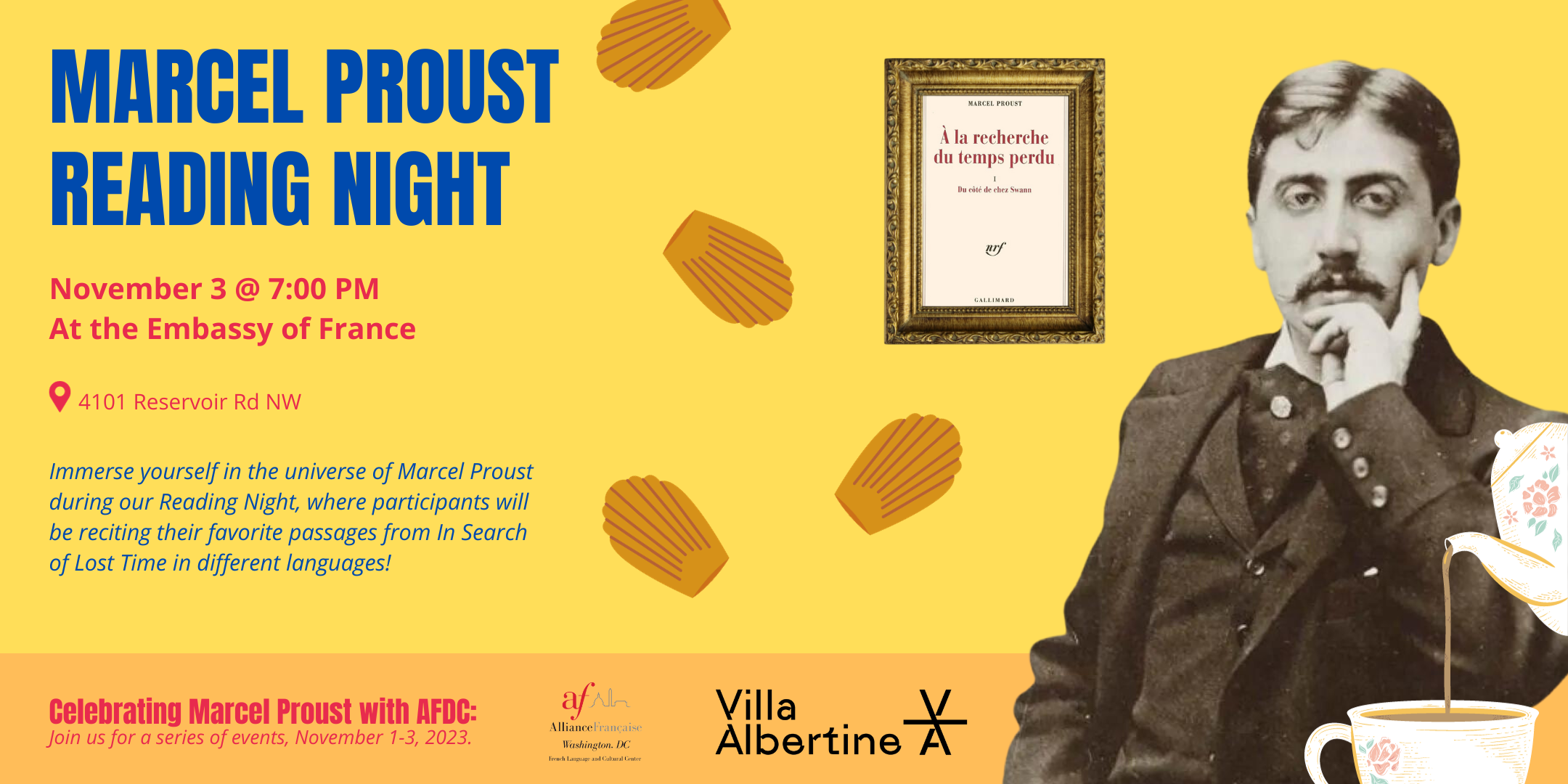 La Maison Française
4101 Reservoir Rd NW
Washington, DC, United States 20007
November 3, 2023
The Villa Albertine and the AFDC wanted to celebrate France's most prolific 20th century author, Marcel Proust in 2021 (150th birth anniversary) and 2022 (100th death anniversary). However, the pandemic precluded us from launching the project earlier. This year, 2023, marks the 110th anniversary of the publication of the first volume of À la recherche du temps perdu / In Search of Lost Time, so this long-coming project is a true celebration of Literature. Join us for a Proust Reading Night as a listener. Participants will recite their favorite passages from À la recherche du temps perdu / In Search of Lost Time in different languages: French, English, Italian, Turkish, etc. This event is part of a series of events dedicated to Marcel Proust in partnership with the Alliance Française of Washington D.C. Join us also for a screening of "Time Regained" on November 1st at the Maison Française, and a Panel Discussion about the relevance of Marcel Proust today at the AFDC on November 2nd.
Are you an avid reader of Proust? Have you read some (or all?) of his 7 volumes of À la recherche du temps perdu in French or in translation? Or maybe you have never dared to read Marcel Proust, and would love to start one day? Either way, you would enjoy this evening where you will be able to immerse yourself in the universe of the most prolific 20th century author!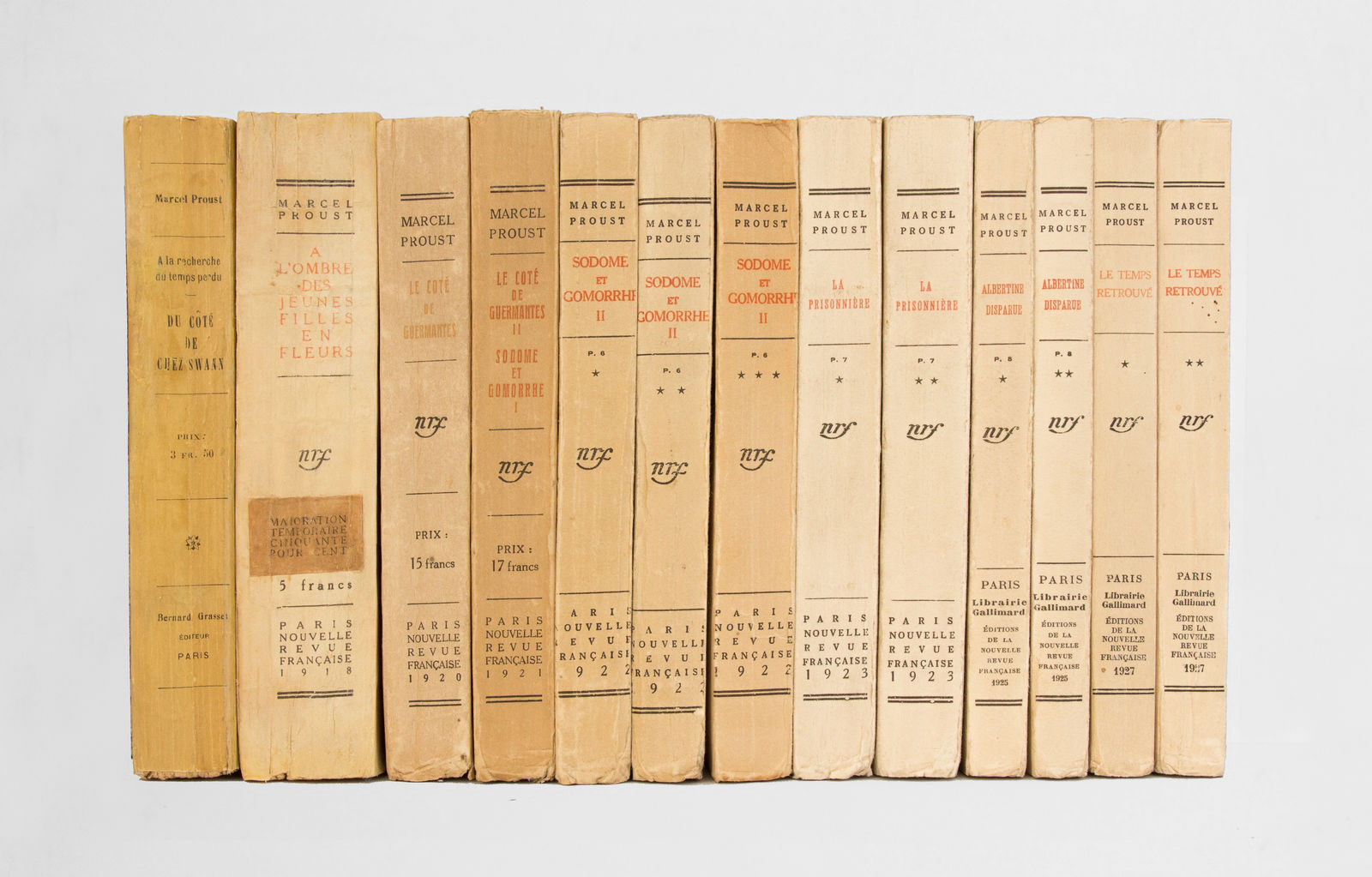 The idea of this event started in 2020 with the lockdown. Sarah Diligenti, AFDC Executive Director, and about 100 other people decided to read (or re-read) Proust, an author known for having voluntarily self-confined because of his health. Indeed, Proust suffered from asthma, and it has been said that his long sentences reflected his labored breathing.
When they started reading La Recherche, they adopted the hashtag #ProustTogether, and committed to read 10 to 15 pages daily and to comment on Twitter. They followed the schedule established by the leader of the reading group, Mike Wipfler-Kim.
They found solace in La Recherche and in sharing their thoughts on Twitter, transforming the virtual world of social media into a close-knit group of friends, still in touch with each other and still reading together. They joked that Twitter with its 280-character limit would not have appealed to Marcel Proust (or he would have been the King of Twitter threads!).
Most of them read Proust in English, some in Spanish, in German, in Dutch, in Russian, and a couple (Sarah herself included) in French. As Sarah describes: "We thought about how he survived the Spanish Flu, probably because by that time he was already bed-ridden; we lived our own confinement in sync with his words. We traveled through Time and Memory with him, through Literature, Art, and Music, through the landscapes of Normandy, the soirees of Faubourg Saint-Germain, the way to Swann and the way to Guermantes along the Vivonne, breathing in the bewitching fragrance of the 'aubépines'…" A podcast of this Great Reading project is available here.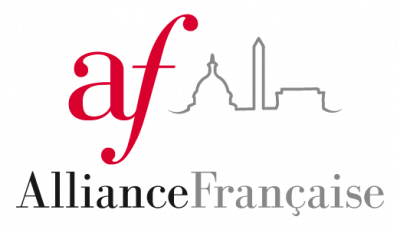 Alliance Française is the leading center for French language, French culture and francophone resources in Washington DC.
Sign up to receive exclusive news and updates