Maurice Sullins et la Tour Eiffel : A Timeless Muse | Sept 27 – Dec 15, 2023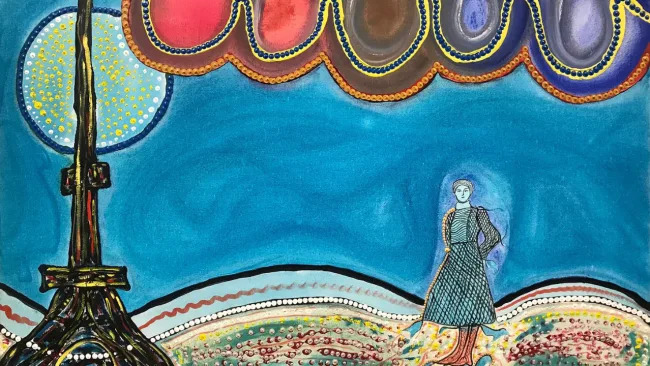 Alliance Francaise
54 W Chicago Ave
Chicago, IL, 60610
September 27 - December 15, 2023
Join us for Maurice Sullins et la Tour Eiffel : A Timeless Muse, exhibition at the Alliance Française.
One of his favorite models was… la Tour Eiffel. Thanks to Hana Pietri Gallery, the Alliance Française, in partnership with Villa Albertine, is presenting 18 versions of the iconic muse of Chicago outsider painter Maurice Sullins.
As part of the 5th Chicago Architecture Biennial, this exhibition is an original way of celebrating the 150th anniversary of the birth of Gustave Eiffel and his world-famous tower. This masterpiece of architecture and engineering laid the foundations for the high-rise buildings so emblematic of Chicago's landscape today. What better wink than the one offered by Maurice Sullins, a self-taught Chicago painter fascinated by this symbol that haunts his work, although he has never had the opportunity to contemplate it in real life.
The selection of works presented is of extraordinary creativity and fantasy. It takes the public into a world of incredible vitality, inhabited by a fantasized Paris, embodied by the "Iron Lady", sometimes faithfully depicted, sometimes sketched in a few strokes.
More info on the Alliance Française's website and registration for the talk and reception organized on October 30 HERE
About the artist:
Over the course of his short career spanning fifteen years (1970-1985), Maurice Sullins worked in near isolation and never showed his paintings. He stopped painting in 1986 at which time he was introduced to a columnist at the Chicago Tribune who wrote an enthusiastic article about his paintings and persona. This attracted collectors from around the country and resulted in a retrospective at the Illinois State Museum in 1988. The exhibition received critical acclaim and the following year, the SEITA Museum in Paris held a solo show for him during the centennial celebration of the Eiffel Tower.
​His works, set in brilliantly imagined scenes in Tahiti, France, Spain and Chicago, often reference European or American masters. While he never copied other artists, he transformed and constructed famous recognizable motifs into his own fresh and unique painterly language, believing his purpose was to continue their great work.
Maurice Sullins died on March 21, 1995 at 84 years old. In 2017, Hana Pietri Gallery became the Sullins estate dealer and presented his first exhibition since 1995 in Chicago that same year. Produced in partnership with the French Consul General of Chicago, the show attracted major attention and marked the beginning of a series of events re-introducing his works to the public.
Exhibition open from September 27 to December 15 during the Alliance Française business hours.
Sign up to receive exclusive news and updates