Les Lumières: Urban Buffet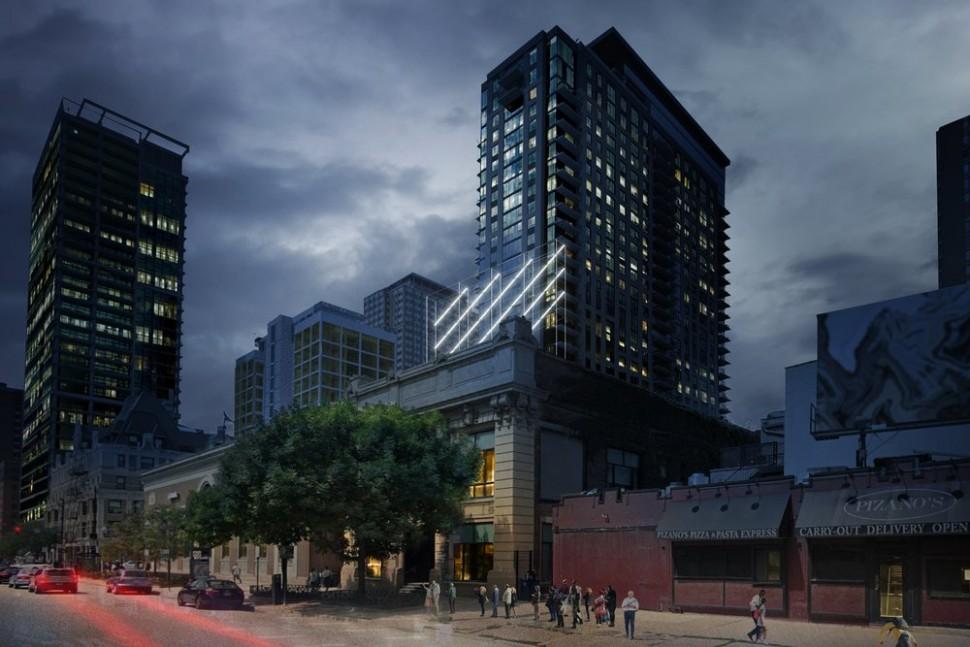 Alliance Française de Chicago
810 N Dearborn St
Chicago, US 60610
October 7- Nov 11, 2021
BOA Light Studio crowns the Alliance Française in Chicago 's roof with a light sculpture as part of the fourth edition of the Chicago Architecture Biennial (CAB).
This available space advertises all the unused, run down or vanished commercial billboards as the technological revolution leads to new means of communication. A reference to the "Siècle des Lumières", the sculpture lights the way for a bold vision : what if the city's available billboards were given a second life to create a denser art presence, making creative speech more accessible to neighborhoods across the city?
On opening night on October 7, Philippe Stanfield-Pinel will talk about this project and the challenges of lighting cities. The aim is also to create a dialogue between the public debate conducted in Paris on urban design and contemporary aesthetics, and the wish of the city of Chicago to commission ten works for the public space.
Although the opening night and panel event have past, we strongly encourage you to still check out the artistic creation that is on display on the roof of the Alliance Francaise in Chicago! 
This will be the first talk of our 2021 City/Cité series organized during the Chicago Architecture Biennial by the Cultural Services of the French Embassy, the Great Cities Institute (University of Illinois in Chicago) and the Alliance Française de Chicago.
Special thanks to Phillipe Stanfield-Pinel and Nedir Benkhelfia from the BOA light studio for their work and contributions to this project.
City/Cité is the fifth event in the series, "City/Cité: A Transatlantic Exchange," launched by the the Cultural Services of the French Embassy in Chicago in 2015 with the support of the Institut Français in Paris in collaboration with partners in France and the Midwest.
The Available City, the 2021 edition of the Chicago Architecture Biennial, is a framework for a collaborative, community-led design approach that presents transformative possibilities for vacant urban spaces that are created with and for local residents. –Chicago Architecture Biennial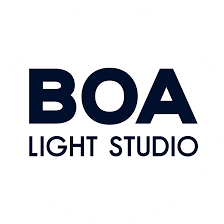 BOA Light Studio is a fine-arts lighting studio based in Paris, France. They specialize in technically intricate and detail-oriented work that results in a unique sensory experience that brings architecture and storytelling together. "For over a decade, our multidisciplinary collective has been transforming light into a language that can be adapted to various scales. From artistic to functional installations, we design architectural lighting, scenographies and nocturnal landscapes. Our approach is global and each of our projects contributes to its ecosystem. We create tailor-made atmospheres." –BOA Light Studio
BOA Light Studio has worked on projects such as Le Monde Headquarters and Denver International Airport. You can see more of their work here.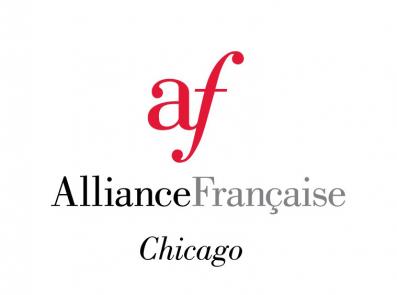 Alliance française de Chicago
The Alliance Française de Chicago is over 120 years old and is part of an international network of over 1,100 Alliances and affiliated cultural centers worldwide. It is the second oldest Alliance Française in the US and second largest after the Alliance Française in New York City. Classes are offered for all ages and levels of French, leading to certifications in French for professional purposes or simply for experiencing another language and its various cultures. It also hosts an impressive array of events, bringing notable lecturers to Chicago: authors, filmmakers and directors, winemakers, chefs, designers, historians, actors and performing artists.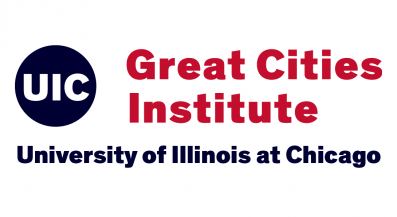 UIC's Great Cities Institute is a research hub for scholars, policymakers, and stakeholders who share an interest in finding answers to the question, "What can cities and regions do to make themselves into great places?"
The Great Cities Institute (GCI) represents UIC's commitment to "engaged research" while contributing to its stature as a Research One University thereby highlighting the value of quality research for addressing today's urban challenges.
Sign up to receive exclusive news and updates