Julien Creuzet : Algorithm ocean true blood moves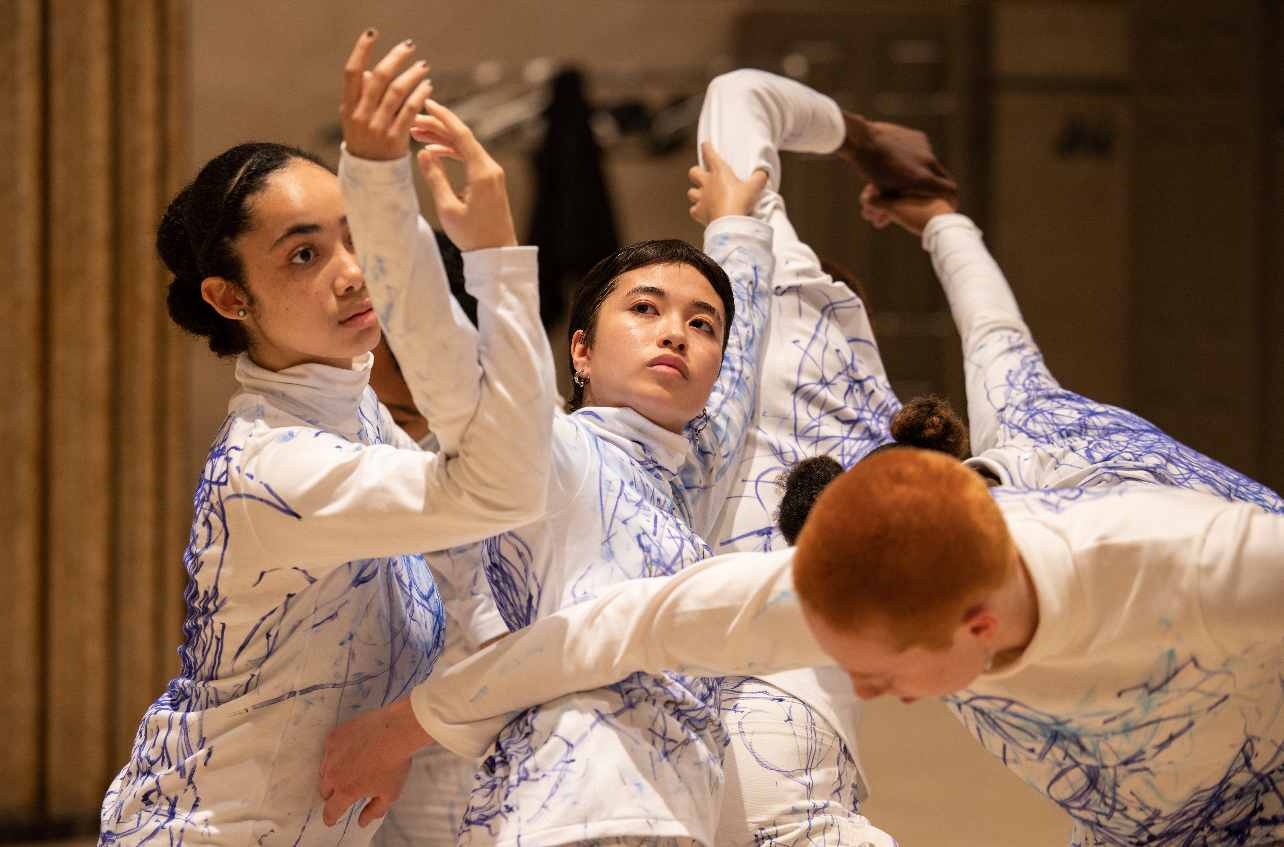 Performa
41 Broad Street
New York, NY 10004
November 10 - November 11, 2023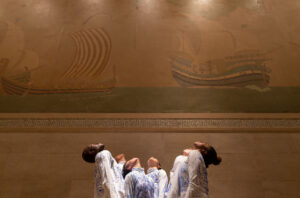 Julien Creuzet, Algorithm ocean true blood moves, 2023. Léman Ballroom, New York. Photo by: Walter Wlodarczyk.
In his precarious yet exuberant sculptural environments, the Paris-based artist, filmmaker, and poet Julien Creuzet often delves into centuries-long histories of trade and displacement. His multimedia installations skillfully combine the debris of domestic and industrial life (plastic containers, electric cables, cellphones) with that of the natural world (soil, seashell, wood sticks) — and often, these sculptural ecosystems invoke his childhood home of Martinique, the French Caribbean island at the crossroads of African, European, and Native American civilizations.
Algorithm ocean true blood moves focuses on the muscle memory of movements and gestures that have been passed down through generations of the African diaspora across time and geographies, now reconnected through social media. Over several years, the artist has been constituting a personal archive of moves, gestures, and styles from the Internet, revealing unexpected similarities between steps and physicalities, such as Sudanese clerics moving in squatting positions during a ceremony and American teenagers "duck walking" in the aisles of a supermarket.
This new performance was conceived in collaboration with Brazilian choreographer Ana Pi. It features dancers from the Alvin Ailey School and is performed to the vibrations of Shatta, a new genre of electronic Caribbean dancehall music from Martinique. Algorithm ocean true blood moves translates these movements into a performance that bridges geographical and temporal separations. Live music will be performed by Malou Beauvoir.
The performance will premiere in New York on November 10 and 11, from 8:30PM to 9:30PM
About Julien Creuzet 
Born in the Parisian suburbs,  Julien Creuzet (b. 1986) grew up in Martinique and now lives and works in Montreuil. His practice begins with his own lived experience of the Caribbean diaspora, he describes Martinique, as "the heart of [his] imagination" and the visual and aural languages that collide in his installations migrate and transform through a process of creolization, entering into a dialogue with the questions of Black Affirmation and emancipation. He developed a multi-disciplinary practice interweaving poetic, sensory and social forms via amalgams of sculpture, installation, video, sound and textual intervention.
In 2022 & 2023, his work was the subject of an itinerary solo exhibition at the LUMA Foundation, respectively in Arles & Switzerland, titled Orpheus was musing upon braised words, under the light rain of a blazing fog, snakes are deaf and dumb anyway, oblivion buried in the depths of insomnia.
Past solo exhibitions include Camden Arts Centre, 2021, CAN Centre d'art Neuchâtel, Switzerland, 2019, Palais De Tokyo, 2019, and Fondation Ricard, Paris, 2018.
In 2021, Creuzet was nominated for the Prix Marcel Duchamp, and in 2019 was the recipient of the Camden Arts Centre Prize at Frieze London.
He will represent France at the 60th Venice Biennale in 2024.
Credits
Co-commissioned with the Hartwig Art Foundation, Amsterdam.
Performers
Kamani Abu, Sarah Boyd, Sydnie Cooper, Bette Danganan, DaJuan Foley Jr., Morgan Gregory, and Noel Olson
Production
Concept, videos, sculptures, and costumes: Julien Creuzet
Choreography: Ana Pi
Julien Creuzet Studio: Scarlett Chaumien (studio coordinator) with artist collaborators Chadine Amghar, Iris Fabre, and Louis Somveille.
Video: Emilien Colombier (Motion designer), Timothée Sarran (Sound Design)
Sign up to receive exclusive news and updates