Jules Tavernier and the Elem Pomo at the de Young Museum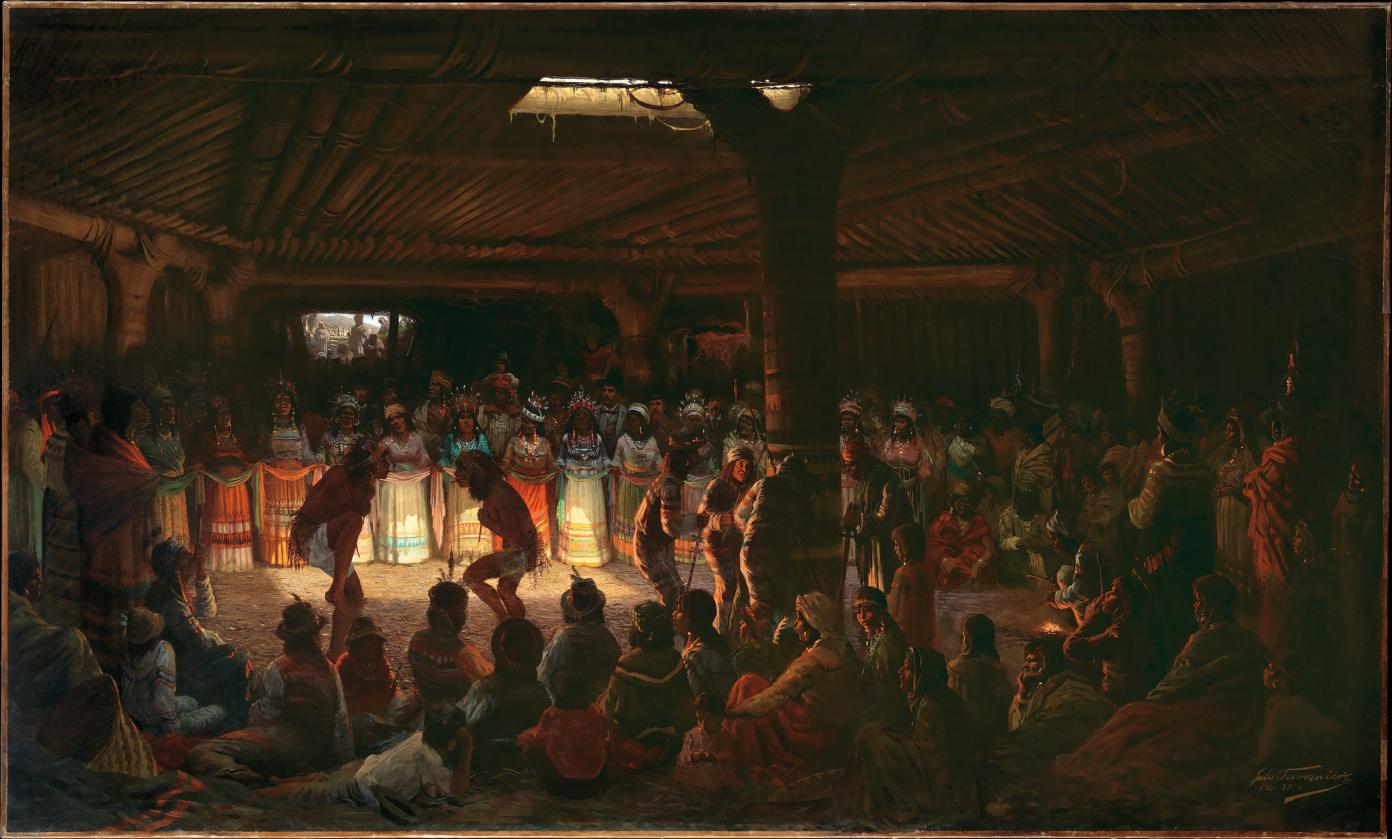 de Young Museum
50 Hagiwara Tea Garden Dr.
San Francisco, US 94118
February 16 - April 17, 2022
Exhibiting landscapes of art that reflect a time in California history where indigenous peoples populated the West, de Young Museum spotlights Jules Tavernier and the Elem Pomo, a Native American colony known as "mfom Xe," or "people dance."
Tavernier's name became well-known in Northern California upon settling in San Francisco during the 1870's and after visiting the Elem Pomo for more than two years, located about 100 miles from the city. These trips and experiences prepared him for his masterpiece, "Dance in a Subterranean Roundhouse at Clear Lake, California (1878)." 
He became known for his captivating landscapes, and often exhibiting ceremonies and gatherings of importance to Indigenous populations. In this exhibit, audiences will view over 70 works of art by Tavernier including his most recently discovered masterpiece, "Dance in a Subterranean Roundhouse at Clear Lake, California (1878)" and more than 40 pieces of Elem Pomo basketry and objects. This exhibit also features a documentary film, which highlights the environmental and cultural impacts of mining land loss, the influence of landscape and natural materials in Pomo basketry, as well as ceremonies of the Pomo.  
Tavernier's art is a strong representation of cultural interaction between California Native Americans and outsiders from 1870-1880. The centerpiece for the exhibit, "Dance in a Subterranean Roundhouse at Clear Lake, California" reflects a ceremonial dance performed by the Pomo, which was meant to protect the Pomo people and their land from destruction and disease. This unique piece features more than 100 members of the Pomo colony, and three "guests." They are Tiburcio Parrott y Ochoa, a Mexican-born San Francisco banker and patron of Tavernier who commissioned the painting, his Parisian business partner, Baron Edmond de Rothschild, and Comte Gabriel Louis de Turenne d'Aynac, a French military officer who had been traveling with Rothschild.  
The exhibition is in part presented with Robert Geary, an Elem Pomo cultural leader and regalia maker, Sherrie Smith-Ferri, Ph.D., Dry Creek Pomo scholar, and Meyo Marrufo, Eastern Pomo artist and curator. 
Other contributors include Arthur Amiotte, Oglala Lakota artist and historian, and Healoha Johnston, curator of Asian Pacific American women's cultural history at the Smithsonian Asian Pacific American Center. 
Sign up to receive exclusive news and updates