French Films at Tribeca 2023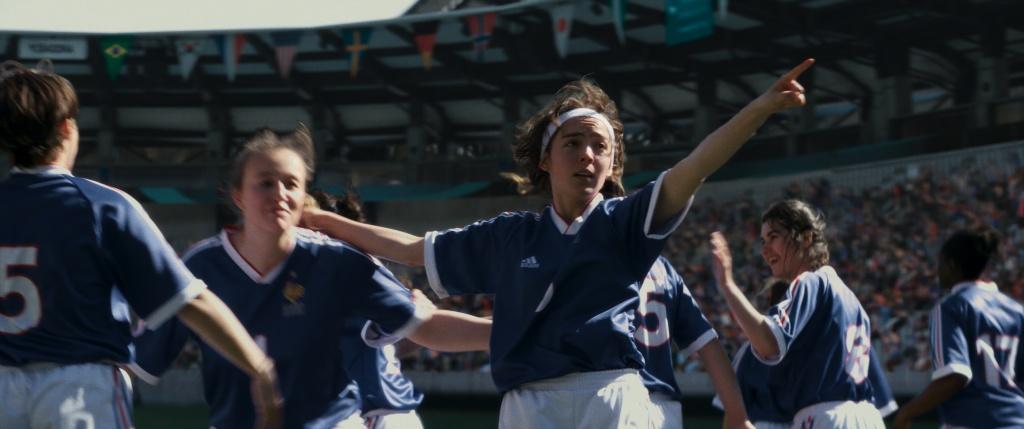 Tribeca 2023 has announced its lineup of feature films, shorts, documentaries and animated films. This year's festival will run from June 7-18 and will highlight all genres of film, from groundbreaking independent shorts to renowned global features. Check out the selected films below!
Marinette by Virginie Verrier (France) 
From the first moment she kicked a ball, Marinette Pichon's life would revolve around soccer. Although her hometown in rural France didn't have a girls' team, her talent spoke for itself, and staying focused on the ball helped keep Marinette distracted from a toxic home life. As she ages out of the local boys' team she is spotted by a talent scout and invited to play for the national women's team. Her home life deteriorates as her career takes off, but since female soccer players weren't (and still aren't) recognized as professionals in France, there's a limit to how far she can go. Incensed by this injustice and tired of battling competitive teammates, she jumps at an exciting offer to sign with a professional team in Philadelphia, becoming the first French player to do so. Her life in the U.S. could not be more different — she can eat what she wants, and doesn't have to hide her sexuality. 
Genre: Women, Drama, LGBTQIA+, Biography, Sports
Cast: Garance Marillier, Emilie Dequenne, Sylvie Testud, Fred Testot, Alban Lenoir
Produced by VIGO Films 
95 min
Richelieu by Pier-Philippe Chevigny (Canada, France)
Trying to get her life back on track after a breakup, Ariane moves back to her hometown and in with her mother. To save her sinking finances, she takes a job at the local corn plant as a French-to-Spanish interpreter for the seasonal migrant workers employed there. She befriends Manuel, an illiterate, naive young man who has left his small children behind in Guatemala to earn as much as he can in Canada. As Ariane begins to witness how the workers are being taken advantage of, and as the only one who seems to see them as real people, she finds it increasingly difficult to keep quiet. What unites all of them, from boss to migrant worker, is a deep desperation to keep their job, but the individual choices they make in the face of mounting pressure reveal everyone's true character.
Genre: Drama
Cast: Ariane Castellanos, Marc-André Grondin, Nelson Coronado, Marvin Coroy, Maria Mercedes Coroy, Luis Olivia, Micheline Bernard, Eve Duranceau, Gerardo Miranda
Produced by Geneviève Gosselin-G., Miléna Poylo, Gilles Sacuto and Alice Bloch
90 min
Dead Girls Dancing by Anna Roller (Germany, France)
Three German teenagers—Ira, Malin, and Ka—have just graduated from high school. As it is a rite of passage for teenagers everywhere, the trio decides to commemorate this milestone with a road trip. Once settled in Italy, the trio embarks in search of adventure. On the road, they pick up an intriguing backpacker, Zoe, who tags along on their journey. But when they stumble across an abandoned village, the quartet starts to experiment with the limits of their newly found freedom, away from the expectations of their parents and teachers.
Genre: Drama
Cast: Luna Jordan, Noemi Liv Nicolaisen, Katharina Stark, Sara Giannelli
Produced by Katharina Kolleczek, Lea Neu, Laure Parleani, Bérénice Vincent, Christian Becker and Uli Putz
98 min
LaRoy by Shane Atkinson (US, France) – World Premiere 
Ray Jepsen (John Magaro) is a humble co-owner of a hardware store who still can't believe he managed to marry local beauty queen Stacy-Lynn. When his private investigator friend, Skip (Steve Zahn), reveals to Ray that Stacy-Lynn is having an affair, Ray decides to kill himself. He secures a gun and goes to a seedy motel parking lot to do the deed, but before he can pull the trigger, he is mistaken by a stranger for a low-rent hitman (a sinister Dylan Baker) and given an envelope full of cash and an address. Desperate to win back his self-respect and his wife, Ray decides to take the job — but soon wishes he had just killed himself.
Genre: Comedy, Thriller 
Cast: John Magaro, Steve Zahn, Dylan Baker, Megan Stevenson, Matthew Del Negro, Brad Leland
Produced by Caddy Vanasirikul, Sébastien Aubert, Jérémie Guiraud
110 min
What Next by Cécile Rogue (France) – short
Julien Meyzindi is a "Subject" dancer at the Paris Opera. He joined at the age of 12. Today, he is 42 years old and must leave.
Genre: Experimental, dance, documentary
Cast: Louis Boimond, Coralie Berquer, Olivia Bouis, Kabba Jallow, Alice Kok, Gabriele Santoni.
Produced by Séverine Lathuillière, Philippe Aigle
16 min
Sign up to receive exclusive news and updates