French Films at Metrograph – Summer 2023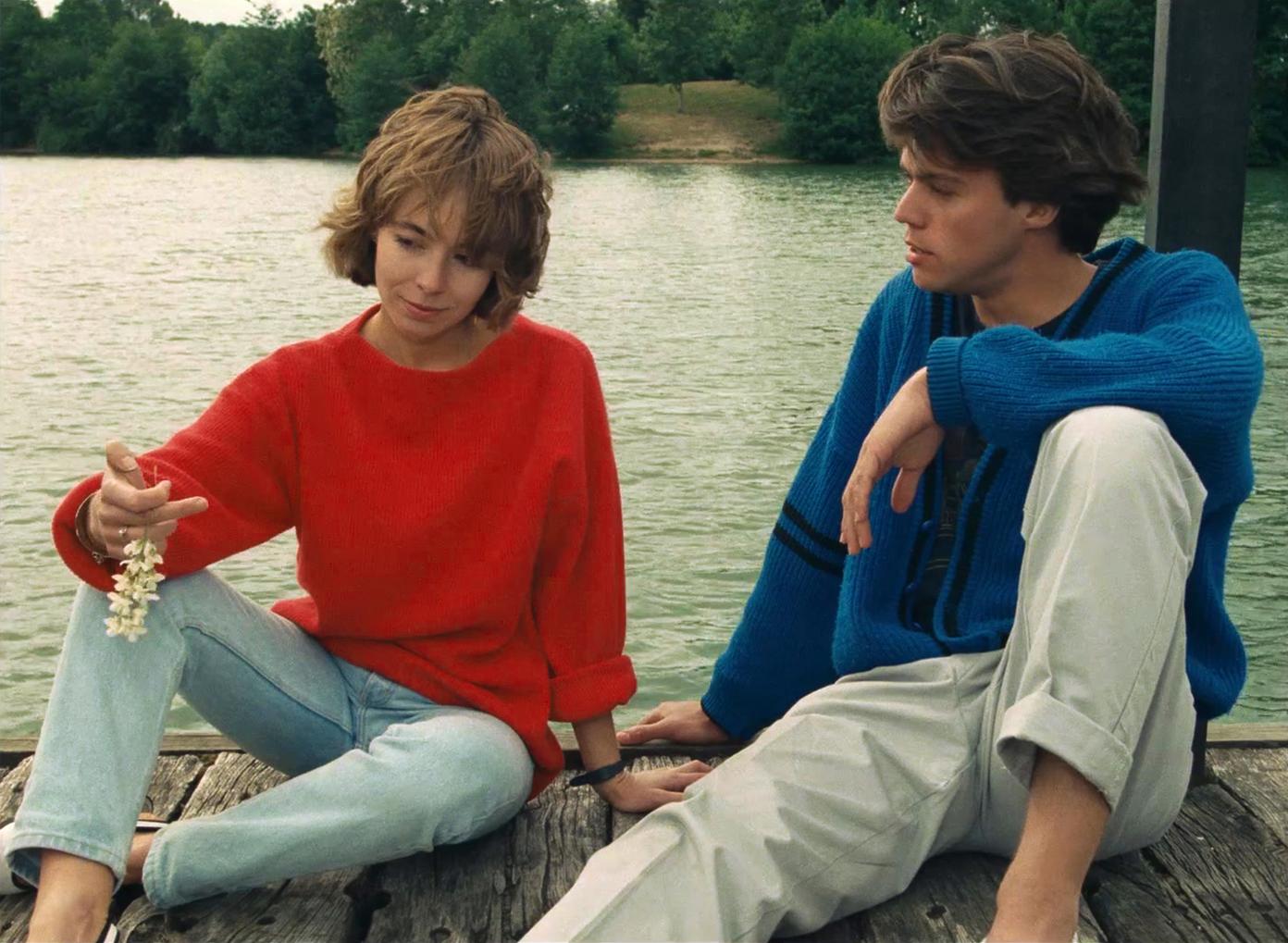 It's time for a French summer! We've rounded up a selection of French films and co-productions that will be screened at Metrograph in July.
Boyfriends and Girlfriends (1987) – July 8
Directed by Eric Rohmer
Rohmer uses the amorous misadventures of two girlfriends in the Paris suburbs to test the old proverb "les amis de mes amis sont mes amis" ("the friends of my friends are my friends") in the final episode of his "Comedies and Proverbs" series. Taking an identifiable stab at a yuppie(ish) set, Rohmer's witty Shakespearean roundelay involves the buttoned-up Blanche (Emmanuelle Chaulet, in a superb debut) and the free-spirited Lea (Sophie Renoir), and their current amours. The pair are tempted by each other's love interests, testing both their friendship and their understanding of matters of the heart. 
The Aviator's Wife (1981) – July 12
Directed by Eric Rohmer
The inaugural film of Rohmer's "Comedies and Proverbs" cycle, The Aviator's Wife is a fleecy farce of romantic overanalysis that finds the director exploring the possibilities of handheld camerawork in following a narrative expression of the opening epigraph: "It is impossible to think of nothing." A young man sees his girlfriend's ex leaving her apartment one early morning, and his imagination is off to the races, as stars Philippe Marlaud and Marie Rivière introduce a younger, less perfectly articulate type of Rohmer character than those of the "Moral Tales." A Metrograph Pictures release.
Call Me By Your Name (2017) – July 14
Directed by
The splendors of rural Lombardy provide the backdrop to the cagey romance between teenager Elio (Timothée Chalamet) and Oliver (Armie Hammer), a graduate student assisting Elio's archaeologist professor father. "In Mr. Guadagnino's work, passion and drama are expressed in words, deeds and surging music but also in the vibrant, visceral textures that envelop his characters—the cool marble, succulent fruit, shadow and light, sheens of sweat. These are movies that turn your gaze into near-touch, inviting you to see and almost caress their sun-warmed bodies."—Manohla Dargis, The New York Times
Barbarella (1968) – July 14
Directed by Roger Vadim
Among the earliest and most successful of De Laurentiis's forays into live-action comic adaptations, a retrofuturist pop culture phenom based on the sexily scintillating French comic strip by Jean-Claude Forest, Barbarella teamed Vadim and his then-wife Jane Fonda, who plays the role of the title character, a buxom space traveler using her wits and feminine charms in order to track down scientist Durand Durand, whose new "positronic ray" poses a threat to the whole of humanity. Cheeky, kitschy, and cheerfully salacious fun, with colorful and fanciful production design that imagines a positively swinging future.
Chronicle of Anna Magdalena Bach (1968) – July 15
Directed by Jean-Marie Straub and Danièle Huillet
Renowned harpsichordist Gustave Leonhardt plays—and plays as—Johann Sebastian Bach in Straub and Huillet's remarkable film on the composer, based in part on a fictional journal by his second wife, and built around live-sound recordings of Leonhardt performing in the actual locations where his works originally premiered. Explaining their unique and radical reinvention of the oft-clichéd musician biopic, Straub explained: "The point of departure for our Chronicle of Anna Magdalena Bach was the idea of attempting to make a film in which we use music, not as accompaniment, nor as commentary, but as aesthetic material."
Possession (1981) – July 15
Directed by Andrzej Żuławski
Żuławski's one-of-a-kind genre pastiche has spy Sam Neill returning to his Berlin home from a mission abroad to discover that wife Isabelle Adjani wants suddenly to split up. 
Eyes Do Not Want to Close at All Times (1970) – July 21
Directed by Jean-Marie Straub and Danièle Huillet
Straub and Huillet's first film shot in Italy, amidst the ruins of Rome's Palatine Hill with a toga-clad cast, and their first in color, adapts Pierre Corneille's Othon, a lesser-known 1664 drama describing the machinations and scheming that followed the death of Emperor Nero, as pretenders to the throne angle to fill the sudden power vacuum. Of the plain, affectless performance of the text, Straub would write: "If at every moment one can keep one's eyes and ears open to all of this, it's possible to even find the film thrilling and note that everything here is information—even the purely sensual reality of the space which the actors leave empty at the end of each act."
Stealing Beauty (1996) – July 21
Directed by Bertrand Bertolucci 
After the death of her poet mother, 19-year-old American Lucy (Liv Tyler) travels to a Tuscan villa near Siena owned by family friends in hopes of exploring her family's history and reuniting with her first kiss, though soon finds herself contending with a crowded field of would-be suitors. Working in his native Italy for the first time in 15 years, and in his only collaboration with DP Darius Khondji, Bertolucci creates a film of warm, mellow light; lyrical grace notes; and exquisite performances from Tyler, Joseph Fiennes, Jeremy Irons, Rachel Weisz, and others.
Sign up to receive exclusive news and updates