French Connections During Expo Chicago 2022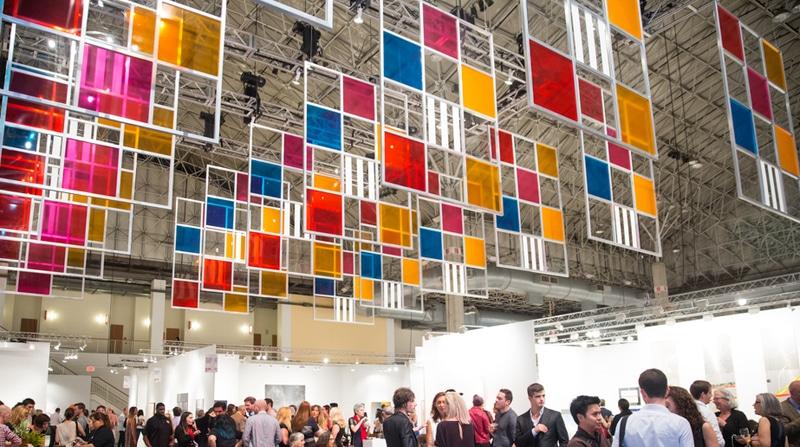 Navy Pier in the Festival Hall
600 E Grand Ave
Chicago, US 60611
April 7-10, 2022
Villa Albertine Chicago is happy to renew their partnership with EXPO Chicago, and to welcome during this ninth edition French galleries and Leanne Sacramone, Senior Curator at the Fondation Cartier for Contemporary Art in Paris.
Galleries
Curatorial Exchange – Leanne Sacramone (Fondation Cartier)
Through its annual Curatorial Exchange, EXPO CHICAGO remains one of the nation's only fairs with a dedicated initiative focused on funding global curator exchanges that foster future collaborations for curators on the local, national and international level.This invitation-only program fosters critical dialogue about the Chicago and Midwest art scenes from an international perspective.
In partnership with Villa Albertine Chicago, this year's curator from France is Leanne Sacramone, Senior Curator at the Fondation Cartier for Contemporary Art in Paris. Following her studies in French Language and Literature at Smith College, she moved to France, where she discovered her passion for curatorial work as an intern at the Centre Georges Pompidou. She continued her studies at the Ecole du Louvre and the Université Paris I Sorbonne where she received her master's degree while working at the American Cultural Center in Paris and the Centre Georges Pompidou. She was then hired as assistant curator for "La Beauté," a city-wide exhibition organized as part of France's millennial events in Avignon, where she collaborated with internationally renowned artists such as James Turrell, Anish Kapoor, La Monte Young, Rebecca Horn, and Jeff Koons. In 2001, she was appointed Curator at the Fondation Cartier where she has notably brought to light on the French art scene the history of graffiti in "Born in the Streets: Graffiti," the art of the Democratic Republic of the Congo in "Beauté Congo-Congo Kitoko," and the work of Latin American photographers in "America Latina 1960-2013." The wide-ranging and cross-disciplinary programming of the Fondation Cartier has led her to collaborate not only with contemporary artists (Sarah Sze, Beatriz Milhazes) but also photographers (William Eggleston Daido Moriyama), designers (Alessandro Mendini, Andrea Branzi), comic strip artists (Jean Giraud/Moebius), and thinkers (Paul Virilio, Marc Augé).
Sign up to receive exclusive news and updates