Food and Art Movie Night at The Invisible Dog Art Center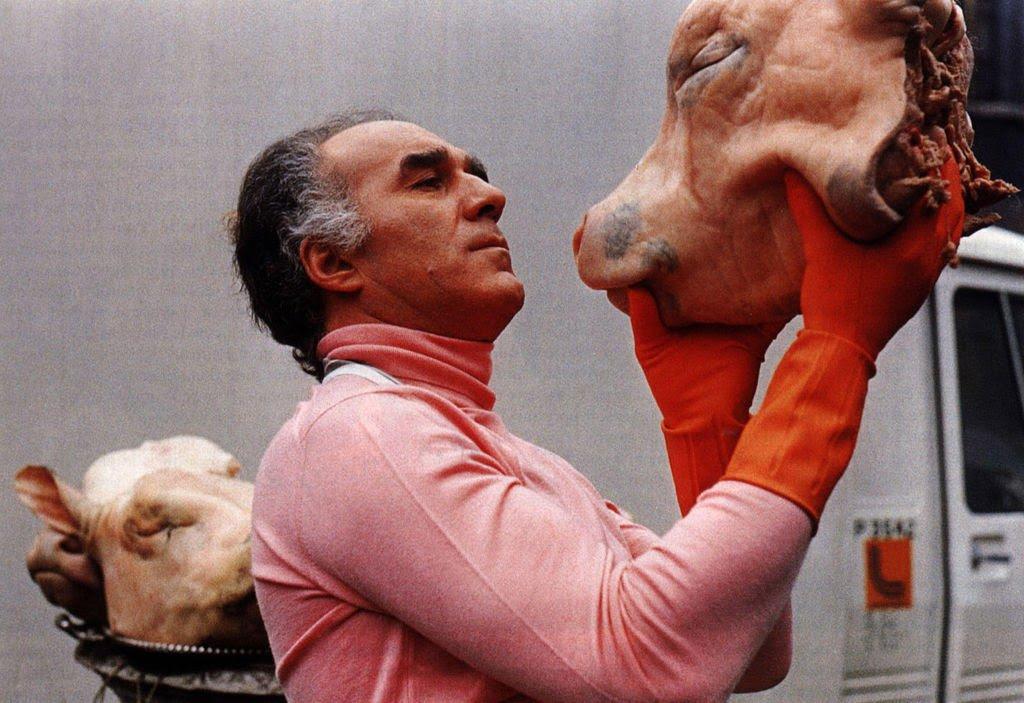 The Invisible Dog Art Center
51 Bergen Street
Brooklyn, US 11201
October 1, 2022 | 7:30pm
The Invisible Dog Art Center and Villa Albertine are thrilled to present a movie night with three exceptional movies, as part of Nafas, an exhibition and a festival celebrating the union between food and art, including La Grande Bouffe by Marco Ferreri and Prune Nourry's short film, Procreative Dinner.
Procreative Dinner (2009, 14 mns)
by Prune Nourry (1985-)
Procreative Dinners are performances associating art, gastronomy and science. Prune Nourry teams up with a chef and a scientist to design a meal that mimics the various stages of assisted procreation, with in vitro fertilization as the aperitive and the choice of the child's sex as the main course, thus inviting the participants to reflect upon the concept of the "designer baby".
Food (Czech: Jídlo) (1992, 17 mns)
by Jan Švankmajer (1934-)
Food is a Czech animated short film that uses claymation and pixelation. It examines the human relationship with food by showing breakfast, lunch, and dinner.
Considered one of the greatest animators of all time, and cited as an inspiration by directors like Gilliam, Tim Burton and the Brothers Quay, Jan Švankmajer uses a wide range of techniques: puppets, stop-motion, timelapse, clay-mation, 2D animation, pixilation. Sound-design is another key element of his style, as the sounds are always exaggerated, distorted. His main themes are varied and diverse: the food is a preferred subject and medium in many films, but we can also find fairy tales adaptations (Alice in Wonderland), Edgar Allan Poe and other poets' works, films about football, homages to figurative artists from various historical periods and much more. In addition, almost all of his works are permeated with a bitter irony, which often leads to outright black-comedy tones, almost nonsensical, as in Meat Love.
La Grande Bouffe (1973, 130 mns)
by Marco Ferreri (1928-1997)
From Italian provocateur Marco Ferreri, La Grande Bouffe was reviled on release for its perversity, decadence and attack on the bourgeoisie. Four friends played by Marcello Mastroianni, Michel Piccoli, Ugo Tognazzi and Philippe Noiret retreat to a country mansion, where they determine to eat themselves to death whilst engaging in group sex with prostitutes and a local schoolteacher who seems to be up for anything. At once jovial and sinister, the film's jet-black humor has a further twist as the reputed actors (whose characters use their own names) fearlessly descend into a fart-filled chaos that delivers a feast for the eyes and mind.
Viewer discretion advised. Intended for mature audiences only. Contains scenes of a sexual nature.
Sign up to receive exclusive news and updates