Claire Denis' Beau Travail at the Vidiots Foundation Eagle Theatre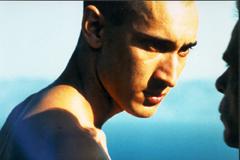 Vidiots Foundation Eagle Theatre
4884 Eagle Rock Blvd
Los Angeles , US 90041
September 8, 2023
The Vidiots Foundation presents Claire Denis' classic film Beau Travail.
Claire Denis' languid and muscular masterpiece of thwarted homosexuality and toxic
masculinity will floor you all over again. With a story based on Herman Melville's Billy Bud,
stunning cinematography from the legendary Agnès Godard, remarkable performances by Denis
Lavant and Grégoire Colin, and Denis' deft and poetic hand, Beau Travail is set amidst the
backdrop of a war zone. Foreign Legion officer Galoup recalls his once glorious life, training
troops in the Gulf of Djibouti. His existence there was happy, strict, and regimented, until the
arrival of a promising young recruit, Sentain, plants the seeds of jealousy in Galoup's mind.
DCP. France. 2000. Psychological drama, 92 min.

Director: Claire Denis.
Cast: Denis Lavant, Grégoire Colin, Michel Subor, Nicolas Duvauchelle, Richard Courcet
Click here for more information and to buy tickets!
Sign up to receive exclusive news and updates