Bianca Bondi: A Preservation Method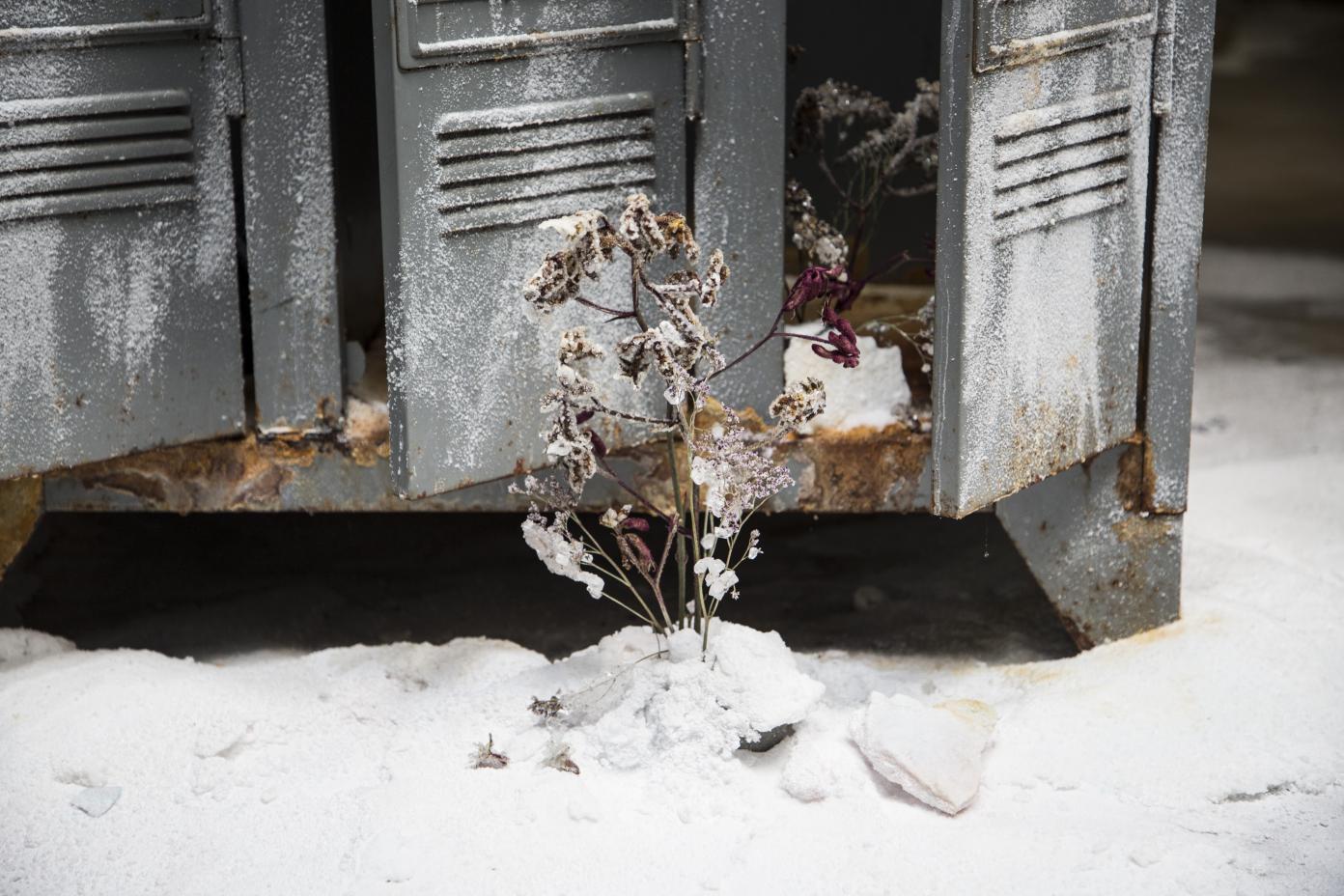 Dallas Contemporary
161 Glass St
Dallas, US 75207
November 17, 2023 - March 17, 2024
From November 17, 2023 to March 17, 2024, Dallas Contemporary presents "Bianca Bondi: A Preservation Method", with the support of Etant donnés Contemporary Art, a program of Villa Albertine.
Multidisciplinary artist Bianca Bondi's practice involves the activation or elevation of mundane objects through the use of chemical reactions, most often by salt water. The materials she works with are chosen for their potential for mutation or their intrinsic and symbolic properties. Bondi uses both chemistry and the occult sciences to question our representations and reconsider our notions of rituals and beliefs, of cycles with an emphasis on rebirth and regeneration. The artist experiments with specifically chosen natural elements to examine the intrinsic properties, or "energy", they are said to possess by diverse cultures, and how this energy can be channeled and eventually activated. Bondi's approach unfolds in monumental and immersive site-specific installations connected to the places in which they exist.
In November 2023, Dallas Contemporary will present Bianca Bondi: A Preservation Method. The exhibition is based on Bondi's research into The Highway Beautification Act of 1965, passed by Texan President Lyndon B Johnson and inspired by his wife, Lady Bird Johnson, and her passion for the environment. The act was intended to prohibit the building of billboards in natural environments in order to preserve the native plants and wildlife already under risk by the building of highway infrastructure. Since its passing, open-space advocates and commercial companies have battled over the continued placement of thousands of billboards along Texas roads.
As homage to the Highway Beautification Act, Bondi will locate an abandoned billboard in the gallery, displaying its carcass as a relic amongst flora and fauna inspired by the Texas terrain, presenting a monumental artificial landscape representing the struggle between the natural and commercial world. Her exhibition in Dallas will be the artist's first solo presentation in the United States.
The artist Bianca Bondi will be in conversation with curator Emily Edwards at Dallas Contemporary on Saturday, November 18.
Bianca Bondi : a preservation method is supported by Etant donnés contemporary art, a program of Villa Albertine with the special support of the visual artists society ADAGP. 
About Bianca Bondi
Bianca Bondi was born in Johannesburg, South Africa. She graduated from the Ecole Nationale Supérieure d'Art de Paris Cergy and received her BAFA from Wits University, Johannesburg in South Africa. Her works have been exhibited at Foundation Louis Vuitton, Fondation Carmignac, and Pera Museum, and as part of the Voyage à Nantes in 2021, the Lyon Biennale, and the Busan Biennale. In 2022, she was nominated as Woman to Watch by the National Museum of Women in the Arts, and in 2021 she received the Talents Contemporains Award from the Fondation Francois Schneider. She is currently a resident at POUSH Manifesto in Aubervilliers. Bondi is represented by mor charpentier Paris, Bogota. The artist lives and works in Paris, France.
About Dallas Contemporary
Dallas Contemporary is a non-collecting art museum presenting new and challenging ideas from regional, national and international artists. Located in an industrial building in the Design District, Dallas Contemporary documents new directions in art through rotating exhibitions, publications, public programs, and learning programs for visitors of all ages. As a contemporary arts institution that grapples with timely and complex issues, Dallas Contemporary firmly believes in the power of artists' ideas and voices to chronicle and transform society. Always different. Always free.
Sign up to receive exclusive news and updates