ATLiens Visit Planet MARS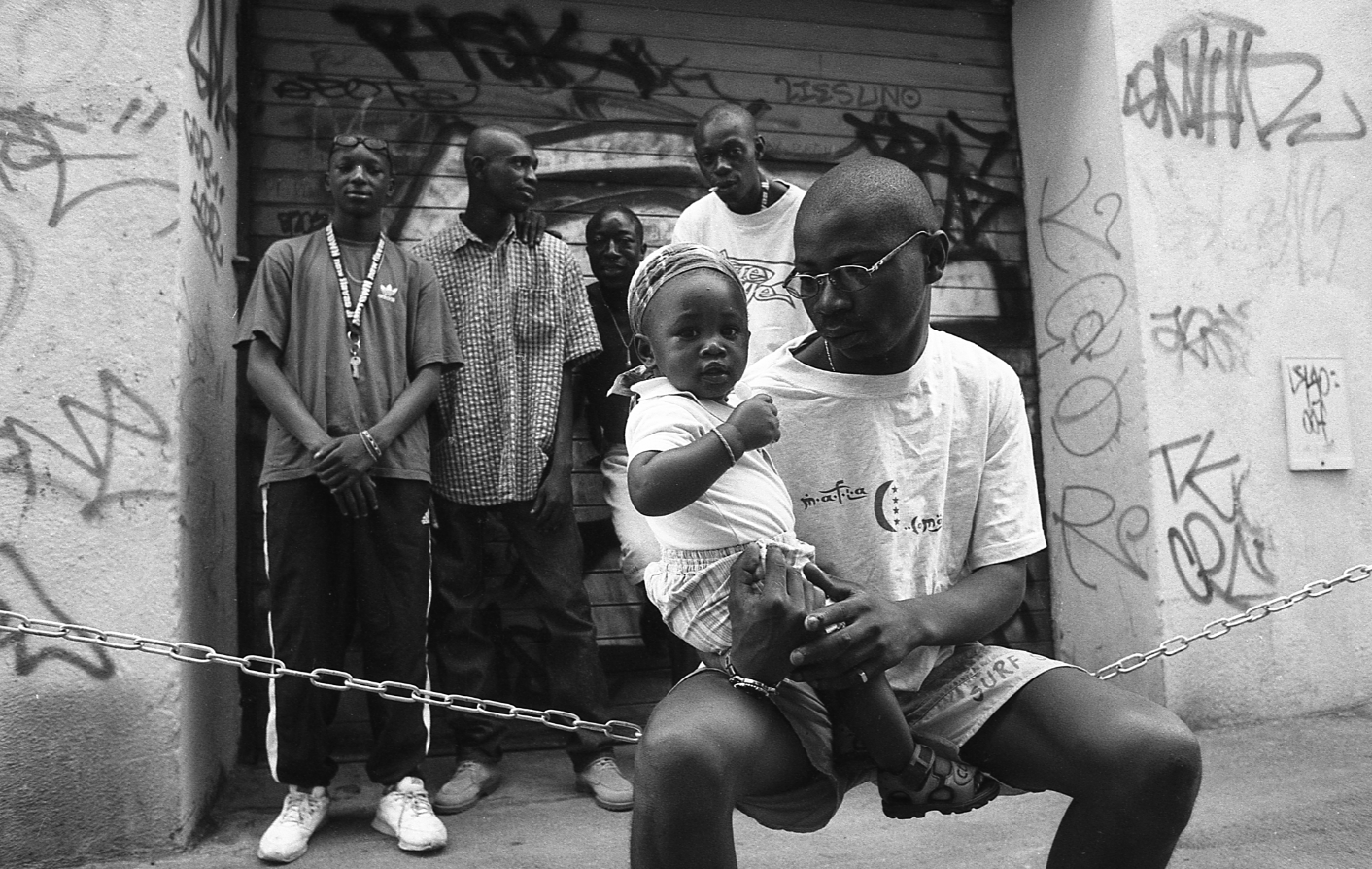 Chastain Arts Center & Gallery
135 Chastain Park Ave NW
Atlanta, GA, 30342
September 22 - October 20, 2023
Villa Albertine is excited to open ELEVATE Public ART Festival Celebrating 50 years of Hip Hop with ATLiens Visit Planet MARS, an exhibition presenting the early origins of hip-hop in Atlanta and Marseille through the work of photographers Jean-Pierre Maéro and Shannon McCollum.
This photographic exhibition captures the early origins of Hip-Hop communities in two creative capitals—Atlanta and Marseille. As Hip-Hop began to spread beyond New York and Los Angeles in the early 1990s, communities around the world began to claim it as their own, and with that agency, began to frame their own identities within the culture. In this exhibition, photographers Shannon McCollum and Jean-Pierre Maéro present rare access to the foundational artists, spaces, and moments of Hip-Hop in Marseille and Atlanta, respectively, that would help establish these cities as contemporary cultural capitals. Much like "ATLiens" distinguish themselves within an Atlanta context and "Planet MARS" is distinguishable from Marseille, Hip-Hop communities in these cities found ways to claim their own sense of self while laying the groundwork for generations of artists to come.
An event celebrating the exhibition opening will be held September 22 from 5-8pm at Chastain Arts Center and Gallery. Join us for a discussion with the artists and curators, as well as a DJ set with DJ Djel (Marseille) and Salah Ananse (Atlanta).
5pm: Reception & DJ set
6pm: Artist talk
7pm: Reception & DJ set
ATLiens Visit Planet MARS is presented by Villa Albertine as part of City/Cité Atlanta x Marseille, ELEVATE, and France-Atlanta, in partnership with AMI/Friche la Belle de Mai. Made possible with the support of the City of Atlanta Mayor's Office of Cultural Affairs and the Institut Français.
ATLiens Visit Planet MARS is curated by Floyd Hall and Elodie Le Breut.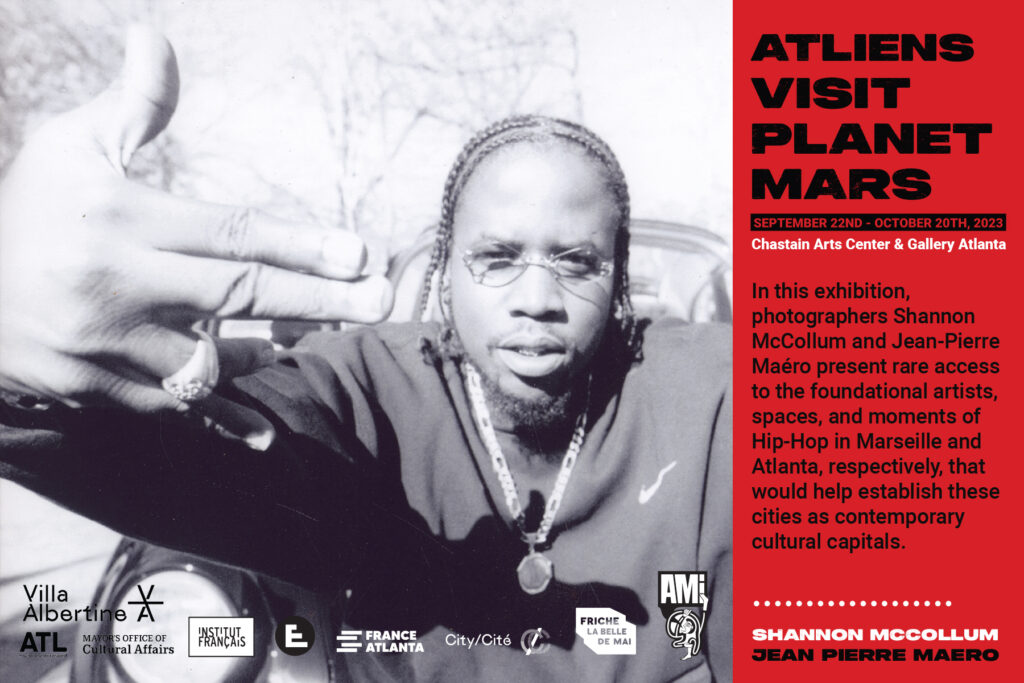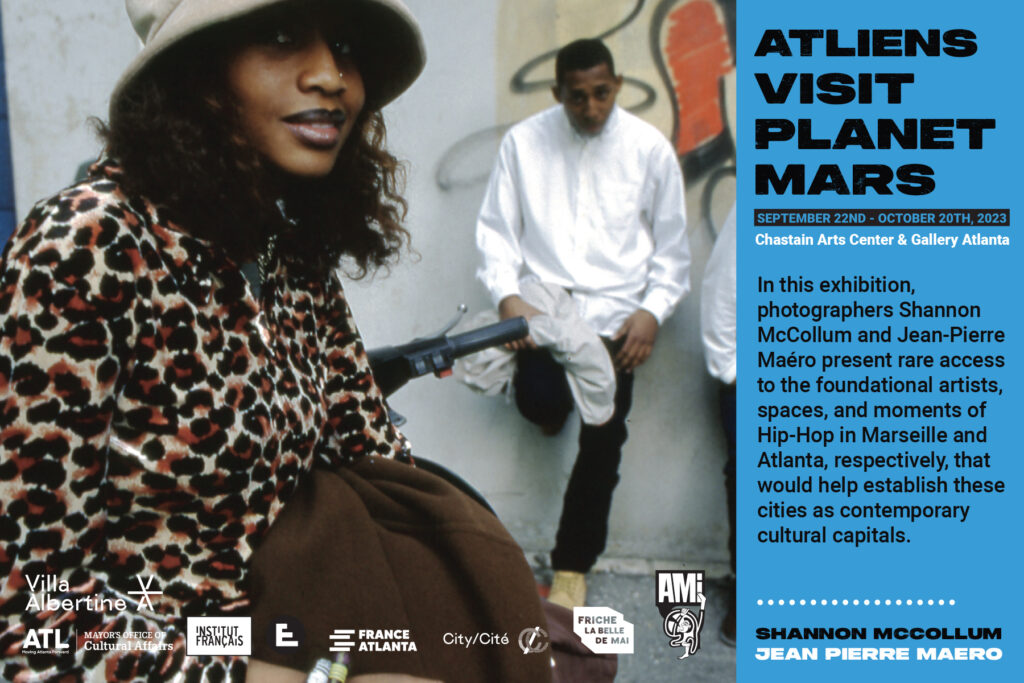 Jean-Pierre Maéro was born in Marseille in 1952, and he trained at the Arts Décoratifs de Paris. From 1984 to 1995, Jean-Pierre Maéro shot video and photo portraits of the first rap groups from Marseille, with the aesthetic choice of capturing their images on the spot, in their neighborhoods (the streets, apartments, etc.) and their places of creation (the studios, the first stages in the rare venues that agreed to host them). His work emanates a genuine intimacy shared with these emerging artists, and a constant desire to convey the essence of their committed music to the rest of the world.
This incredible portrait gallery (over 200 shots) constitutes a unique collection of photographs on the birth of Marseilles hip-hop, earning him regular requests from numerous French museums and cultural institutions (Mucem, Philarmonie de Paris, Musée d'Art Contemporain de Marseille, Institut du Monde Arabe, Musée de l'Immigration… ) as well as from authors (M.A.R.S. Histoires et Légendes du hip-hop marseillais [MARS: Stories and Legends of Marseille Hip-Hop], Julien Valnet) or the media (Disney+, France Télévision, Libération, Rock & Folk…).
Jean-Pierre Maéro released his first personal photographic work on the subject L'Odyssée Martienne, Voyage visuel dans le mouvement hip-hop de la cité phocéenne [Martian Odyssey: A Visual Journey into the Hip-Hop Movement of the Phocaean City], self-published in 2017.
Shannon McCollum is a self-taught photographer who navigates life with an infectious southern charm and keen cultural eye. McCollum's candid portraits have traced the evolutionary genius of funk mavens OutKast, captured the elusive flair of Erykah Badu, confirmed John Legend's cool, reaffirmed The Last Poet's necessity, and redeemed the Notorious BIG. His intimate masterpieces have blessed the pages of the coveted publications The New York Times, Rolling Stone, XXL, Boston Globe, Vibe, and Black Enterprise.
Considered the "Gordon Parks of Hip-Hop," McCollum has shot Goodie Mob, Brian McKnight, Jermaine Dupri, P. Diddy, Wu Tang Clan, Coretta Scott King, Andrew Young, Jesse Jackson, Cicely Tyson, and Roy Jones Jr., to name a few. He is the visionary of choice among underground kings and modern-day musical legends. Just as writer Langston Hughes penned verses for everyday people, McCollum's legacy is anchored in the heart of common folks who appreciate his endearing productions.
Floyd Hall is an artist, engineer, cultural producer, writer, and documentarian from Atlanta, Georgia. As an artist and curator his work often relates to the intersection of culture, media, and technology as platforms to construct narratives of place. In 2023 he curated the Science Gallery Atlanta exhibition, JUSTICE; in 2022 he co-curated the inaugural Science Gallery Atlanta exhibition, HOOKED. In 2021 he co-curated the Museum of Design Atlanta (MODA) exhibition, The Future Happened: Designing the Future of Music. He holds a BS in Mathematics from Morehouse College, a BS in Mechanical Engineering from Georgia Tech, and an MBA from Columbia University. 
Elodie Le Breut is the Director of A.M.I, an organization dedicated to support the innovative music scene in Marseille, at the Friche la Belle de Mai. She works specifically on the strategic development, as well as the general and artistic programming. AMI manages six rehearsal studios, creation residencies, artistic practice workshops, stage coaching sessions for emerging groups and cultural entrepreneurs, as well as artistic and technical training. Before A.M.I., Elodie Le Breut worked as a journalist at Radio Grenouille (Marseille) for a show dedicated to experimental and new musics in the world. She was also an international development advisor for the Gabonese record label ZORBAM Produxions, and an artistic advisor for BALOJI, Belgian artist and rapper. 
Sign up to receive exclusive news and updates