Albertine Dance Season in LA this fall at REDCAT: Shows by Nacera Belaza, Dorothée Munyaneza, and Dimitri Chamblas with Kim Gordon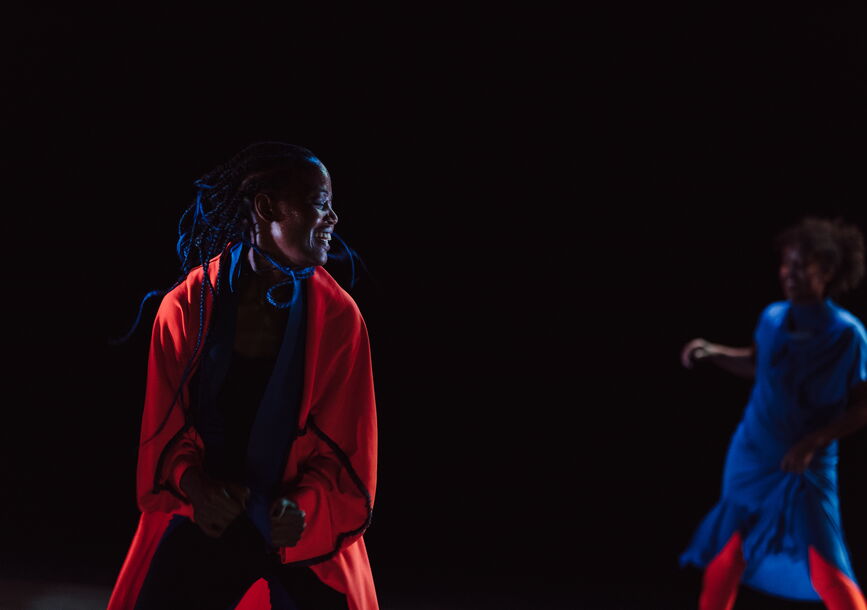 REDCAT
631 W 2nd St
Los Angeles, CA 90012
October 19 - November 9, 2023
Albertine Dance Season is bringing innovative choreography to Angelenos this fall. Roy and Edna Disney CalArts Theater (REDCAT), Los Angeles's premier venue for contemporary performing arts, presents three productions with support from Villa Albertine: L'Onde  by Nacera Belaza (October 19-21), Mailles by Dorothée Munyaneza (November 2-4), and takemehome by Dimitri Chamblas with Kim Gordon (November 8-9).
First in this trio of contemporary creations, Nacera Belaza will grace audiences with L'Onde (The Wave, playing October 19-21). With other performances on her US tour in Connecticut and Minnesota, REDCAT will hold the exclusive west coast stop. Belaza, the French-Algerian self-taught dancer/choreographer, "explores the boundaries between embodied presence and the ecstatic emptiness toward which dance, and movement, can lead us," as described by Marian Harss of The New Yorker. With L'Onde, four dancers are suspended between ritual and modernity, informed by both Algerian traditions and minimalist elegance. The performance on October 20 will be followed by a talk with the choreographer. Belaza's tour follows her 2021 and 2022 itinerant Villa Albertine residency, where she embraced the unknown on a serene yet profound roadtrip.
Tickets for these performances of L'Onde may be reserved here.
Mailles has more than one English translation, including "stitches" in textile or "links" in a chain. British-Rwandan choreographer, singer, and author Dorothée Munyaneza explores both ideas in her production running November 2 to 4 at REDCAT. Mailles (recently named as one of "30 must-see arts events in Southern California this fall" by the LA Times) is a symphony for six voices of African and Afro-descendent women, an ode to the strength woven from a community of powerful individuals. Collaborating with costume designer and visual artist Stéphanie Coudert, Munyaneza connects and responds to the unconscionable injustices experienced by each of the artists in the diverse places they have called home. The performance on November 3 will be followed by a talk with Munyaneza, as well as performers Ife Day, Yinka Esi Graves, Asmaa Jama and Nido Uwera.
Tickets for these performances of Mailles may be reserved here.
takemehome rounds off the trio of Albertine Dance Season productions in Los Angeles on November 8 and 9. From the French dance mastermind Dimitri Chamblas (who has been CalArts faculty since 2017) and legendary American rocker Kim Gordon, takemehome is an introspective take on the erasure of certain members of society, from prisoners and elders to unproductive ghosts and the indecisive. Nine dancers, five guitars, and five amplifiers dare to restore the visibility of these outcasts as shadows captivating each other and the audience. A complete list of all stops of this tour and of all works supported by Albertine Dance Season can be found here.
Tickets for these performances of takemehome may be reserved here.
Villa Albertine is proud to have João Ribas, REDCAT's Steven D. Lavine Executive Director and Vice President for Cultural Partnerships, as a member of its Los Angeles residency jury. His efforts to convene the arts and the world's current challenges through innovative programming resonate deeply with Villa Albertine's raison d'être. In his words: "As live performance, and our communities, face some of the greatest challenges yet, we at REDCAT are committed to supporting the important work of artists from both Los Angeles and beyond. This season continues to meet this moment head-on, providing opportunities for vital dialogue between artists and audiences in our complex and changing world."
Sign up to receive exclusive news and updates