"Above Front Tears Nest in South" by Laure Prouvost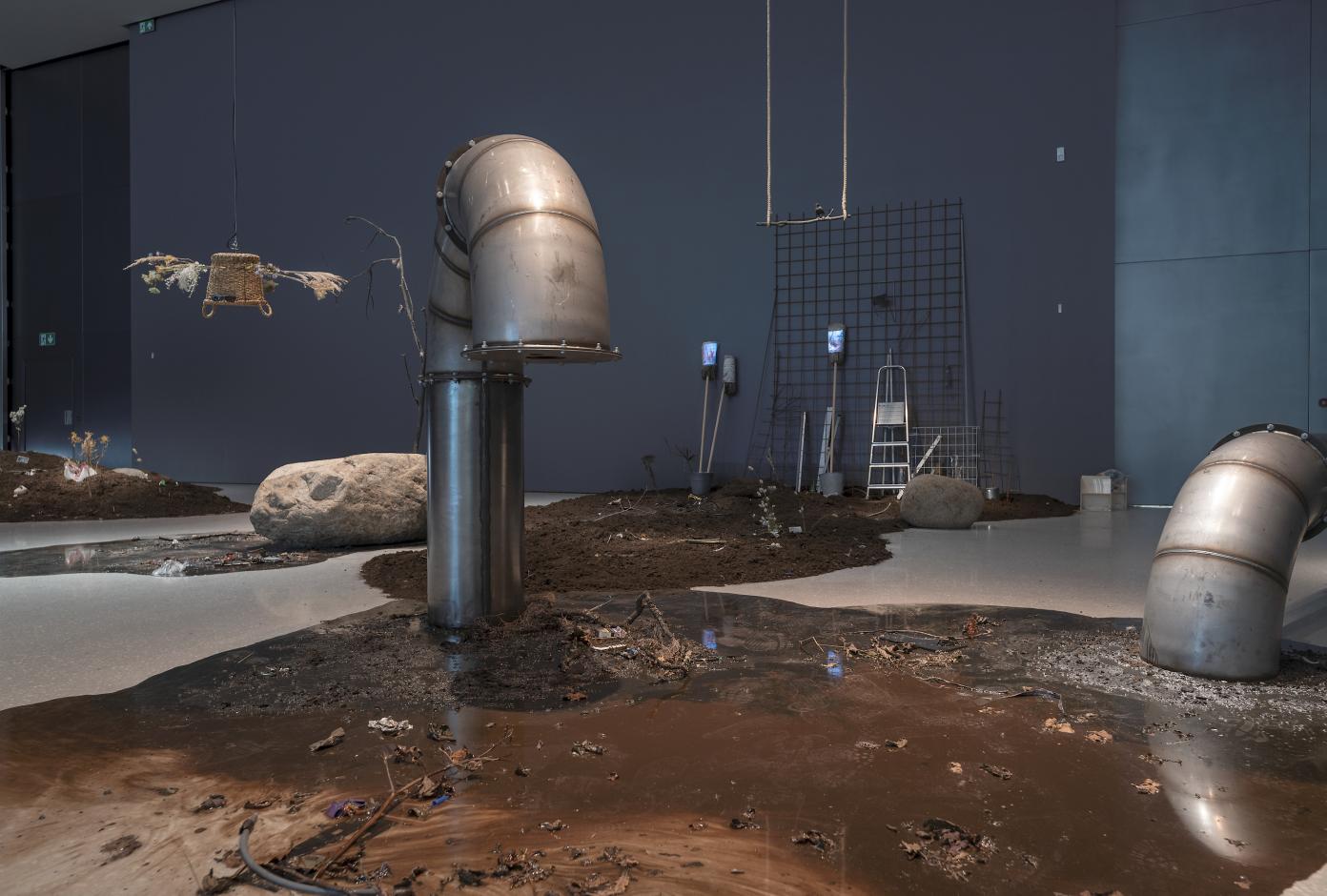 Moody Center for the Art
Rice University
6100 Main Street
Houston, US 77005
September 15 - December 14, 2023
The Moody Center for the Arts, with the support of Villa Albertine and FACE Foundation, is delighted to present the first solo exhibition in Texas of celebrated French artist Laure Prouvost, opening September 15 and on view through December 14, 2023.
The exhibition Above Front Tears Nest in South invites visitors on an intriguing journey, engaging both the body and the mind through multisensorial installations, combining video, sculpture, and textiles in a mind-bending setting that creates a humorous, idiosyncratic experience.
Prouvost, an award-winning visual artist who overturns traditional modes of perception, transforms the Moody galleries into a liminal space between reality and imagination. The exhibition features large-scale, multimedia installations, found objects, sculptures, tapestries, architectural assemblages, and videos that interact with the building's architecture through a whimsical mode of display. Exploring themes of eco-feminism and environmentalism, Prouvost uses objects in surprising and provocative ways, combining them with personal and imagined memories. This unconventional approach extends to language, made tangible by the exhibition title's play on words.
About the Exhibition
"Through Laure Prouvost's surrealist work, the visitor embarks on a mesmerizing journey, flying South and then nesting at the Moody, referencing Houston's unique location on the North American migratory paths for birds. The disruptive presence of reality is introduced through an installation that evokes oil spills and their catastrophic consequences for the environment," explains curator Frauke V. Josenhans. "Prouvost's vision highlights some of the critical issues of our time, as seen through the lens of eco-feminism, and at the same time asks the visitor to forego set expectations and let the mind levitate in a space of boundless freedom."
Overall, the exhibition conjures a compassionate, hopeful future where humans live as part of nature, rather than working against it. Every element, be it large or small, natural or manufactured, plays a role in helping us imagine a more productive and positive way to inhabit this world.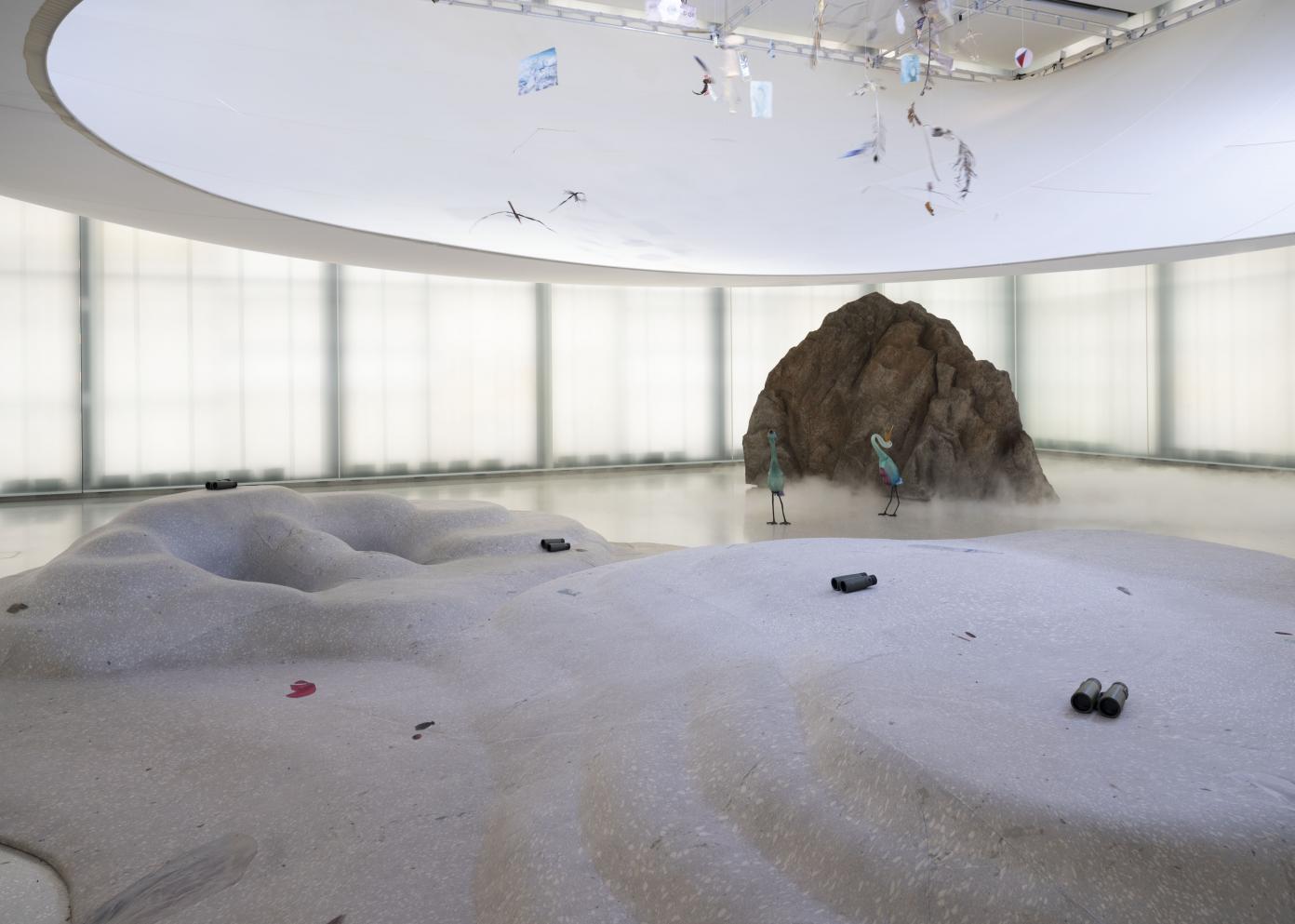 About the Artist
Laure Prouvost (b. 1978, Lille, France) received her BFA from Central Saint Martins, London in 2002 and completed studies towards her MFA at Goldsmiths College, London. Prouvost was awarded the Turner Prize in 2013 and the Max Mara Prize for Women in 2011, among other awards. In 2016 she was distinguished as Chevalier de l'Ordre National du Mérite, and in 2019 was made Officier de l'Ordre des Arts et des Lettres. The artist created her first public commission in the United Kingdom through Transport for London's Art on the Underground in 2019, and represented France at the Venice Biennale that same year. Prouvost lives and works in Brussels, Belgium.
Special Events
Friday, September 15, 2023, 6-8pm 
Opening Reception with the Artist
Saturday, September 16, 2-4pm
Artists-in-Dialogue: Laure Prouvost + Jacqueline Couti, followed by a reception
A multi-voice conversation between the artist, Jacqueline Couti, chair of the Department of Modern and Classical Literatures and Cultures (MCLC) at Rice University, and other faculty members.
Friday, October 27, 6 – 8pm Dimensions Variable: Oliver Halkowich
An original dance performance inspired by the exhibition choreographed by Oliver Halkowich, former Houston Ballet Soloist, and now choreographer at the New Orleans Ballet Theatre.
Saturday, November 4, 3–5 pm New Art/New Music
A presentation of original scores composed in response to the Laure Prouvost installation created by Rice University's Shepherd School of Music students.
Sign up to receive exclusive news and updates