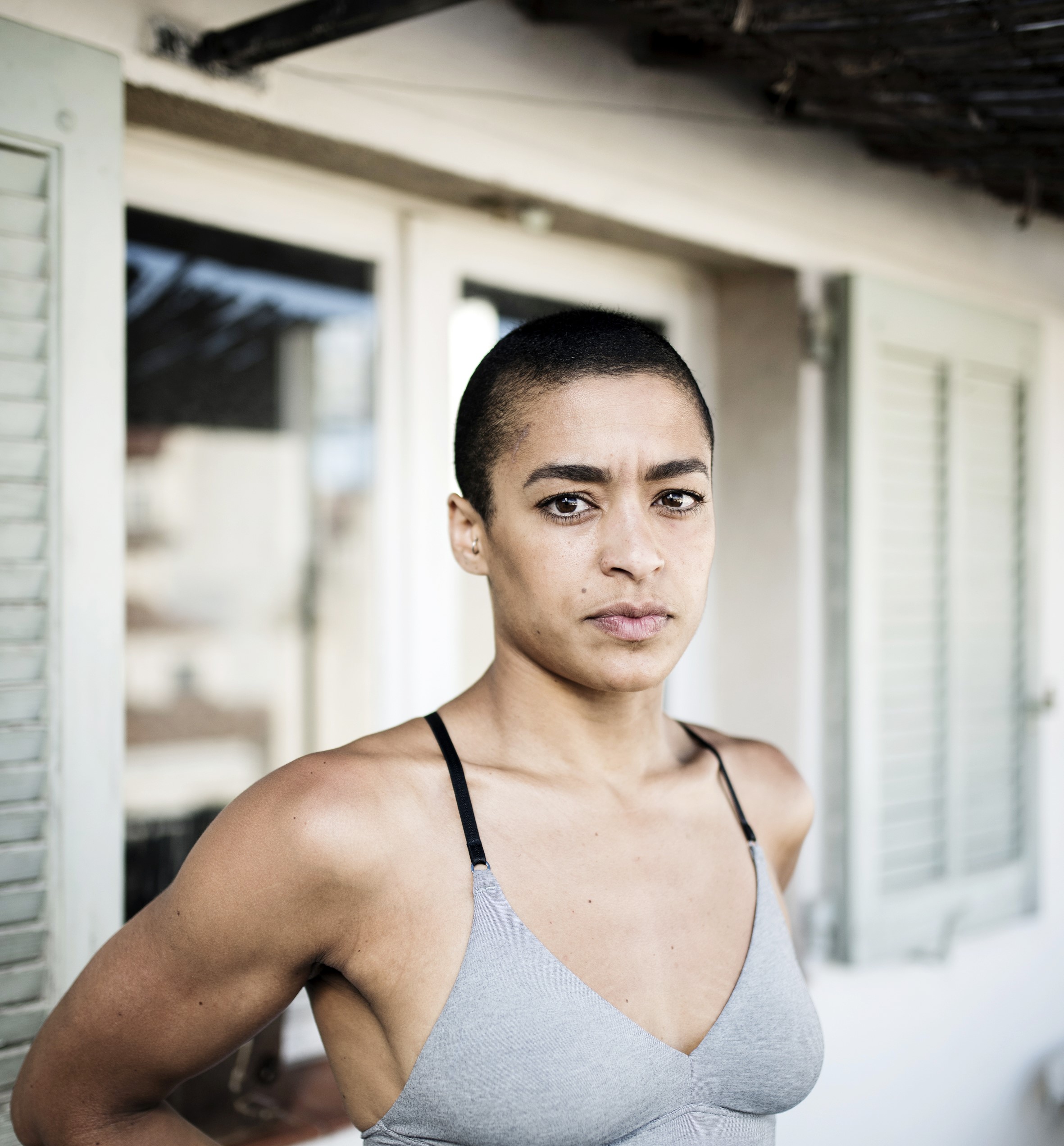 Los Angeles
San Francisco
I have shown you how I anchor myself in the ground. How I stretch space.

This drunken, shaken body living before death, living before all else.

Powerful, eloquent dance; cutting, sincere speech.

Inevitable self-reinvention.

Power of the uprooting, of the dismantling. Endorphin.

Opium yourself
After coming to dance through krump, which she discovered in 2008, Nach has simultaneously developed her relationship with performing and creation. As a performer for various artists, she has enjoyed multiple encounters with individuals from all backgrounds, including, most recently, choreographer Gisèle Vienne. In music, she has worked with Koki Nakano and Ruth Rosenthal as part of the Winter Family collective. In cinema, too, she has led a unique adventure with students from one of the schools of the Kourtrajmé collective. This particular project of knowledge transmission was focused on body, posture, and embodiment, cornerstones of her own journey.
In 2017 came a shift with the creation of her first solo piece, Cell, followed, in 2019, by the play Beloved Shadows, produced after a trip to Japan. There, the artist came to discover many things, including the performing arts of Noh, Bunraku, and Butoh.
More convinced than ever of the need to work around a narrative, Nach committed even further to following her own path – the path of an organic body whose powerful, delicate dance confronts other artistic perceptions and practices, such visual arts, spaces of wandering and gliding, light, and words. This creative approach was borne out by her danced lecture, Nowhere Is a Place (2021). Resisting labels, her work questions femininity as much as the processes that all individuals undertake in reappropriating a multiple identity. She addresses these questions differently in her upcoming work, her first group-based creation.
And so, Nach continues her wandering to find new ways of making narrative and posture. Constantly evolving through the esthetic that has watched her grow—that of krump—she will seek to nurture her body with a practice that remains new and unfamiliar to her: ballet.
For years, her reactive act has been characterized by an embodiment and reinvention of rituals and the self through epic figures. In this respect, she will now seek out historic figures in an attempt to determine what eloquence means both to her and to contemporary society.
Her other topic of study will revolve around her video, dance, and photography. How can the museum or gallery space—or other unorthodox spaces beyond walls—be reappropriated? How can these new media help create a narrative?
Nach's project will be to meet artists in the United States to exchange with them and bring herself up against their ways of creating a narrative, but also to meet spaces and teams to create and share new narratives together.
In San Francisco, she hopes to discover the cabaret space. She plans to embark on a new journey of learning under the guidance of Alonzo King and his dancers. There, she will work with what she calls the dance of eloquence, and with the genius of figures from jazz and burlesque, as well as from politics. In this specific location, she will investigate the corporeality of orators, focusing particularly on Black American figures.
In Los Angeles, Nach intends to dedicate some time to an exploration of the museum world, and to understanding how she can insert her different practices into it (from live performance to video material, dance, and installations).
Sign up to receive exclusive news and updates