Writer, stage director, filmmaker
November 13–26, 2021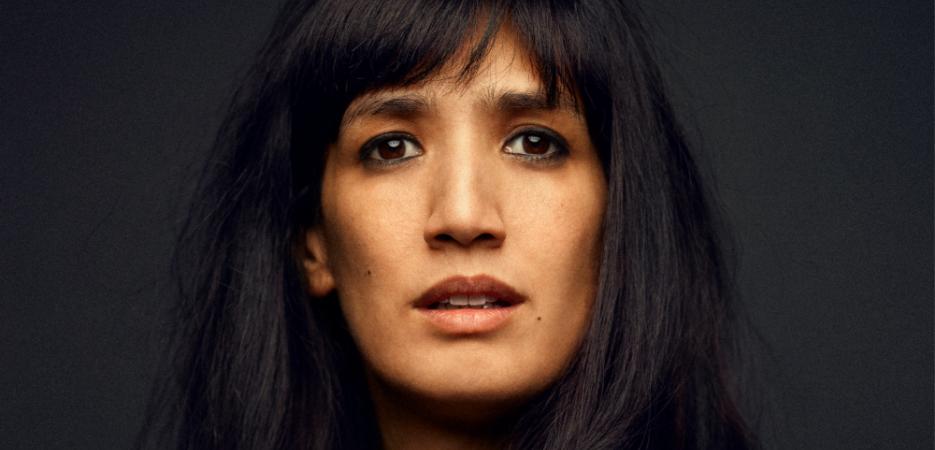 "I always immerse myself in a place to soak up the reality which I then use to make a story, through contact with the people who populate it, in all their diversity and complexity, and in the way they belong to their society."
My name is Caroline Guiela Nguyen. I'm a writer, stage director, and filmmaker. In 2009, after my studies, I created the theater troupe Les Hommes approximatifs. It was through sociology that I entered theater, through the art of observing and of trying to understand others by being outside the frame. I got accepted into the theatre production departments at the Théâtre National de Strasbourg drama school. That was where I first met some of the future members of my troupe. Very quickly, I felt the need to work with people that weren't being shown on stage, to hear other languages, to give voice to untold tales. I also needed to reconcile my background with the world of theater. For "FRATERNITÉ, conte fantastique," the play I created in Avignon this summer, I cast 13 actors, aged 21 to 82, from France, India, Belgium, Mali, Vietnam, etc. Together, we came up with a story, pondered on the idea of fraternity, and saw how we can care for each other despite our different journeys and cultures. As an author, I strongly believe in the power of our collective imagination when it is imbued with the reality it helps recount. When we draw from our various cultural, social, and spiritual backgrounds, we can write captivating tales that are accessible to all. 
After studying sociology and performing arts, Caroline Guiela Nguyen joined the Théâtre National de Strasbourg drama school. Three years later, she created a troupe, Les Hommes approximatifs, that tackles life stories and bodies that aren't being shown on stage. Her plays draw inspiration from real-life and personal stories and involve professional and amateur actors from an ever-changing variety of social and geographical backgrounds.
In our creative process, we always spend a lot of time together. We visit places of hurt and listen to their inhabitants. Then I write. I begin with a story at once free and laden with people who have become "experts in their own pain." We often invite these people to participate in our project – not so they can tell their personal tale, but so they can help build a collective story. Above all, the goal is to invent a fiction with them.
I would like my work to deal with the subject of police brutality. My approach is best captured by what French activist Assa Traoré wrote in the book she co-authored with Geoffroy de Lagasnerie: "We won't be the victims they want us to be. We're victims who hold their heads high."
Whether in "Saigon," where we address colonial issues, or "Fraternité," where we deal with those who 'disappeared' under the Francoist regime, the central theme to the 'tears' being shed is always the victim and their dignity.
This subject has always weighed on my mind. I myself am the daughter of one of the victims of colonization. For a long time, I hated that word. All I saw in it was a notion that belittled my mother, a source of condescension towards her. For a long time, I hated being the daughter of a victim. But now, through this project, I want to meet these victims, who are "experts in their own pain." I want to understand and recount the role they play in weaving the very fabric of our society, both today and tomorrow.
Naturally, the issue of justice will be dealt with. Justice for a family and their loved ones, but also so we can imagine tomorrow's world, so our past and future can enter into a dialogue. In every project I initiate, the idea is to meet organizations and families who, following a tragedy, after or during their tears, find the strength to imagine tomorrow's world from the depth of their pain.
Through the US model of multiculturalism, we can invent new ways of tapping into this pain – through the success of Black History Month, for instance. In recent years, the Black Lives Matter movement and the Stop AAPI Hate website have emerged. This has given the chance for expression to past traumas that were never voiced or heard among previous generations of minorities and immigrants. For me, discovering New York, its institutions, and its web of activists and charities will be a chance to draw inspiration from those who define it. And to imagine alongside them and through them, a reconciled society.

Théâtre National de Bretagne (TNB)
The Théâtre National de Bretagne (TNB) traces its roots back to the very creation of the Centre Dramatique de l'Ouest in 1949 and of the Maison de la Culture in 1968 (a merger took place in 1990). As a European center for theatrical and choreographic production, emphasizes not only theater, but dance, music, cinema and education. The TNB organizes an annual international Festival and supports the School of the Dramatic Arts. The TNB welcomes about 200,000 spectators every season. Since 2017 the actor and stage director Arthur Nauzyciel has led the TNB and has introduced an artistic project grounded in 3 fundamental values: Share, Transmit, Connect. In addition, he appointed 18 associate artists, joined by another 10 other artists in 2021. 
Sign up to receive exclusive news and updates