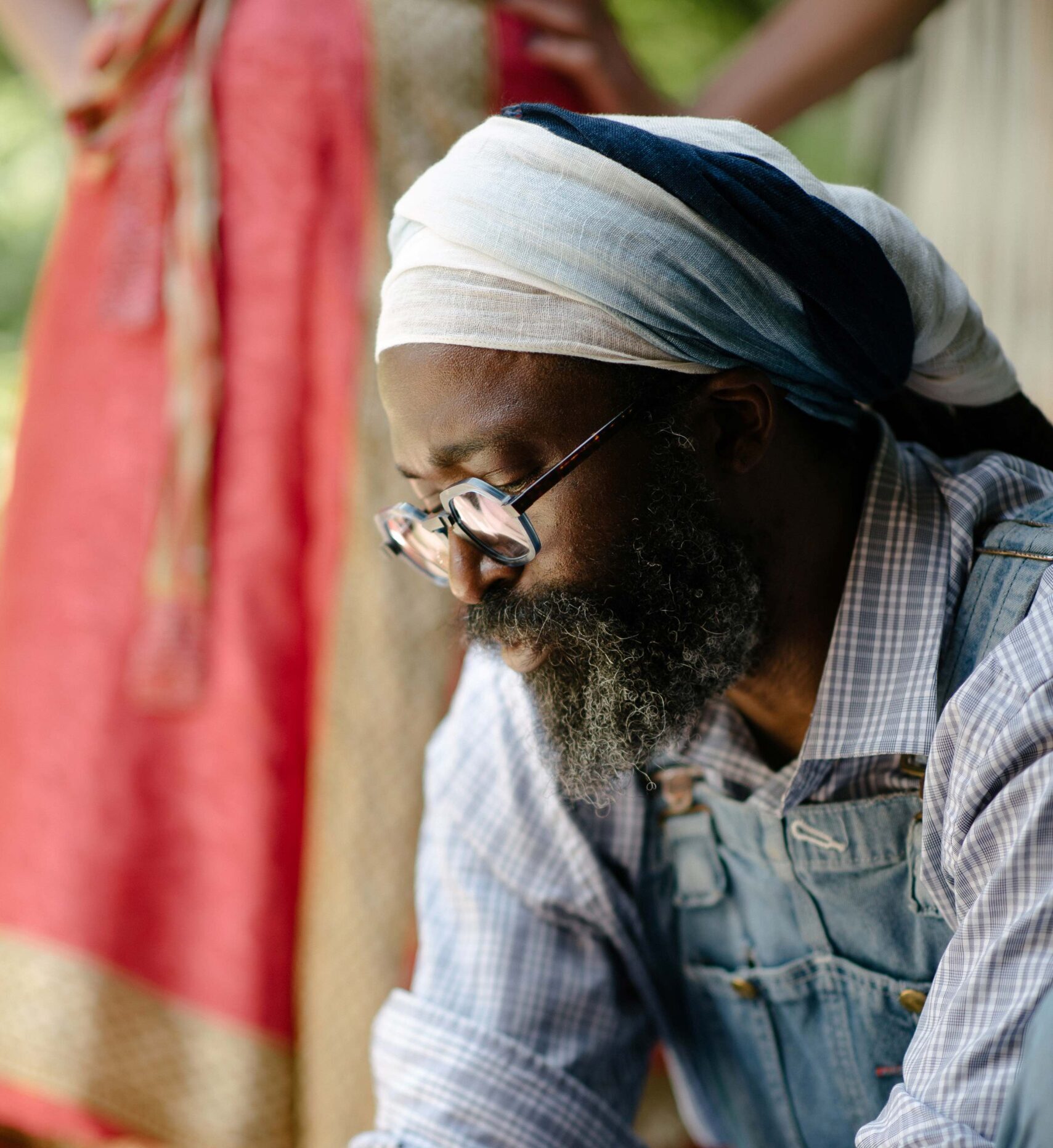 Craft & Design
Social Sciences and Humanities
Visual Arts
Atlanta
New Orleans
New York
Washington, DC
"I intend for my work to become more attuned and responsive to the needs of Black Diaspora communities, and the lands we inhabit as they pertain to ancestral restoration, plant medicine, and liberation."
I am a textile artist. In all my work, I am interested in the symbiotic relationship between humans and the plants that comprise our environment, especially the spiritual significance and healing aspects of indigo and other indigenous African dye plants. 
For over three decades, I have dedicated myself to reinvigorating and refining traditional West African natural dyeing techniques and materials. I nurture, cultivate, harvest, and process the indigo that is the source of each piece I create. as such, Because the fundamental belief of my spiritual practice is that nature is divine, everything in my artistic practice requires an unwavering attention to ancestral techniques that promote the health of humans and the land. For the healing aspects of indigo to be fully realized, this precision and coherence from seed to finished fiber must be present. 
To develop this precious knowledge, I spent years studying with the last remaining keepers of these traditions. I pored over archival materials documenting African indigo from ancient to modern times. In this retracing and remembering, I question what became of the sacred aspects of indigo for my ancestors during the trans-Atlantic slave trade. In this residency, I will consider the experiences of enslaved West Africans with indigo cultivation and production during the colonial era. I intend for my work to become more attuned and responsive to the needs of Black Diaspora communities and the lands we inhabit as they pertain to ancestral restoration, plant medicine, and liberation. 
Aboubakar Fofana is an artist and designer whose mediums include calligraphy, textiles and natural dyes. He is known for reinvigorating and redefining West African indigo dyeing techniques, and he is devoted to the preservation and reinterpretation of traditional West African textile and natural dyeing methods and materials. Fofana's work stems from a spiritual belief that nature is divine, and through respecting this divinity we can understand the sacred universe. His materials come from the natural world, and his practice revolves around cycles of nature, the themes of birth, decay and change, and the impermanence of these materials. 
With this residency, I will consider the tensions between the historic and present-day conceptions of indigo, which is on the one hand an indigenous natural dye plant with therapeutic properties and on the other a cash crop mass-produced under violent (neo)colonial economic schemes. How can embodied, intergenerational ways of knowing and being surrounding the cultivation and use of indigo as a source of healing renew the relationship that those who bear historical trauma have with the plant? How do Black culture bearers respond to the imprint of indigo in their collective memory ? How can renewed narratives reinvigorate archival records, and what unexplored spaces of consideration might the archive reveal? Intentional exchange with US Black communities will illuminate and ground my own artistic practice, generating greater accountability within the ways I steward the land and transfer knowledge. 
I hope to discover how knowledge of indigo as a healing plant survived or even flourished among my enslaved African ancestors through interviews with their descendants – my diaspora kinfolk. Parallel to my artistic approaches as a dyer and designer, my methods in this project center and prioritize oral histories and the written archive. This methodology allows me to contextualize what I uncover within the archival record (which ultimately represents a colonial vantage point) and simultaneously establish enduring relationships with US Black artists, herbalists, and farmers. In South Carolina, I will encounter members of Gullah Geechee communities and Black culture bearers throughout the region who are the descendants of these African ancestors – the living archive. In New York and Washington DC, I will supplement field interviews with the written primary source documents of libraries, academic institutions, and museums.
The themes of this proposal correspond with several projects that I have developed over decades. My exhibition Fundi (Uprising), which addressed the struggles of oppressed people against the powers that seek to control, and my exhibition Symphony for an Untold Story was inspired by the history of African indigo in the United States. My experiences in the US will allow me to consider questions that I have yet to fully incorporate in my work.  
My residency is structured in two phases: formal institutional archive research, then fieldwork in the southeast coastal region (the historic settlement areas of the Gullah Geechee) for geographic site visits to locations of indigo cultivation, both historical and contemporary. I will focus particularly on areas where it is being reclaimed and reimagined by artists, activists, and agriculturists. 
Phase 1: New York, NY; Washington, DC 
Phase 2: Charleston, SC; St. Augustine, FL; Atlanta, GA; New Orleans, LA 
I will spend approximately two weeks in each city, starting with New York at the Schomburg Center for Research in Black Culture, then moving to Washington DC to review archival material at institutions like the National Museum of African American History & Culture and Howard University, among others. In Charleston, St. Augustine, Atlanta, and New Orleans, I will conduct oral histories with Black artists and agriculturists with deep ties to indigo cultivation in the States, whether through ancestry, present activities of reclamation and restoration, or both. 

Art & Exception is an independent initiative that aims to promote African craftsmanship, the preservation of cultural heritage and transform the innovation potential of creative industries through education, culture and economic development.
Sign up to receive exclusive news and updates