Portrait: Christophe Huysman and Nicolas Fraiseau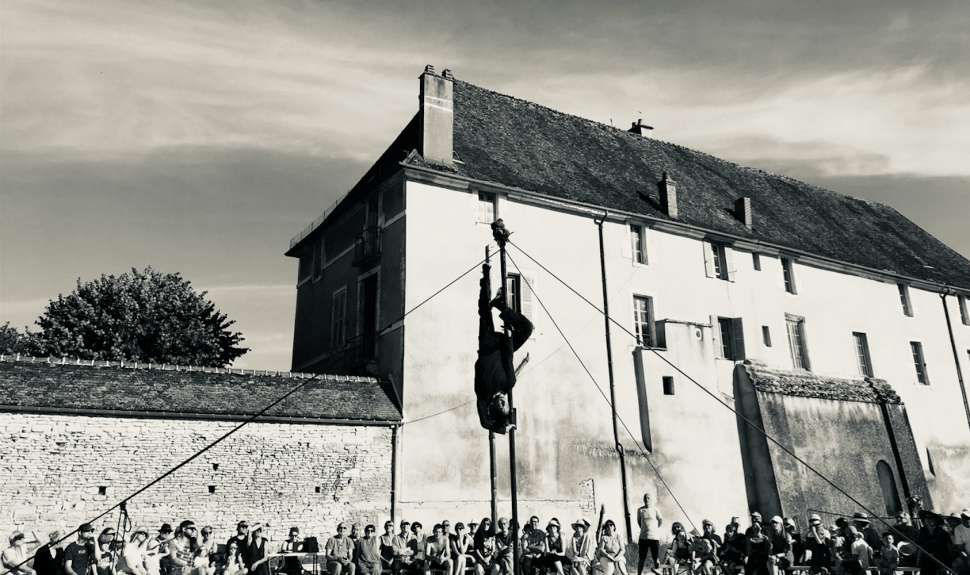 The Story of Christophe Huysman and Nicolas Fraiseau
The acrobat Nicolas Fraiseau developed his first show Instable under the supervision of Christophe Huysman, director of theater company Les Hommes Penchés. Instable will be presented by the Pittsburgh Trust for Cultural Resources and Performance Spaces for the 21st Century (PS21) in 2021 and 2022. Both organizations are grantees of the 2020 FACE Contemporary Theater program for their choice to present Instable. The show was previously performed in 2018 at the Académie Fratellini in La Plaine Saint-Denis, France and in 2019 at the Seoul Street Arts Festival in South Korea. 
It all started with an encounter
Each year, students completing their studies at the Centre National des Arts du Cirque present their personal projects. In 2016, Nicolas Fraiseau presented his project. On stage, he attempted in vain for approximately 20 minutes to climb up a Chinese pole. His performance was all about fragility, instability, and failure. Through all of these physical and emotional states—often represented in a negative way—Nicolas Fraiseau described his dream, "that of hanging a pole on an invisible iron wire," and told Christophe Huysman, a member of the jury, that his gestures "could be expanded upon." A few months later, the adventure of Instable began with the theater company Les Hommes Penchés. 
It all made sense during the performance 
Stepping onto a precarious stage with bumpy wood boards, a metal bar in pieces, and a few cables, Nicolas Fraiseau contemplated the quagmire that surrounded him. In the beginning, he climbed up the Chinese pole, which he patched up before falling. Caught between drama and comedy, the room erupted in laughter.
Nicolas Fraiseau explained that "he strives to climb, trying to reach his goal" and "through his endeavors, his actions, accidents, he creates life all around him. Sometimes he slips and reveals how helpless he is." His body and the pole have become one, and yet, they are fighting an endless battle. Instability becomes logic and the limits of balance, a game. The fragility of the artist mirrors human nature and in the midst of countless failures, the fall is no longer simply a danger, but also a performance. 
It was all created in Pairs 
At the end of the performance, Nicolas Fraiseau finally reached the top of the pole, placing a small plank of wood at its peak and standing up straight on top of it. At that moment, the staging of Christophe Huysman received a new interpretation. "It is not about telling a story or even reflecting about instability, this is one of the reasons why the performance is wordless, it's about action. It is a form that uses all its power and where words are not required," Fraiseau said. And in this moment the spectators wonder about the artist's gestures: What does it mean for a performer to fall? What is failure for the human being in today's society? What is the price of achieving balance when the path is dangerous and sometimes completely absurd? The fall, the instability, and the accident are no longer an impetus for critical thinking, but a means to act. Welcoming the unexpected is then part of the human condition. 
All quotations come from the interview between Nicolas Fraiseau and Christophe Huysman on Les Hommes Penchés website.  
About Christophe Huysman and Compagnie les Hommes Penchés  
Christophe Huysman is a writer, actor and director. After his studies at the Paris Conservatory, he created the theater company Les Hommes Penchés in 1995. From 2001, the theater company has helped create productions that open up new performance perspectives, including through theater, video installations, and musical performances. Through this perspective, Christophe Huysman directed Les Hommes dégringolés, shown at the Avignon Festival in 2001, Les Repas HYC, shown at Théâtre de la Bastille in 2003, and L'Orchestre perdu, shown at Avignon Festival in 2010. During this time, Huysman also nurtured an intimate relationship with the circus arts, creating Espèces, pièce de cirque shown at La Villette in 2004, HUMAN articulations shown at Festival d'Avignon in 2006, and 7.7.7. shown at Festival Multipistes in 2015. With shows existing at the crossroads between street arts and scenographic arts, Christophe Huysman continues to make people dream.  
About Nicolas Fraiseau  
Nicolas Fraiseau was born in 1995. He completed an apprenticeship at the National School Circus De Châtellerault, where he developed an interest in the Chinese pole. He continued his training at in Rosny-sous-Bois, France, and at the Centre national des arts du cirque in Châlons-en-Champagne, France. Nicolas Fraiseau has an appetite for risk, and shares moments of freedom through improvisation and precise movements. In 2015, he joined the circus Compagnie Kiaï as a performer for Cri, a piece directed by Cyrille Musy and Sylvain Décure. His performance credits include Kafka dans les villes, directed by Frédérique Lolliée, Elise Vigier, and Gaëtan Levêque in 2018; in Piano sur le fil by Bachar Mar Khalife, directed by Gaëtan Levêque in 2018; and in 2019, La Main de la Mer by Gaëtan Levêque and Metis Gwa. Arising star in the circus world, Nicolas Fraiseau has still not finished surprising us. 
Sign up to receive exclusive news and updates