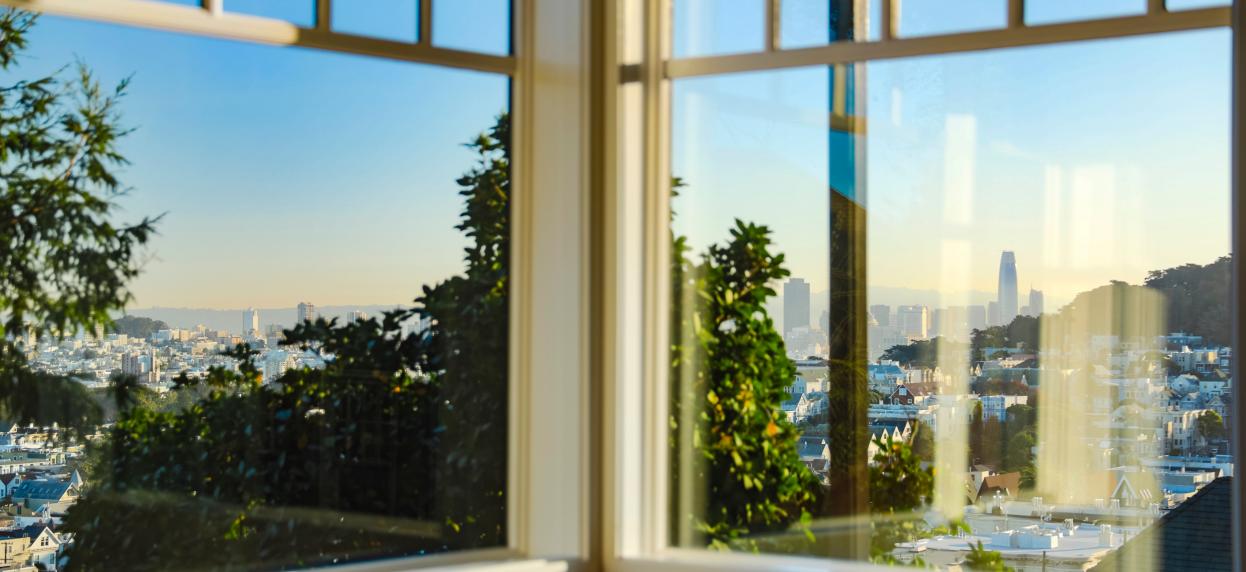 Ville des ruées vers toutes les quêtes de liberté, San Francisco attire à elle des communautés poétiques, militantes, visionnaires et entrepreneuriales qui s'emploient à secouer le monde contemporain. Portée par un écosystème numérique à la pointe de l'innovation mondiale, San Francisco est également marquée par un accroissement des inégalités, la transformation de certains quartiers du fait de la gentrification, ou encore une relocalisation des employés hors de la baie due au télétravail des entreprises de la Silicon Valley. Chaudron utopique et dystopique, qui n'a jamais cessé de nous étonner, San Francisco nous invite à questionner le monde dans sa complexité et ses contradictions.
Eccentric San Francisco is a city like no other, as famous for its beautiful Victorian architecture as for the nonconformist groups who left their stamp on 20th-century history. It is the birthplace of American counter-culture and one of the world's most inspiring cities. Many writers, from Robert Louis Stevenson to Armistead Maupin, Jack London, and Jack Kerouac were drawn to the city for its Gold Rush spirit and mysterious atmosphere, heightened by its famous fog; in the 1960s and 1970s, musicians such as Janis Joplin, Jimi Hendrix, The Grateful Dead, and Jefferson Airplane helped create the "San Francisco sound." The eras of the beatniks and the hippies may be over, but its many institutions (SFMOMA, De Young, Yerba Buena Center for the Arts, City Lights, the San Francisco Public Library, just to name a few) keep the artistic flame alive and maintain links with the city's historic inhabitants and diverse communities (Latino, Asian, hippie, LGBTQIA+, etc.).
In a region shaped by tech companies, what room is there for art and culture? There are two opposing stances: on the one hand, fervent enthusiasm for combining art and technology; on the other, outright skepticism due to the potential commercial exploitation of the arts. These conflicting views are illustrated by the tech campuses' architectural one-upmanship: Frank Gehry's Facebook HQ in Menlo Park, Norman Foster's Apple HQ in Cupertino, and Bjarke Ingels and Thomas Heatherwick's Google HQ in Mountain View – ambivalent showpieces, symbols of activism, philanthropy, and branding.
Long gone are the days of the hippies. Now resolutely high tech, San Francisco faces numerous challenges as it recovers from the health crisis. What can be done to revitalize the downtown area, when most tech companies have turned to remote work? Will Silicon Valley resist the relocation trend boosted by the pandemic, when Austin and Atlanta have already attracted some major players? How can inequalities be reduced in a city with an ever-widening gap between the super-rich and those experiencing homelessness? How can tech companies and cultural institutions meet the diversity and inclusion challenges highlighted by the Black Lives Matter movement?
The San Francisco Bay Area is not just the place where tomorrow's economy is being shaped by digital technology. It is also a place where the question of cultural sustainability and reinvention is being considered from a local and global perspective. What role will the arts and culture play in San Francisco in the coming years? What does the future hold for cultural institutions? What forms will philanthropy take in the days of tech tycoons? How will culture change in the era of social media?
With its San Francisco branch, Villa Albertine intends to work with local players (companies, universities, cultural institutions) to create a space for dialogue, where artists and thinkers can have their rightful say.
Inscrivez-vous pour recevoir toute notre actualité en exclusivité