Théâtre de l'anthropocène : une discussion avec Frédérique Aït-Touati, Duncan Evennou and Clémence Hallé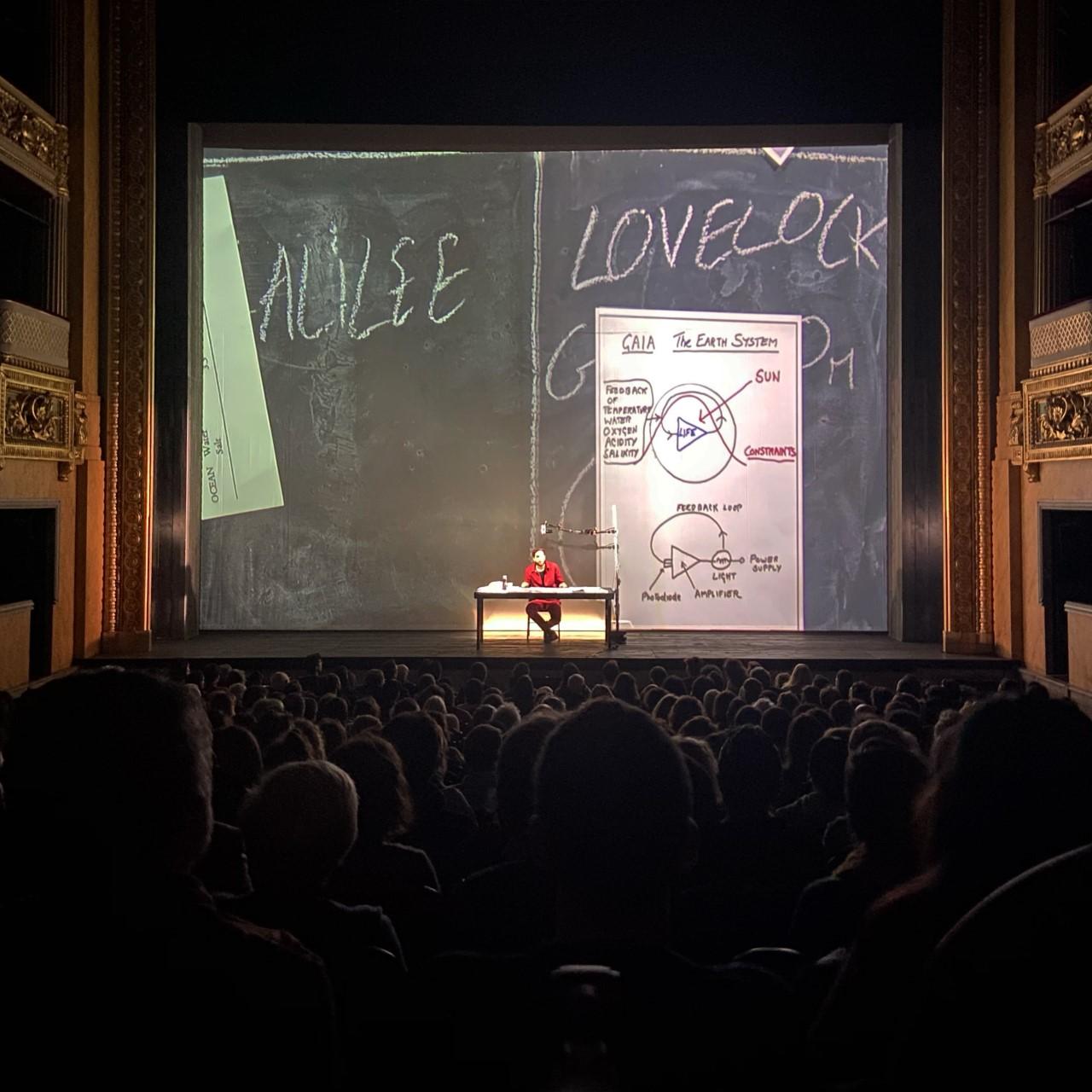 Georgia Institute of Technology
Kendeda Building, Auditorium 152, 422 Ferst Dr NW, Atlanta, GA 30313
Atlanta, US 30313
December 2, 2021 | 11h00 ET
Working with the French philosopher and sociologist Bruno Latour, the theater companies Zone critique (Frédérique Aït-Touati) and Lighthouse Compagny (Duncan Evennou) explore in a unique way the most urgent ecological and climatic issues. Join us for a conversation with Frédérique Aït-Touati, Duncan Evennou and Clémence Hallé at the Kendeda Building.  
Between philosophy and theatre, stage and science, Zone critique and Lighthouse compagny productions claim the mix of genres: "we think it is well suited to the current period, in which changes in ideas about the world are accompanied by a change in representations of this world. It is this aesthetics of science on the stage that we have been pursuing together for more than ten years" (Frédéric Aït-Touati & Bruno Latour).
The Franco-German series "Climate Crisis & Contemporary Culture" hosted by Alliance française d'Atlanta, Goethe Zentrum Atlanta, with the complicity of Villa Albertine in Atlanta, offers the exceptional opportunity to discover their work, around a discussion (December 2, 2021, 11am, Kendeda Building) and two of their acclaimed performances, Matters (December 2, 2021, 7pm, DramaTech) and Moving earths (December 3, 2021, 7pm, DramaTech).
Moderation: Andrea Jonsson (Georgia Institute of Technology, School of Modern Languages)
Frédérique Aït-Touati is a theatre director and a historian of science. Her theatre production and books focus on the relationship between fiction and knowledge, ecology and politics. She has collaborated with Bruno Latour for ten years on theatrical ways to test new hypotheses, especially for questioning the irruption of the controversial new figure of Gaia. Her work has been presented in France and around the world (Nanterre-Amandiers, Théâtre de l'Odéon, Berliner Festspiele, The Kitchen in New York, Boca Festival in Portugal, Taipei Biennale, etc.).
Duncan Evennou is a contemporary French performer and director. In 2012, he graduated from the Ecole Nationale Supérieur d'Art Dramatique du Théâtre National de Bretagne, under the direction of Stanislas Nordey. Having completed the Political Arts Experimentation Programme (SPEAP) at the Ecole des Sciences Politiques, he is now focusing on interdisciplinary work at the interface of drama, sociology and visual art involving the three key dynamics of creation, research and pedagogy.
Clémence Hallé is a doctoral student at the École Normale Supérieure in the "Sciences, Arts, Creation, Research" department. Her thesis is on the aesthetic history of the Anthropocene and she is continuing the research into ecological representation that she began with SPEAP as her field of study. She notably wrote a report on an advance simulation of COP21 at the Théâtre Nanterre-Amandiers, Paris Climat 2015: Make it Work, in the form of a play, with SPEAP illustrator Anne-Sophie Milon.
Free entrance
This event is part of the Franco-German series "Climate Crisis & Contemporary Culture" wich seeks to explore the diverse means by which we communicate on our current climate crisis while exchanging experiences and art. It is designed by French Alliance and Goethe Zentrum in Atlanta, Villa Albertine in Atlanta and School of Modern Languages of Georgia Tech, with the support of the Cultural services of the Embassy of France in the US, the Consulate of the Federal Republic of Germany in Atlanta, the Franco-German Cultural Fund, and DramaTech.
Inscrivez-vous pour recevoir toute notre actualité en exclusivité