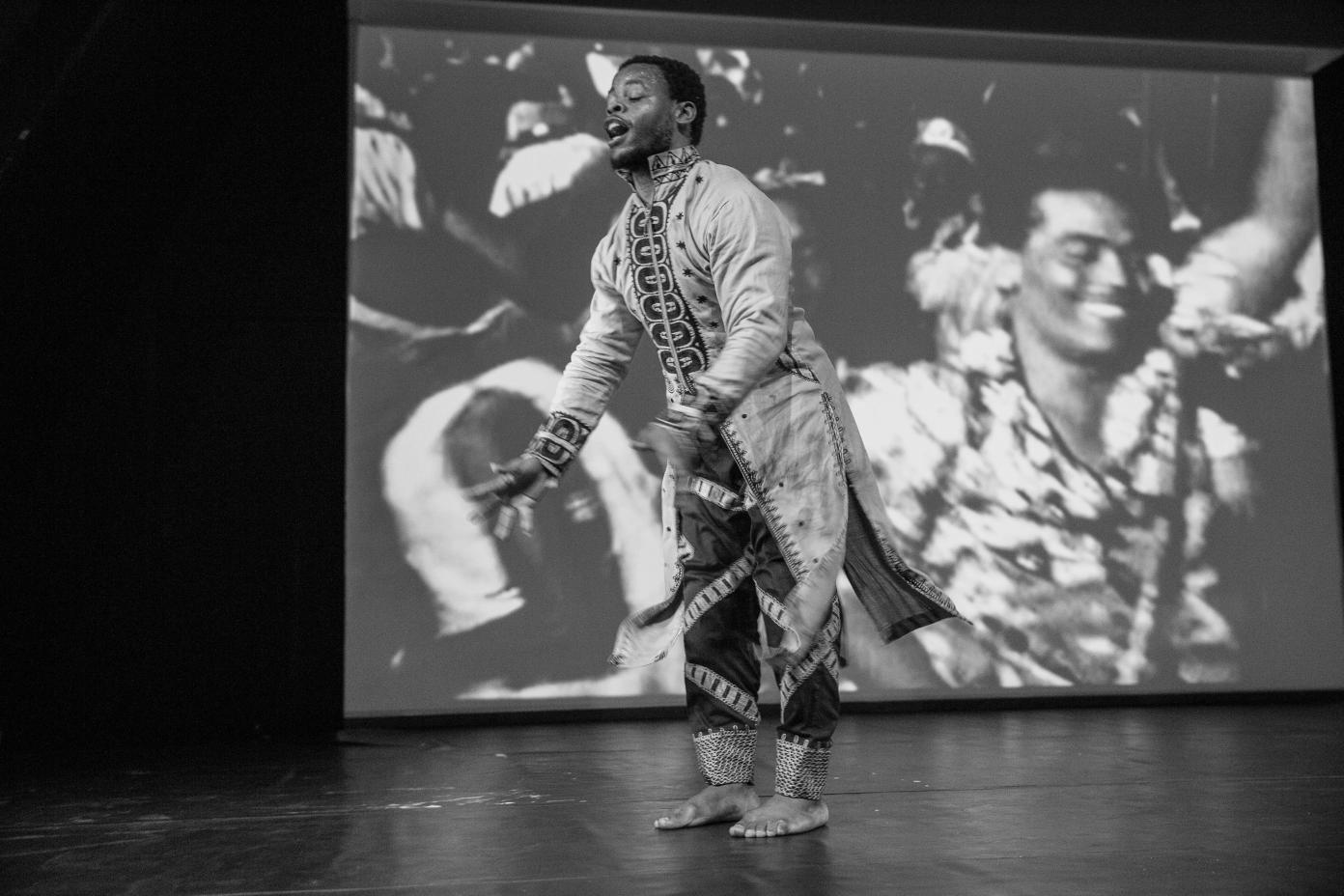 Gallerie 88
3025 Bolling Way NE
Suite G115
Atlanta, GA, US 30305
September 30, 2022 | 8pm
As part of ELEVATE and for the opening night of the Gallerie 88 Design House at Buckhead Village in Atlanta, Qudus Onikeku will perform AFRICAMAN ORIGINAL, a solo performance lecture, combining the energy of Fela Kuti on the background of African, Brazilian, and Black American archives of body intelligence.
A performer with the "incredible presence" (Les Inrocks), Qudus Onikeku defies gravity. Playful, spiritual and poetic, his practice combines performance and dance, acrobatics and meditation. AFRICAMAN ORIGINAL takes spectators on a journey into the world of Black dances from Africa, but also from Brazil and the United States. Using archive images reworked by videographer Isaac Lartey, this artist with overflowing vitality offers an unclassifiable show, at the crossroads of dance, performance, stand-up, singing…. And dance class! In a direct address to the spectators, the choreographer does not hesitate to invite the public onstage for a dance lesson to the music of the king of Afrobeat, Fela Kuti…. "A sincere and engaging way to open up and share your universe."
Presented by Villa Albertine, ELEVATE, France-Atlanta and Gallerie 88.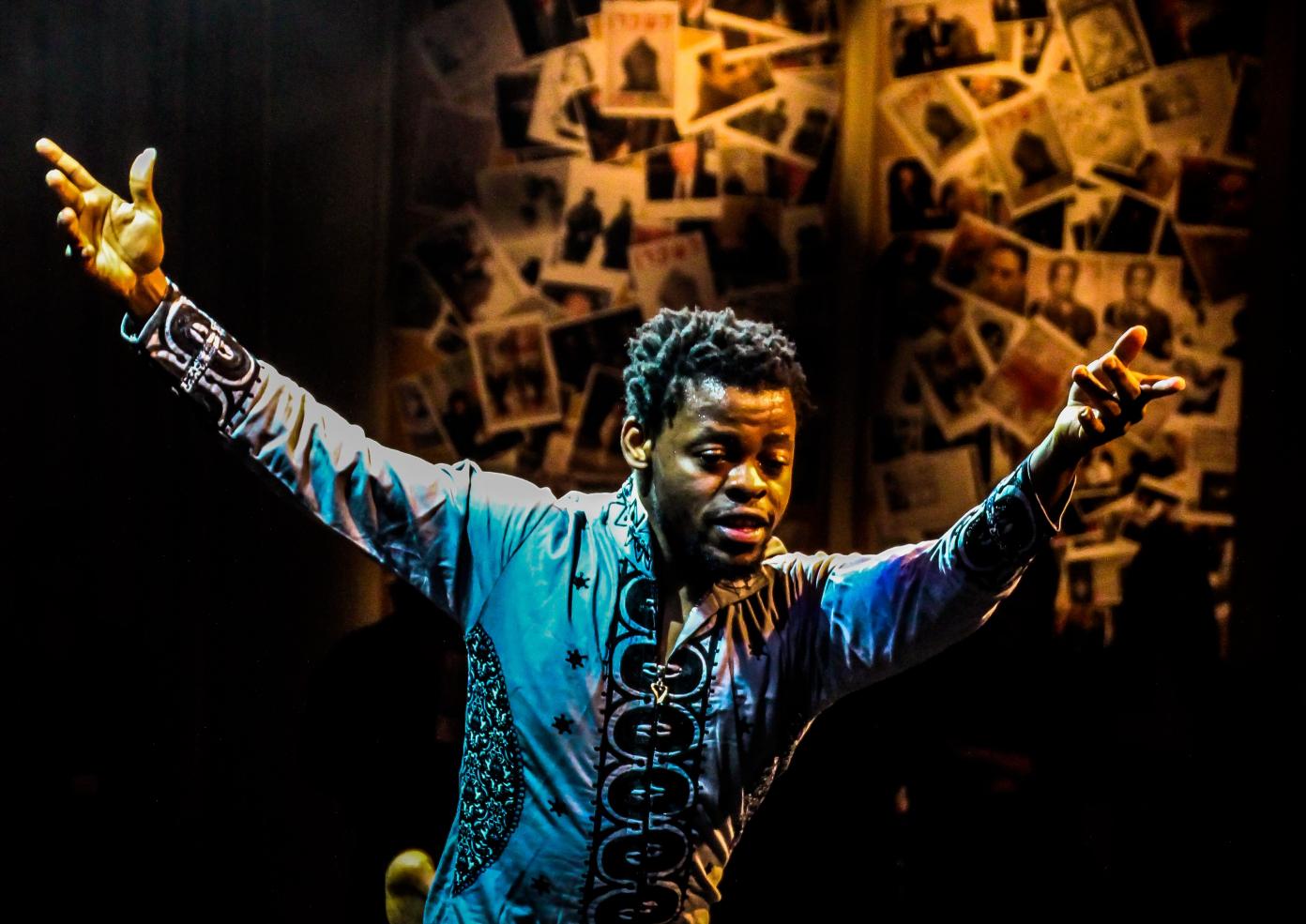 Qudus Onikeku is a representative of a new generation of artists working internationally. The choreographer was born in Lagos, Nigeria, and in 2009 went on to train at the École Nationale Supérieure des Arts du Cirque in France, initially working at the crossroads of dance and acrobatics. Inspired by traditional Yoruba philosophy, he has also been influenced by hip-hop, capoeira, and contemporary dance.
Since 2004, his solos have been performed in Europe, the United States, Latin America, Asia, and the Caribbean. My Exile is in My Head was presented at the National Arts Centre in Ottawa in 2015. After starting his company in Paris to tremendous success that brought him to the Festival d'Avignon amongst other global stages, in 2014 he returned to Lagos with his partner Haji, and together they embarked on an artistic development project, the QDance Center, an incubator for art practices, talent development, and community engagement, a unique structure with which they examined and experimented the possible intersections between arts and society. Onikeku is currently the first "Maker in Residence" at The Center for Arts, Migration and Entrepreneurship at the University of Florida. His research focuses on developing interactions with cutting edge technologies and interactive systems, to create new economic opportunity for creators, by building a bridge between new technology and the global African experience.
The QDance Company is a contemporary dance company with an International outlook, working with dancers from different cultures and backgrounds.  After creating internationally renowned works that have toured globally over the last decade under YK Projects Paris, artistic director Qudus Onikeku now bases his choreographic works with company dancers and musicians in Lagos.
QDance's works have marked relevant influence internationally, having been commissioned and performed at most major international festivals and venues, including Festival d'Avignon, Biennale de Lyon, Biennale de Val de Marne, France; Roma Europa, Torino Danza and Venice Biennale, Italy; Kalamata Dance Festival, Greece; Kino Siska Festival, Slovenia; Yokohama Dance Collection at TPAM, Japan; PS 21, USA; Correios Em Mouvemente, Brazil; Encender un Fosforo, Mexico; Dance Umbrella, Jomba Dance Festival, South Africa; Nyoba Kan Butoh Festival, Malaysia, as well as tours to over 50 countries.
Afropolis seeks to create new processes of antidisciplinary exchange between performance, design, community engagement, and digital technology. Afropolis generates creative synergy within a network of global Africans to compose new forums and to express innovative ideas. In July 2022, QDance and Qudus Onikeku debuted Afropolis at La Friche la Belle de Mai in Marseille, France as part of the Festival de Marseille.
ELEVATE is an annual event hosted by the City of Atlanta Mayor's Office of Cultural Affairs which enhances the city's cultural offerings by providing free, quality cultural experiences that highlight what makes Atlanta unique and increasing Atlanta's cultural and economic vitality. 
A partnership between the Consulate General of France in Atlanta and the Georgia Institute of Technology, France-Atlanta is an annual event series that has fostered French-American cooperation and exchange in the fields of science, business, culture, and humanitarian affairs since 2010.
Inscrivez-vous pour recevoir toute notre actualité en exclusivité