French Films at Metrograph – September 2023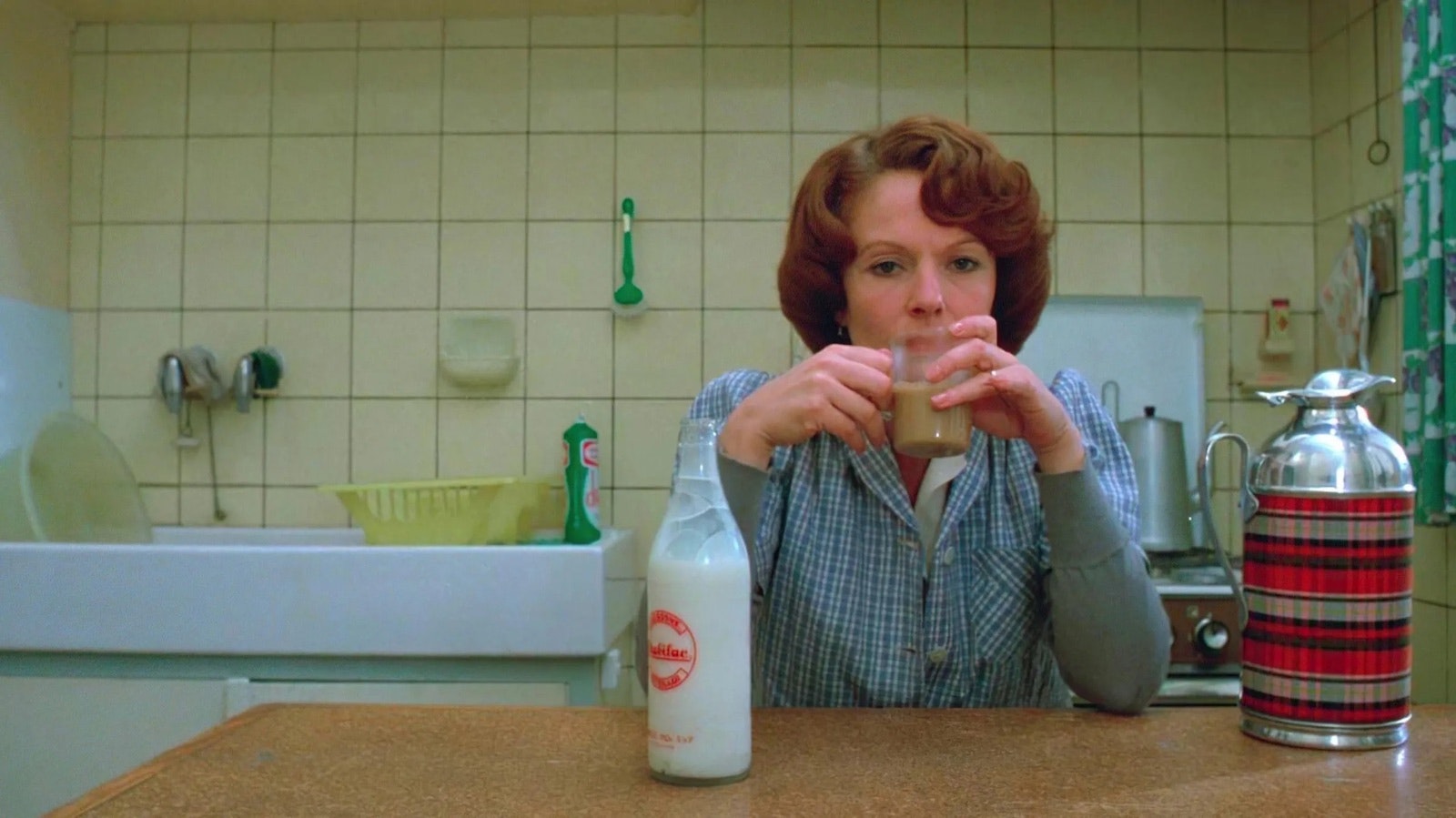 Metrograph
7 Ludlow St
New York, NY 10002
September 1, 2023
We've rounded up a selection of French films and co-productions that will be screened at Metrograph (NYC) in September.
"Jeanne Dielman, 23 Quai du Commerce, 1080 Bruxelles" (1977) – September 2, 4 & 6
Directed by Chantal Akerman
The late Chantal Akerman was only 24 years old when she and her nearly all-female crew made this, her 1975 masterpiece, proclaimed the greatest film ever made in the 2022 Sight & Sound poll. Over the course of three days—distilled into three entrancing hours of cinema—the life of a woman (Delphine Seyrig) is not just captured but articulated, not with big dramatic turns but with the repetitive, near-tedious, yet hypnotically compelling natural rhythms and gestures of her daily household rituals: cooking, cleaning, eating, bathing. Akerman's hyper-attention to detail tells an otherwise small story, yet the effect is nothing short of pure, compulsively watchable spectacle.

"Hypnotic, radical, and one of the most influential films ever made, this minimalist tour-de-force discovers entire universes folded into the routines of Seyrig's eponymous Belgian housewife. Co-produced by Vecchiali, Liliane de Kermadec (whose Aloïse also stars Seyrig, and features in this retrospective) and others."—Series curators Bingham Bryant and Graham Carter

Introduction from series curators Bingham Bryant and Graham Carter on Saturday, September 12th
Part of Paul Vecchiali, Producer
"Cézanne – Conversation With Joachim Gasquet" (1990) – Sept 1 & 2
Directed by Jean-Marie Straub and Danièle Huillet
A lovely tribute to the painter Paul Cézanne, a figure near and dear to Straub and Huillet, which incorporates passages from Gasquet's book about his long-time friend Paul Cézanne, scenes from Jean Renoir's film of Madame Bovary, photographs of Cézanne by the painter Maurice Denis, and material shot at Mont Sainte-Victoire—a location of great importance to the painter. Screens with En rachâchant, Straub and Huillet's charming adaptation of Marguerite Duras's subversive, anti-authoritarian 1971 children's story "Ah! Ernesto," about a precocious nine-year-old boy who refuses to return to school.

"Vecchiali not only produced these two films for Straub and Huillet, but provided catering on several of their other productions—a side business of his Diagonale production company."—Series curators Bingham Bryant and Graham Carter
Screening preceded by short film, En rachâchant, 1982, 7 min.
Introduction from series curators Bingham Bryant and Graham Carter on Friday, September 1st and and Saturday, September 2nd
Part of Paul Vecchiali, Producer
"Simone Barbès ou la vertu" (1980) – Sept 1 & 3
Directed by Marie-Claude Treilhou
Marie-Claude Treilhou's debut is an unforgettable journey to the end of the night constructed from three bravura extended sequences: our protagonist's gig as an usher at a porno theater, her visit to a lesbian nightclub straight out of von Sternberg, and a ride home in the car of a suspiciously mustachioed stranger. Produced and edited by Paul Vecchiali, who would have Ingrid Bourgoin reprise her role as Barbès in his C'est la vie! later that same year, adding a fascinating intertextuality to the greater Diagonale project.
Introduction from series curators Bingham Bryant and Graham Carter on Friday, September 1st at 9pm and Sunday, September 3rd at 7:15pm
Part of Paul Vecchiali, Producer
"Sicilia!" (1999) – September 2 & 4
Directed by Jean-Marie Straub and Danièle Huillet
Shot in Syracuse and Messina, Straub and Huillet's tragicomedy—based on Elio Vittorini's 1941 anti-fascist novel Conversations in Sicily—follows a Sicilian returning to his native island after a long stay in New York City, introducing along the way a host of villagers representative of humble peasant fortitude. "A masterpiece."—James Quandt, Artforum
Part of Straub-Huillet: Pillars
"Possession" (1981) – Sept 2 & 7
Directed by Andrzej Żuławski
Żuławski's one-of-a-kind genre pastiche has spy Sam Neill returning to his Berlin home from a mission abroad to discover that wife Isabelle Adjani wants suddenly to split up.
"Be Kind Rewind" (2008)* – September 3, 4 & 6
Gondry's goofy, giddy homage to backyard moviemaking begins with Jack Black's cock-eyed dreamer Jerry, zapped and magnetized during a caper at the local power station, accidentally erasing all the VHS stock at the Passaic, New Jersey, video store run by his buddy Mike (Mos Def)—and only gets wilder from there, as the two pals scramble to produce homemade remakes of the missing titles. A charming, at times Capra-esque film in love with the possibilities of grassroots ingenuity, amateur enthusiasm, and community.
Part of Close-Up: Films on Film
"Four Adventures of Reinette and Mirabelle" (1987) – September 7
Shot quickly in and around Paris during a production break on Rohmer's Le Rayon Vert, this breezy, witty film traces the exploits of two young women—one an ethnology student from the city, the other an unsophisticated aspiring artist from the country. Reinette and Mirabelle (played by Joëlle Miquel and Jessica Forde) become instant friends upon meeting in the first of four vignettes that make up the film ("The Blue Hour"), and in their first two days together, they decide to become roommates in Paris. Throughout the three remaining stories, they encounter many of the inevitable characters of a modern city: the impossible waiter ("The Waiter"), the Metro-station hustler ("The Beggar, the Kleptomaniac and the Hustler"), and the snooty gallery owner ("Selling the Painting").
"Calamity Jane & Delphine Seyrig: A Story" (2019) – September 8 & 10
Directed by Babette Manglote
In 1983 Delphine Seyrig, who had known Mangolte since they worked together on Chantal Akerman's Jeanne Dielman, 23 quai du Commerce, 1080 Bruxelles, approached Mangolte to be the cinematographer on a film she was making about American frontierswoman Martha Jane Canary, better known as Calamity Jane. Using the original footage of the incomplete film, uncovered in 2011, Mangolte crafted a film that is simultaneously a work of feminist historical revision, self-reflection, and a tribute to the late Seyrig. "Not giving up is what the film had to be about, as it was Delphine's greatest strength."—Babette Mangolte
Introduction and post-screening Q&A with Babette Mangolte on Friday, September 8th
Part of Life in Film: A Babette Mangolte Retrospective
"Le Théâtre Des Matières" (1977) – September 8 & 9
Directed by Jean-Claude Biette
"It's hard not to draw comparisons between the theater company so lovingly observed in this film, its troupe members and director fretting endlessly about art, money, and each other, and the Diagonale itself, nascent in one of its very first productions. Respected critic and Trafic magazine co-founder Biette makes his directorial debut here with the aid of other future directors including Jean-Claude Guiguet and Noël Simsolo, and a dedication to Biette's old friend and collaborator Pier Paolo Pasolini. Of the many films about theater and the shifting boundaries between art and life, few have come down so firmly on the side of life."—Series curators Bingham Bryant and Graham Carter
Part of Paul Vecchiali, Producer
"Aloïse" (1975) – September 8 & 10
Directed by Liliane de Kermadec
"Polish French director de Kermadec's debut feature is a hidden masterpiece ripe for rediscovery, an unsentimental but deeply empathetic chronicle of several decades in the life of early 20th-century Swiss outsider artist Aloïse Corbaz—played first by Isabelle Huppert, then Delphine Seyrig. That same year, de Kermadec would also produce Chantal Akerman's Jeanne Dielman alongside Vecchiali and others. Co-written by André Téchiné, and with a characteristically superb supporting turn from Michael Lonsdale."—Series curators Bingham Bryant and Graham Carter
Part of Paul Vecchiali, Producer
"Irma Vep" (1996) – September 8 & 9
Directed by Olivier Assayas 1996
Maggie Cheung in the role she was literally born to play: Maggie Cheung. The Hong Kong actress is imported to star in a remake of Louis Feuillade's 1915 serial Les Vampires directed by a New Wave has-been (Jean-Pierre Léaud), but then finds herself submerged in a strange world of flirtatious lesbians, bourgeois ex-radicals, Luc Besson admirers, and all-night raves, all the while becoming oddly in thrall to her form-fitting S/M catsuit, which lures her out onto the rooftops of Paris. A meditation on global cinema at a moment of transition, a comedy about filmmaking and cultural crosstalk, and a movie so alive to the textures of contemporaneity that it hasn't aged a day.
Part of Close-Up: Films on Film
"Modesty and Shame, Preceded by Kiss of Life" (1992) – September 9 & 10
Directed by Hervé Guibert
Diagnosed with AIDS and seeing the end of his life grow near, French novelist and photographer Hervé Guibert decided to document his own final moments: at home, at endless hospital visits, in conversations with his great-aunt, and during restive moments on the island of Elba. Posthumously screened on French television, the resulting film, Modesty and Shame, is a harrowing and moving document of one man facing his body's deterioration and his own mortality with remarkable clarity, candor, and feeling. Paired with Kiss of Life, in which two HIV-positive Black men reflect on their experience living with the virus.
"Les Belles Manières" (1978) – September 9 & 10
Directed by Jean-Claude Guiguet
"A deeply moving study of love and class centered on the mysterious relationship between a country boy newly arrived in the city (Emmanuel Lemoine) and the wealthy older woman (Hélène Surgère) who takes him under her wing, from film critic and Diagonale mainstay Guiguet. Sensitive and searching, it is a film about feeling beauty, about the effects and significance of an adored object, as discovered in a shadowy, twilit Paris that has rarely felt so otherworldly, or so real."—Series curators Bingham Bryant and Graham Carter
Part of Paul Vecchiali, Producer
"Cinema Paradiso" (1988)* – September 15 & 17
Directed by Giuseppe Tarnatore
Famed director Salvatore embarks on a journey into his past—and his nascent cinephilia—upon receiving news of the death of his mentor, village cinema projectionist Alfredo (Philippe Noiret), which prompts him to leave Rome and return to his Sicilian hometown. Comprised largely of flashbacks which follow Salvatore as, under Alfredo's tutelage, he grows from movie mad preadolescence to the threshold of adult ambition, Tornatore's beloved ode to a lost paradise of popular cinema, set to a swooning score by Ennio and Andrea Morricone, has been a shining beacon for movie lovers since becoming a surprise international hit on its initial release.
"Pickpocket" (1959) – September 15, 16 & 21
Directed by Robert Bresson
Bresson's incomparable story of crime and redemption follows Michel (Martin LaSalle), a young pickpocket who spends his days working the streets, subway cars, and train stations of Paris. As his compulsive pursuit of the thrill of stealing grows, however, so does his fear that his luck is about to run out. A cornerstone of the career of this most economical and profoundly spiritual of filmmakers, Pickpocket is an elegant, tautly choreographed, and deeply emotional study of humanity in all its mischief and grace, the work of a director at the full height of his powers.
Part of Life in Film: A Babette Mangolte Retrospective
"The Models of Pickpocket (Breaking Silence)" (2003) – September 16
Directed by Babette Manglote
More than 40 years after the release of Robert Bresson's Pickpocket, Mangolte tracked down the three surviving principal cast members—including leading "models" Marika Green and Martin LaSalle, found living in Mexico City—to produce this revealing inquiry into the mystery of Bresson's life and precise working methodology, with each subject a wellspring of revealing reminiscences and keen observations on their late director's quest to create a cinema of total emotional honesty shorn of all theatrical effect.
"Where Does Your Hidden Smile Lie?" (2002) – SVOD
Directed by Pedro Costa
Costa's tribute to two figures who have exercised a profound influence on his own work, the fiercely independent Jean-Marie Straub and Danièle Huillet, observes the duo in the process of revising their film Sicilia! with the students at the French art school Le Fresnoy. A revealing and remarkably tender study of relationship dynamics at work.
*Minority French co-production of cultural importance
Sign up to receive exclusive news and updates