TV5MONDE Program Highlights – May 2022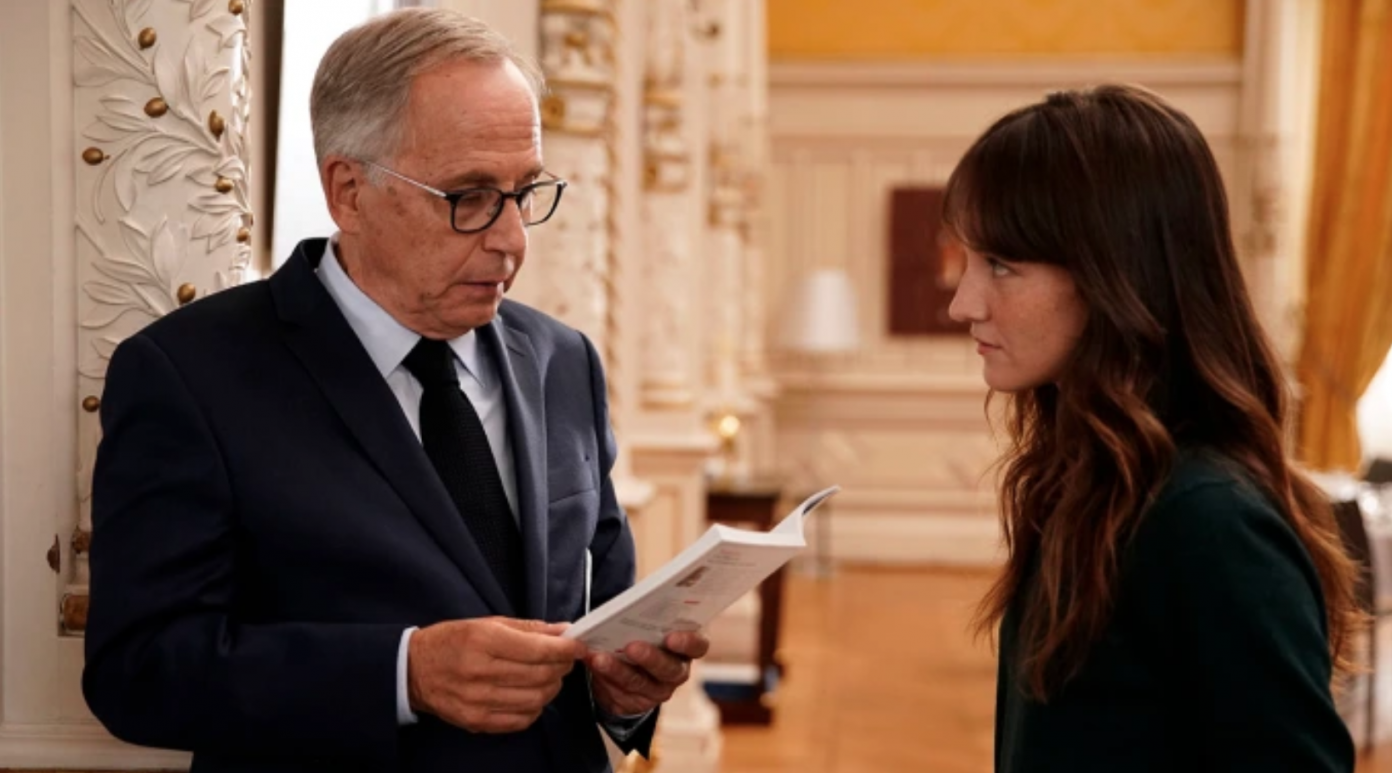 The international French-language network TV5 Monde is showing several fantastic programs in May. In addition to offering premium films, the program includes several heartwarming comedies, a chance to discover exciting new series, fun-filled variety shows, and engaging documentaries! We've rounded up some of the very best must-see programs this month, get ready to immerse yourself in French culture!
CANNES SPECIAL
Alice et le maire – May 8 at 8:40 pm ET/5:40 pm PT
Directors' Fortnight | Cannes Film Festival 2019 (English ST)
Paul Théraneau, the mayor of Lyon, is in a sticky situation. After 30 years in politics, for
the first time in his life he's run out of ideas! As a solution, he hires a young and brilliant
philosopher, Alice Heimann. Their discussions see their respective certainties severely
challenged.
Director: Nicolas Pariser (France 2018)
Cast: Fabrice Luchini, Anaïs Demoustier, Nora Hamzaoui
Genre: Dramatic Comedy
Ce cher Victor – May 12 at 8:30 pm ET/5:30 pm PT
Palme d'Or Nominee | Cannes 1975 (English ST)
Living with Anselme since the death of his wife eight years earlier, Victor never misses
an opportunity to humiliate his friend, and preferably in public! But when he has a go at
Anna, come to help them prepare for the Fête de la Musique, Anselme decides to take
revenge.
Director: Robin Davis (France 1975)
Cast: Bernard Blier, Jacques Dufilho, Alida Valli
Genre: Dramatic Comedy
Josep – May 15 at 8:30 pm ET/5:30 pm PT
Official Selection | Cannes Film Festival 2020 (English ST)
February 1939: the French government is submerged by the flow of Republicans fleeing
Franco's dictatorship. Two men strike up a friendship in a refugee camp. One is a guard,
the other an artist. From Barcelona to New York, the true story of Josep Bartolí, a
freedom fighter and exceptional artist.
Director: Aurel (France, Spain 2019)
Cast: Sergi López, Bruno Solo, David Marsais, Gérard Hernandez
Genre: Animation
Garçon chiffon – May 17 at 8:30 pm ET/5:30 pm PT
Official Selection | Cannes Film Festival 2020
Jérémie, a thirtysomething, is at the end of his tether. He is struggling to get his acting
career off the ground and his relationship is being undermined by his recurrent jealous
outbursts. He decides to leave Paris and recharge his batteries in the Limousin region
with his mother.
Director: Nicolas Maury (France 2020)
Cast: Nicolas Maury, Nathalie baye, Arnaud Valois
Genre: Comedy
Charlie Chaplin, le genie de la liberté – May 18 at 8:30 pm ET/5:30 pm PT (English ST)
The whole world knows him. Burlesque comedy genius, popular actor, author, director,
producer, composer, choreographer, Charlie Chaplin (1899-1977) used his talent to
serve an ideal of justice and freedom. But his best scenario was his own destiny, a story
written into the political and artistic history of the 20th century.
Director: Yves Jeuland (France 2020)
Narrator: Mathieu Amalric
Genre: Documentary Film
De l'or pour les chiens – May 19 at 8:30 pm ET/5:30 pm PT
Official Selection | Cannes Film Festival 2020 (English ST)
Si le vent tombe – May 22 at 22 at 8:40 pm ET/5:40 pm PT
Official Selection | Cannes Film Festival 2020 (English ST)
Alain, an international auditor, arrives at a small self-proclaimed republic in the
Caucasus to carry out a feasibility study for the opening of its airport. Through his
contact with the people of Nagorno-Karabakh and a mysterious child, Alain opens up to
a whole new world and risks everything.
Director: Nora Martirosyan (France, Belgium 2018)Cast: Grégoire Colin, Hayk Bakhryan, Arman Navasardyan
Catherine Frot, tous ces yeux qui vous regardant… – May 23 at 3:00 pm ET/12:00 pm PT
(English ST)
Her place in French cinema is unique. Through her very different roles, Catherine Frot
successfully created a series of unforgettable characters. And yet, the career of this
French actress, who became famous relatively late, remains little known. An intimate
interview and portrait of the actress and the woman.
Director: Arthur Dreyfus (France 2020)
Genre: Documentary
Rouge – May 24 at 8:30 pm ET/5:30 pm PT
Official Selection | Cannes Film Festival 2020 (English ST)
Taken on as nurse at the chemical factory where her father works, Nour discovers that
this pillar of the local economy hides innumerable secrets. From lies about toxic effluent
to doctored medical files and covered-up accidents: will Nour choose to keep silent or
betray her father and reveal the truth?
Director: Farid Bentoumi (France, Belgium 2020)
Cast: Zita Hanrot, Sami Bouajila, Céline Sallette, Olivier Gourmet
Genre: Drama
Les particules – May 26 at 8:30 pm ET/5:30 pm PT
Directors' Fortnight | Cannes Film Festival 2019 (English ST)
On the France-Switzerland border, P.A. and his gang are in their final year at high
school. Beneath their feet the LHC, the most powerful particle accelerator in the world,
generates proton collisions to recreate the conditions of the big bang. As winter sets in,
P.A. starts to observe strange phenomena.
Director: Blaise Harrison (France, Switzerland 2018)
Cast: Thomas Daloz, Salvatore Ferro, Léo Couilfort
Genre: Drama
Nadia Butterfly – May 29 at 8:30 pm ET/5:30 pm PT
Official Selection | Cannes Film Festival 2020 (English ST)
At the age of 23, Nadia makes a controversial decision to retire from professional
swimming and escape a life of sacrifice. After her final race, the hidden excesses of the
Olympic village offer her an initial taste of freedom. But the further she ventures into the
unknown, the more the doubts creep in.
Director: Pascal Plante (Canada 2020)
Cast: Katerine Savard, Ariane Mainville, Hilary Caldwell
Genre: Drama
Jacques Audiard, un héros trop discret – March 30 at 3:00 pm ET/12:00 pm PT
(English ST)
It took Jacques Audiard just eight films to become one of French cinema's major
filmmakers. "See How They Fall", "The Beat That My Heart Skipped", "A Prophet",
"Dheepan"… His work may enjoy unequalled acclaim from viewers and critics, but the
man himself remains discrete. A portrait painted in the shadows.
Director: Pierre-Henri Gibert (France 2021)
Genre: Documentary
TV SÉRIES /TV FILMS
Comme un coup de tonnerre – May 6 at 8:30 pm ET/5:30 pm PT (English ST)
Paul Vidal, doctor and family man, has everything he needs to be happy. But he's also
suffering from a serious depression that will soon prevent him from working. Admitted to
hospital, his family rallies round to give him back his taste for life, but not without
arguments and soul-searching.
Director: Catherine Klein (France 2021)
Cast: Grégory Montel, Élodie Navarre, Sarah Suco, Patrick Chesnais, Hadrien
Bouchard, Lewine Weber, Léo Dussollier, Nina Mélo
Genre: Drama (TV Film)
Laval, le collaborateur – May 13 at 8:30 pm ET/5:30 pm PT (English ST)
Several times president of the Council, at the end of the 1930s Pierre Laval became one
of Marshal Pétain's strongmen, a loyal collaborator for the Germans. Rounding-up Jews,
forced labor, tracking the French resistance…, he served Hitler faithfully to the end.
When France was liberated, he was tried, condemned, shot.
Director: Laurent Heynemann (France 2020)
Cast: Patrick Chesnais, Grégoire Leprince-Ringuet, Mathieu Bisson, Patrick
Préjean, Hande Kodja, Brigitte Catillon
Genre: Biopic (TV Film)
Le bruit des trousseaux – May 20 at 8:30 pm ET/5:30 pm PT (English ST)
A young teacher begins his first day of lessons in the prison in Nancy when he meets a
woman and falls head-over-heels in love with her. With this new love he rapidly
discovers the reality of prison life, confronting inmates' heartrending lives and trying to
bring them a kindly compassion.
Director: Philippe Claudel (France 2021)
Cast: Cyril Descours, Déborah François, Philippe Duquesne, David Mora, Diane
Rouxel, Frédéric Pierrot
Genre: Thriller
L'enfant de personne – May 27 at 8:30 pm ET/5:30 pm PT (English ST)
Brutally torn from the arms of Émilie, his foster mother since babyhood, Lyes now
confronts the violence of the children's homes run by the social services who insist on
maintaining a link with his biological mother, despite her inability to care for him. A long
battle against the system begins.
Director: Akim Ikser (France 2021)
Cast: Isabelle Carré, Nawell Madani, Andréa Bescond, Yassine Chorfa,
Abdelmadjid Guemri, Moncef Farfar
Genre: Drama
DOCUMENTARIES
Le choc environmental – May 2 at 6:30 pm ET/3:30 pm PT (English ST)
Polychlorinated biphenyls (PCB) in the Great Lakes, a deluge in the Saguenay region,
recent flooding… Alain Gravel looks back at Canada's environmental disasters. As the
theme becomes a major issue in electoral campaigns, he wonders whether there is a
real will to tackle the effects of greenhouse gases.
Director: Jean Bourbonnais (Canada 2021)
Lélo, liberté et peinture – May 9 at 3:00 pm ET/12:00 pm PT (English ST)
Lélo Fiaux (1909-1964), an artist from the Vaud whose life and work are indissociable. A
nomad driven by her passion, she accepted no concessions when it came to her
painting and her freedom to love. A recognized artist during her lifetime, she has since
fallen into a regrettable obscurity.
Director: Emmanuelle de Riedmatten (Switzerland 2020)
Les sentinelles de la mer – May 9 at 6:30 pm ET/3:30 pm PT (English ST)
Confronted with the inaction of the world's nations, the environmental NGO Sea
Shepherd refuses to give up. Its activists tirelessly sail the oceans, attempting to protect
marine biodiversity from the predators pillaging it. Welcome aboard the "Sam Simon", in
the Mediterranean, one of the planet's most polluted seas.
Direction: Laurent Lutaud (France 2021)
Avoir 20 ans – May 18 at 3:00 pm ET/12:00 pm PT (English ST)
"What does being 20 mean for you, in the midst of a global pandemic, in a world on the
brink? A brittle everyday life, uncertain dreams, or the very best age to be despite
everything? We join Jean-Pascal Zadi for an immersive exploration of the 2021 Filme
Ton Quartier competition.
Director: Nicolas Sene, Romain Staropoli (France 2021)
Urgences, Season 1—May 20 at 3:00 pm ET/12:00 pm PT (English ST)
In the Philippines, hundreds of thousands of believers follow a statue of Christ,
considered to be miraculous. The largest religious gathering in the world is held in India.
In both countries, the fervor of the faithful is such that the floods of people create an
enormous challenge for the paramedics.
Director: Éli Laliberté, Fabien Côté, Membre Arrq (Canada 2019)
DISCOVER THE FULL PROGRAM HERE!
Sign up to receive exclusive news and updates