City/Cité – Walking on Earth: Southeast Atlanta Public Walk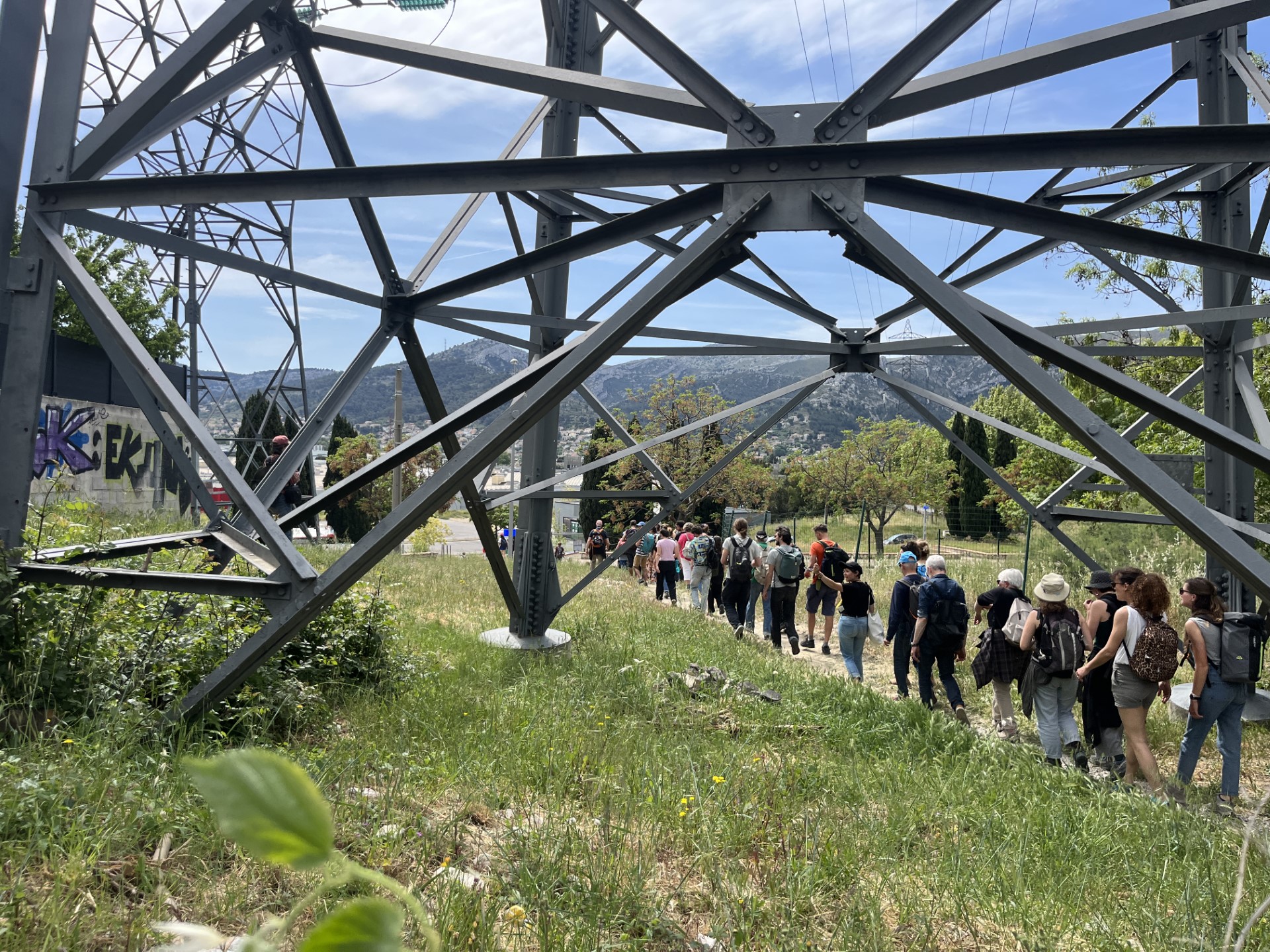 Join artists and naturalists for a unique urban hike across Southeast Atlanta that reveals the stories of our city embedded in the landscape. Come along for this urban hike through the South River watershed as we imagine a radical new kind of trail experience for Atlanta—a path devised to experience the culturally rich and ecologically diverse tapestry of the city on foot.
Led by metro Atlanta natives Hannah Palmer and Carley Rickles, with partners from Marseille (France), Alexandre Field, Paul-Hervé Lavessière, Geoffroy Mathieu, and SAFI (Stéphane Brisset and Dalila Ladjal), this all-day walking tour is the culmination of a 3-day Metropolitan Trails workshop with local and international artists, urbanists, architects, and students. The hike is an opportunity to test our ideas as we traverse interstate highways, public parks, historic neighborhoods, urban farms, and unexpected creative spaces. Part workshop, part meditation, the hike will include stops for foraging, storytelling, picnicking, water sampling, and listening to business owners, residents, naturalists, artists, historians, and farmers. Like any good hike, we might get lost, distracted, or delightfully surprised by what we notice along the path.
This public walk begins at 9:00 a.m. at the Five Points MARTA Transit Station. We'll meet at the Peachtree Street entrance. From there, we will trace the hidden source of Intrenchment Creek downstream where it daylights. We plan to conclude the walk at an urban farm in Southeast Atlanta. Hikers will make their way home on foot, by MARTA bus, or rideshare.
Free and open to the public. Registration required.
---
---
About Metropolitan Trails
Metropolitan Trails are a new kind of public space. Rather than built infrastructures that reshape communities, they are social platforms designed to reconnect us to the land and to each other for a vital conversation on post-petroleum cities. Metropolitan Trails are an international urban innovation, born in France and Europe.
As part of City/Cité, a program presented by Villa Albertine, in partnership with France Atlanta and the Atlanta Design Festival, Atlanta is joining a network of cities like Paris, London, Istanbul, and Boston in reconsidering public space through urban trails.
---
About City/Cité – Towards Earthly Cities – Atlanta, Oct 11-22, 2023
City/Cité – Towards Earthly Cities (Atlanta, Oct 11-22, 2023) is a program inviting professionals from Atlanta and Marseille and the public to learn together about urban ecology and the future of our cities. Associate curator: Alexandre Field (Marseille).
City/Cité – Towards Earthly Cities is presented by Villa Albertine, in partnership with the Atlanta Design Festival 2023, France-Atlanta, the College of Design at Georgia Tech, the College of Environment + Design at University of Georgia, the Franco-German Cultural Center of Atlanta (Goethe Zentrum Atlanta + Alliance française d'Atlanta), Le Bureau des Guides, the Metropolitan Trails Agency, L'Ecole Nationale d'Architecture de Marseille, Friche la Belle de Mai, Finding the Flint and the Atlanta Creek League.   
Made possible with the support of the Judy and Peter Blum Kovler Foundation, the Institut français, Georgia Institute of Technology, the Ministry for Europe and Foreign Affairs (France), Métropole Aix-Marseille-Provence, the Ministry for Culture (France), Air France, Gene Kansas and Hyatt Centric Buckhead Atlanta. 
Sign up to receive exclusive news and updates