TV5MONDE Program Highlights -April 2022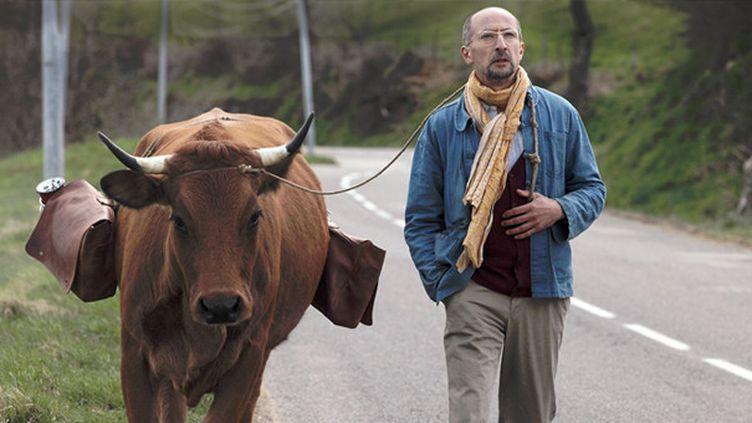 The international French-language network TV5 Monde is showing several fantastic programs in April. In addition to offering premium films, the program includes several heartwarming comedies, a chance to discover exciting new series, fun-filled variety shows, and engaging documentaries! We've rounded up some of the very best must-see programs this month, get ready to immerse yourself in French culture!
EARTH DAY
France, le fabuleux voyage – April 20 at 8:30 pm ET/5:30 pm PT (English ST) •
Rather than learning France's history through its people, we explore its natural history. A two-billion-year journey back in time to look at the country's geological heritage: a mountain chain becomes Brittany, lagoons where Paris now stands, ice from the Aiguille du Midi maps the routes of rivers flowing seawards. 
Director: Michael Pitiot (France 2021)
Narrator: Philippe Torreton
Adélaïde Charlier, la meuf du climat – April 25at 6:30 pm ET/3:30 pm PT (English ST)
Adélaïde Charlier is the Belgian francophone spokeswoman for Youth for Climate, an international movement whose scope and importance is constantly increasing. At the age of 20, she recounts her battles, her doubts, and her thoughts on the future. Portrait of a militant activist from Namur.
Director: Quentin Ceuppens (Belgium 2021)
FILMS
La vache – April 3 at 8:30 pm ET/5:30 pm PT (English ST)
A small Algerian farmer, Fatah dreams of taking Jacqueline, his cow, to the International Agricultural Show, in Paris! When he receives the precious invitation he takes a boat to Marseille, leaving his rural homeland for the first time. Then he and Jacqueline begin the long journey across France… on foot!
Director: Mohamed Hamidi (France, Morocco 2016)
Cast: Fatsah Bouyahmed, Lambert Wilson, Jamel Debbouze, Julia Piaton
Genre: Comedy
L'époque – April 10 at 8:35 pm ET/5:35 pm PT (English ST)
From Paris post Charlie Hebdo to the 2017 presidential elections, journey into the nihgt alongside young people who don't sleep. From all walks of life, they're randomly interviewed and during the encounters they share their fears, frustrations and hopes. A portrait of a youth who wonders.
Director: Matthieu Bareyre (France 2018)
Genre: Documentary Film
Les petits flocons – April 17 at 8:30 pm ET/5:30 pm PT (English ST)
On holidays in the mountains, Wanda is suddenly unable to ski due to phlebitis. Rotten luck for a leg model… So while her husband and children enjoy themselves on the slopes, Wanda finds consolation in looking after Sami, her guest, just out of prison! 
Director: Joséphine de Meaux (France 2018)
Cast: Joséphine de Meaux, Grégoire Ludig, Gustave Kervern, Thomas Scimeca, Thierry Lhermitte Genre: Comedy
Le poulain – April 24 at 8:40 pm ET/5:40 pm PT (English ST)
Twenty-five-year-old Arnaud Jaurès knows nothing of politics. By chance he joins the election campaign for a presidential candidate, working as assistant to Agnès Karadzic, the director of communications. Woman of power and experience, she both attracts and fascinates him… Sparing him nothing, Agnès teaches him all about campaign tactics.
Director: Mathieu Sapin (France 2018)
Cast: Alexandra Lamy, Finnegan Oldfield, Valérie Karsenti, Philippe Katerine
Genre: Comedy
SERIES
Jugé sans justice – April 15 at 8:30 pm ET/5:30 pm PT (English ST)
Gustavo Santini is taken into custody for the attempted kidnapping and murder of a minor. But did he do it? Claire, the alleged victim, weighs in on social media. As Gustavo and his family are scapegoated by the public, justice comes up against the court of rumor.
Director: Lou Jeunet (France 2021)
Cast: Yannick Choirat, Ophélia Kolb, Emmanuel Salinger, Justine Lacroix, Anne Benoit, Mathieu Capella Genre: Dramatic Comedy (TV Film)
L'ami qui n'existe pas – April 29 at 8:30 pm ET/5:30 pm PT (English ST)
Since his father's death, Martin, 11, has said hardly a word. His mother, Camille, is worried. Then, one day, Martin talks about his new friend Jeff who has made life worth living again. But after one night at Jeff's, Martin disappears. Then Camille learns that there's no pupil called Jeff.
Director: Nicolas Cuche (France 2021)
Cast: Audrey Dana, Medi Sadoun, Tiphaine Daviot, Victor Meutelet, Albert Geffrier
Genre: Drama (TV Film)
DOCUMENTARIES
Voyage à travers les couleurs: La France – Tuesdays at 3:00 pm ET/12:00 pm PT (English ST)
A national emblem uniting the French, blue is also the colour of the Atlantic and the Mediterranean that bathe the French coasts. We stop off in Bonifacio, discover Bourges and its illuminations, the stained glass of Chartres Cathedral, the porcelain of Arras, the woad of Lectoure, the lavender of Provence.
Director: Guy Beauché, Philippe Moreau (France 2019)
Les plus beaux treks, Season 3 – April 14 at 3:00 pm ET/12:00 pm PT (English ST) •
The TMB is perhaps the best-known mountain trail in the world. A complete circuit around the highest massif in Europe, it offers breathtaking views of Mont Blanc with its peaks and its glaciers. We go hiking with Christophe Etallaz and his mules, all-terrain transport with long ears!
Director: Laurent Bouit (France 2020)
Dominique A, le rock fragile – April 18 at 3:00 pm ET/12:00 pm PT (English ST)
2018. Dominique A releases two albums, accompanied by two tours, both very different from each other. The first, rock-electro, is played for concert halls with a standing audience. The second, pared-down acoustic, is designed for theatres. Focus on a singer-songwriter who has opened the door to a new-style French song.
Director: Cédric Defert, Jean-Christophe Ribot (France 2019)
Sécheresse, les Alpes trinquent – April 18 at 6:30 pm ET/3:30 pm PT (English ST)
With the sources of four major European rivers lying within its borders, Switzerland is often considered the continent's "water tower". Yet lowland farmers complain of drought and lament a dramatic situation in the alpine region. In highland areas, farms are already short of water in June.
Director: Michèle Sauvain (Switzerland 2021)
L'espoir est à quai – April 29 at 3:00 pm ET/12:00 pm PT (English ST)
Former cruise ship transformed to floating hospital, "Africa Mercy" is operated by the international charity Mercy Ships. Four hundred volunteer sailors, doctors, nurses and technicians live and work aboard. Between August 2018 and June 2019, the vessel docked in Conakry, ready to welcome the people of Guinea.
Director: Virginie Berda (France 2019)
ALSO :
This April, TV5MONDE Cinema On Demand brings a lineup full of chills and thrills! Catch all the action, from the 2020 drama Police, starring Omar Sy and Virginie Efira as two officers questioning the morality of their job, to the 2001 horror film, Les Morsures de l'aube, starring Guillaume Canet as a social climber who finds himself on a dangerous path.
Discover the full program here
Sign up to receive exclusive news and updates