Agenda: Movies coming out this week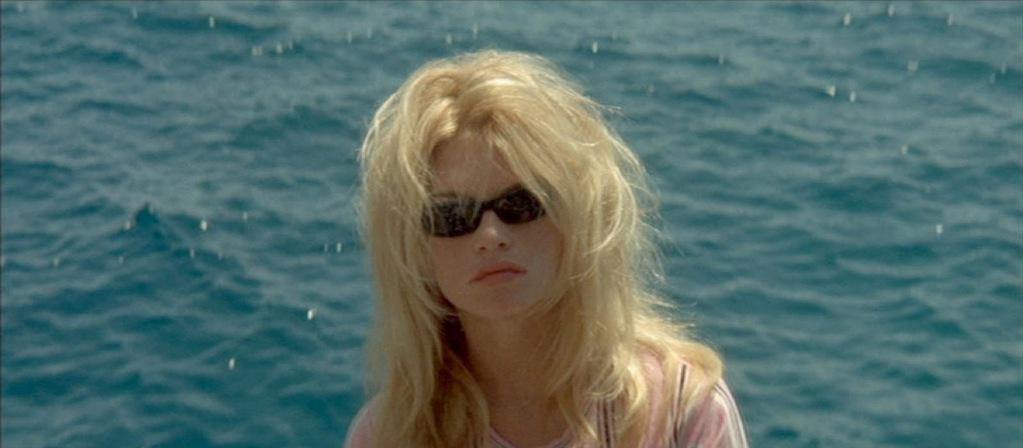 Check out upcoming French film releases in the US!
FRENCHFLICKS
Launched in July 2013 by the former Télérama and Sofilm correspondent in New York, FrenchFlicks.com is the only website to list all French films screened in the US. Every month, more than 150 films in French are showcased: whether it's national new releases, special screenings, or French film festivals and retrospectives, the showtimes are available via FrenchFlicks in all 50 states.
Click here to learn more!
Coming out in January: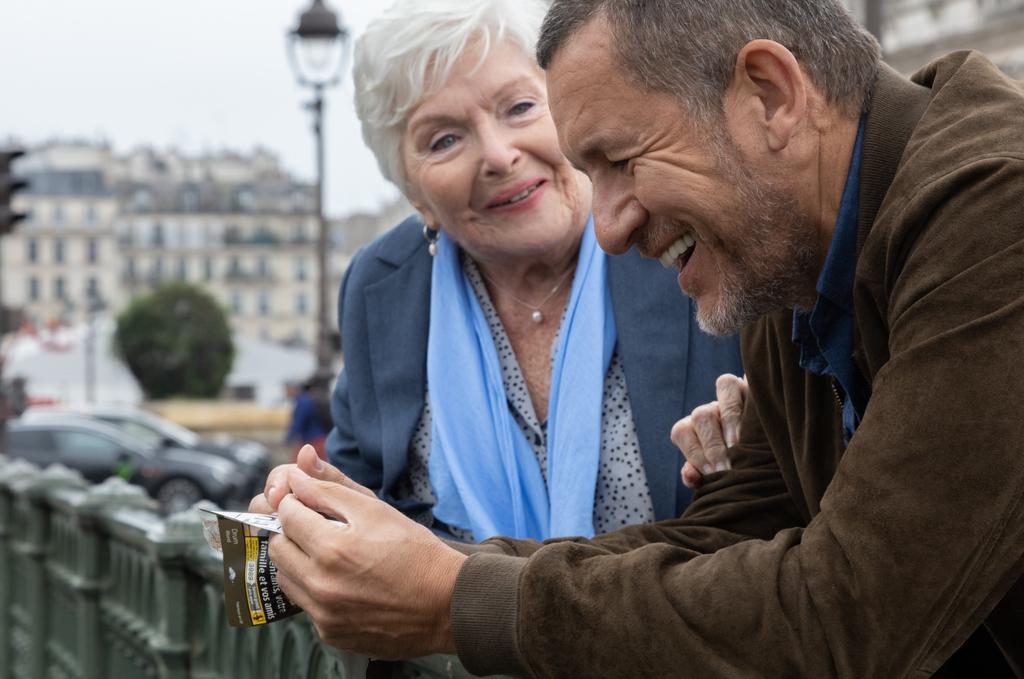 Driving Madeleine by Christian Carion
A seemingly simple taxi ride across Paris evolves into a profound meditation on the realities of the driver, whose personal life is in shambles, and his fare, an elderly woman whose warmth belies her shocking past. Charles (Dany Boon) is a taxi driver in Paris, and he is having a very bad day. Some pressing personal debts are due, he's in danger of losing his driver's license to numerous traffic infractions, and his marriage, like Charles himself, is strained to the point of snapping. A quick fare in the suburbs seems like an easy distraction. Enter Madeleine (Line Renaud), an immaculately groomed 92-year-old woman, who informs Charles that the trip today will not be a direct one. She is moving into a care home and would like to make some stops along the way, predicting that this might be her last car ride through the city. Initially exasperated and grumbling, Charles is slowly lured in by her warm charm and directness, fascinated by the stories she wants to tell. Their ride takes them through the momentous locations of her life, and we discover that she has had a shocking and very dramatic journey indeed. Their short friendship is sure to have a lasting impact as Madeleine listens to Charles confess his own worries, all of which she absorbs with candor and clarifying humor. Boon, an actor best known for his comedic work, creates a dramatic portrait of a frustrated man facing a personal crisis of epic proportions. His darker, sharper edges allow Renaud (renowned for decades in France as a singer) to shine as the pure shimmering light that is Madeleine. She reminds us that inside every seemingly benign elderly woman we might pass on the street is a warrior, a nurturer, and a spirited adventurer.
Genre: Drama
Cast: Line Renaud, Dany Boon, Alice Isaaz
91 min
A Cohen Media Group release
Coming out in December: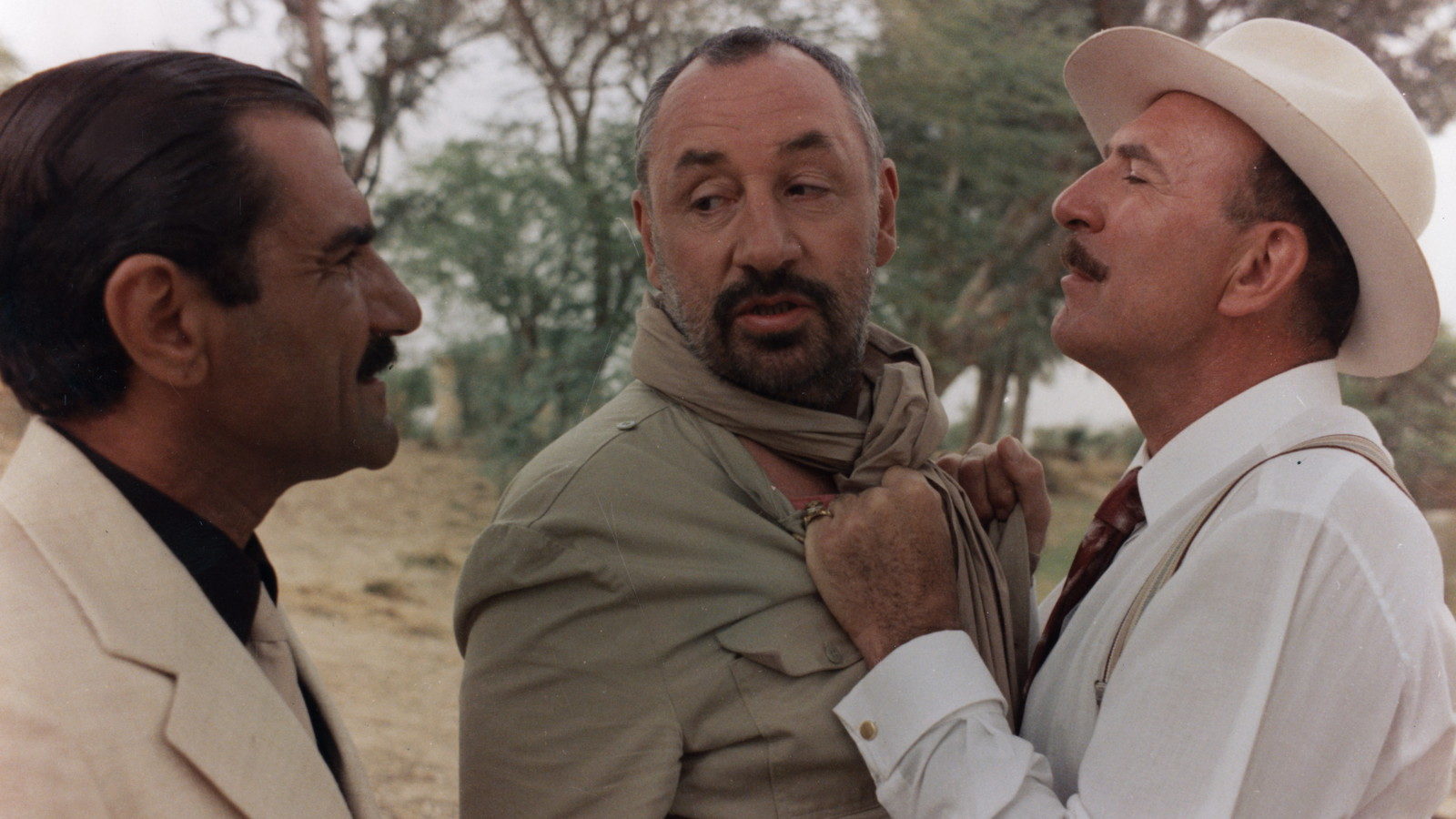 Friday, December 1
Coup de torchon by Bertrand Tavernier
Listless sheriff Lucien Cordier (Philippe Noiret), constantly humiliated by his wife (Stéphane Audran) and the residents of their small French colonial town in West Africa, unexpectedly switches gears becoming an exterminating angel bent on exacting revenge on anyone who crosses him.
Restored in 4K from the original negative by Studiocanal at L'Image Retrouvée, with color correction by Jean Achache on behalf of Bertrand Tavernier.
Genre: Drama, Black comedy
130 min
Cast: Philippe Noiret, Isabelle Huppert, Stéphane Audran
A Rialto Pictures release
Friday, December 1
La Syndicaliste by Jean-Paul Salomé
An investigative thriller set in the world of nuclear power and politics, La Syndicaliste follows the true story of Maureen Kearney (Isabelle Huppert), the influential head union representative of a French multinational nuclear powerhouse. A deft navigator of elite political and financial circles, Maureen becomes a whistleblower when she discovers international backroom dealings, exposing secrets that shook the French nuclear sector. Fighting against government ministers and industry leaders, Maureen worked tirelessly to bring the scandal to light and defend thousands of jobs until she was violently sexually assaulted in her own home, seemingly targeted for her attempts to reveal the truth. As her attack is investigated, new elements create doubt in the minds of detectives and lawyers, and they begin to see Maureen not as a victim, but as a suspect. Surrounded by powerful enemies and unable to trust anyone, Maureen must fight to clear her name.
Genre: Thriller
Cast: Isabelle Huppert, Grégory Gadebois, François-Xavier Demaison
122 min
A Kino Lorber release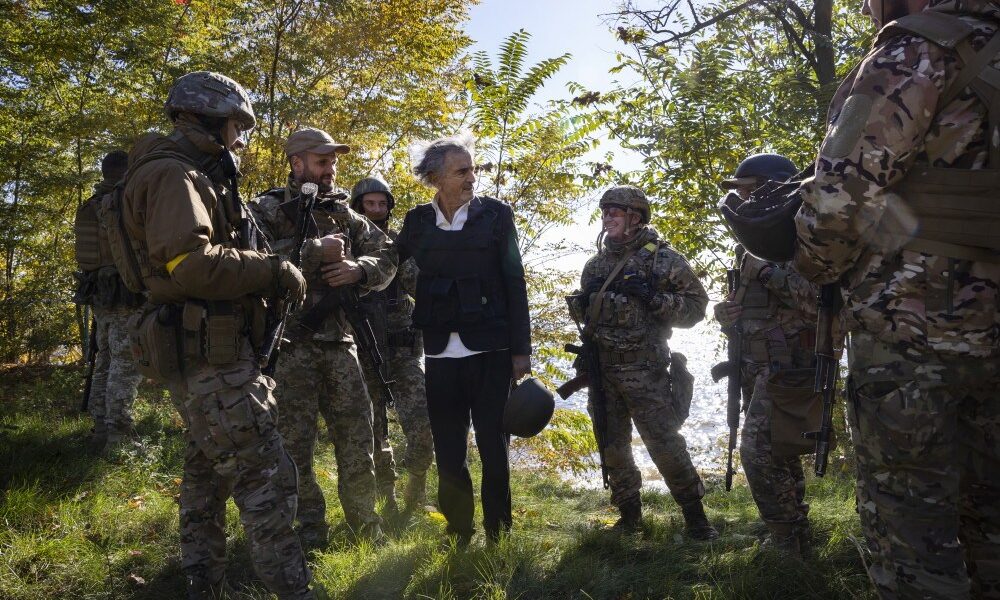 Friday, December 8
Glory to the Heroes by Bernard Henri-Levy
In June 2023, Russia destroys the Kakhovka dam in southern Ukraine and commits an unprecedented ecocide. In response, French philosopher and filmmaker Bernard-Henri Lévy returns to Ukraine to capture Ukraine's deep humanity despite the dire conditions, and a civilian resilience and resistance unlike any other.
In Glory to the Heroes, Lévy, along with his co-director Marc Roussel, spends the summer in eastern Ukraine recording for the world a passionate ode to Ukraine's courage on the battlefield while also depicting the overwhelming sorrow sowed by Russia's continuous attacks on civilians. On the ground during the Ukrainian counteroffensive, Lévy and Roussel embed with elite forces on the frontline. With unprecedented access, they capture the horrors of war, the hopefulness of the Ukrainian citizens and their optimism in the face of senseless destruction.
Genre: Documentary
Bernard Henri-Levy will be in attendance for Q&As, at the United Nations and in Los Angeles.
A Cohen Media release
Friday, December 15
Trailer of a Film That Will Never Exist: Phony Wars by Jean-Luc Godard
At the time of his death in September 2022, Jean-Luc Godard had been in the midst of planning another feature, an adaptation of Belgian author Charles Plisnier's 1937 novel Faux Passports. Though the film was never produced, the intricate and beautiful "trailer" that Godard put together in preparation now stands as his final work, a complex collage of history, politics, and cinema constructed of paper and glue, paintings and photographs, sound and silence. Godard often transformed his synopses into aesthetic programs. His swan song follows in this tradition and will remain as the ultimate gesture of cinema, which he accompanies with the following text: "Rejecting the billions of alphabetic diktats to liberate the incessant metamorphoses and metaphors of a necessary and true language by returning to the locations of past film shoots, while keeping track of modern times."
Genre: Experimental
20 min
A Kino Lorber release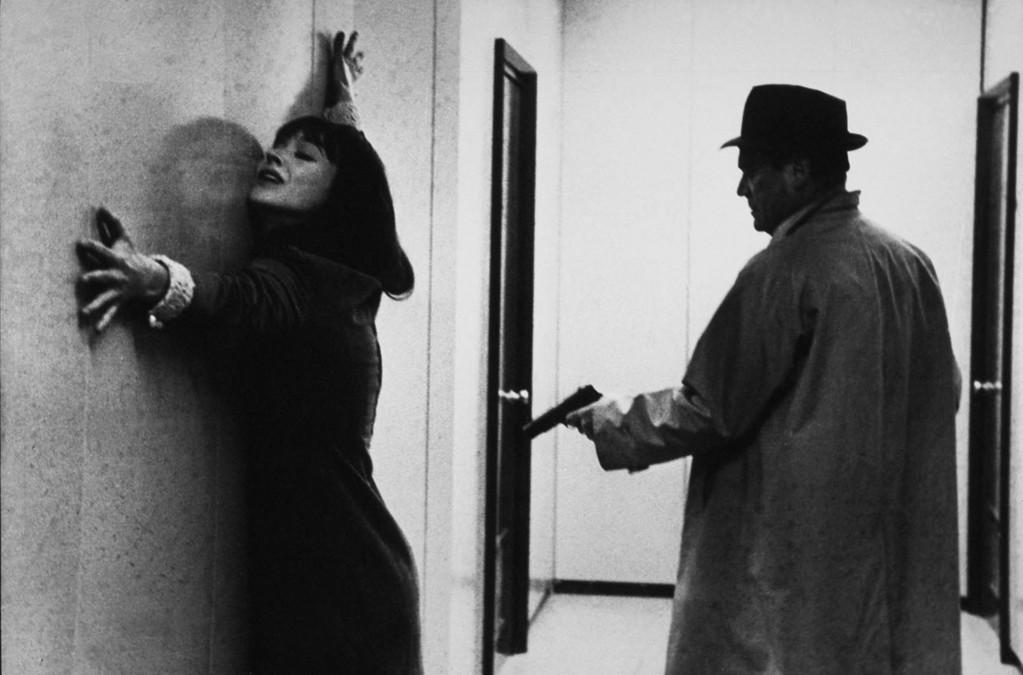 Friday, December 15
Alphaville by Jean-Luc Godard
Lemmy Caution (Eddie Constantine) is on a mission to eliminate Professor Von Braun, the creator of a malevolent computer that rules the city of Alphaville. Befriended by the scientist's beautiful daughter Natasha (Anna Karina), Lemmy must unravel the mysteries of the strictly logical Alpha 60 and teach Natasha the meaning of the word "love."
4K restoration from the original 35mm negative made by Studiocanal at Hiventy, with the support of the CNC
Genre: Drama, Science fiction, Mystery
100 min
Cast: Eddie Constantine, Anna Karina, Akim Tamiroff
A Rialto Pictures release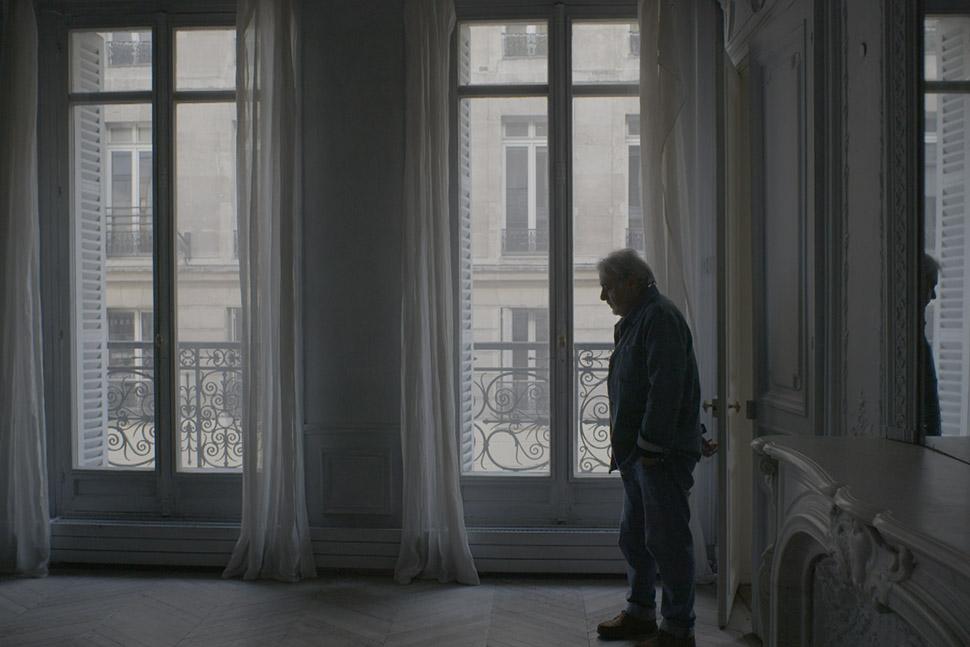 Friday, December 15
Godard Cinema by Cyril Leuthy
Jean-Luc Godard is synonymous with cinema. With the release of Breathless in 1960, he established himself overnight as a cinematic rebel and symbol for the era's progressive and anti-war youth. Sixty-two years and 140 films later, Godard is among the most renowned artists of all time, taught in every film school yet still shrouded in mystery. One of the founders of the French New Wave, political agitator, revolutionary misanthrope, film theorist and critic, the list of his descriptors goes on and on. Godard Cinema offers an opportunity for film lovers to look back at his career and the subjects and themes that obsessed him, while paying tribute to the ineffable essence of the most revered French director of all time.
Genre: Documentary
100 min
A Kino Lorber release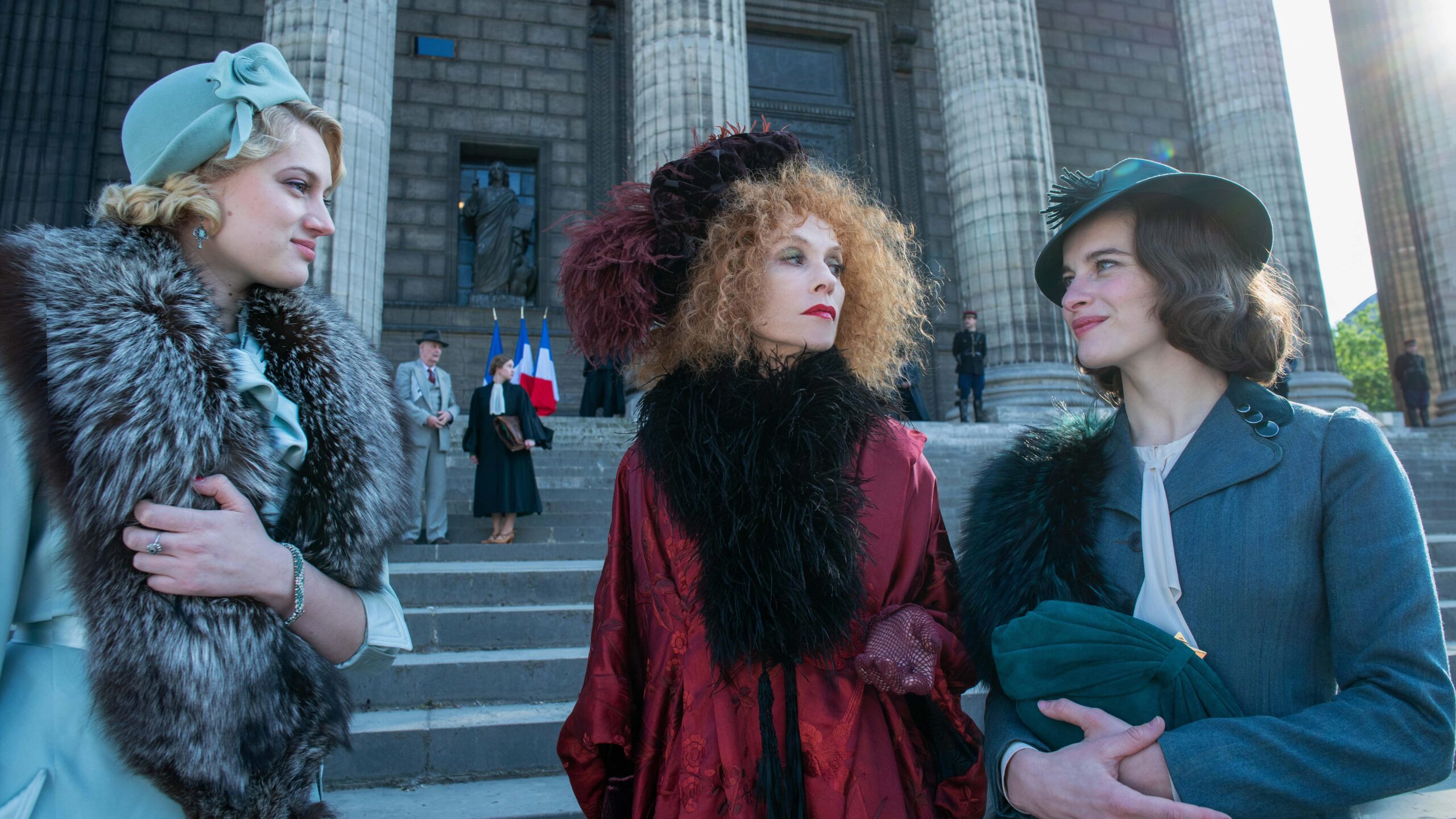 Monday, December 25
The Crime Is Mine by François Ozon
Paris in the 1930s — a playground for industrial heirs and debonair architects, but the City of Lights does not shine evenly for all. Struggling actress Madeleine (Nadia Terezkiewicz) and her best friend Pauline (Rebecca Marder), an unemployed lawyer, live in a cramped flat and owe five months' rent. Opportunity knocks after a lascivious theatrical producer who made an inappropriate advance towards Madeleine turns up dead. Madeleine stands trial for murder and ascends to decadent stardom, with Pauline serving as defense counsel and media circus ringmaster. A new life of fame, wealth, and tabloid celebrity awaits — until the truth comes out. Adapted from a 1934 play by Georges Berr and Louis Verneuil and featuring a murder's row of a supporting cast including Isabelle Huppert, Dany Boon, and Fabrice Luchini, The Crime Is Mine is a rollicking farce and scabrous satire with a wily feminist edge from one of French cinema's most chameleonic stylists, François Ozon.
Genre: Comedy, Crime/thriller
Cast: Nadia Tereszkiewicz, Rebecca Marder, Isabelle Huppert
102 min
A Music Box Films release
Coming out in November: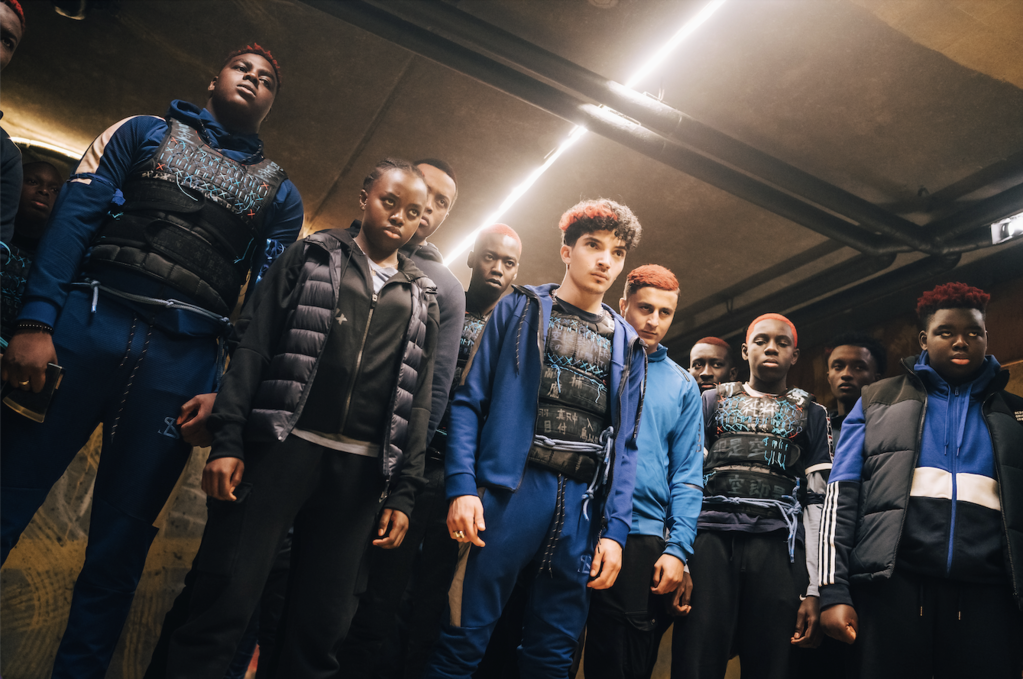 Friday, November 3
The Gravity by Cédric Ido
As eight planets prepare to enter an auspicious alignment, drug dealer Christophe (Jean-Baptiste Anoumon) returns home to the housing projects after serving time in prison, only to find that the familiar milieu has changed in his absence. His friend Daniel (Max Gomis) has gone straight, pursuing a career as a professional runner, while Christophe's brother, Joshua (Steve Tientcheu), now paralyzed from the waist down, has continued to sell narcotics. Shooting in his hometown of Seine-Saint-Denis, French-Burkinabe actor and writer-director Cédric Ido puts a sci-fi twist on this gritty, up-to-the-minute crime saga as the planetary configuration wreaks unexpected mental havoc on the towers' residents. Equally evoking the aliens-versus-gangs thriller Attack the Block and Ladj Ly's recent Oscar nominee and Cannes prize winner Les Misérables, Ido adroitly uses genre to comment on race, class, and the struggles of the recently incarcerated to reintegrate into society.
Genre: Action , Science fiction
Cast: Max Gomis, Jean-Baptiste Anoumon, Steve Tientcheu
86 min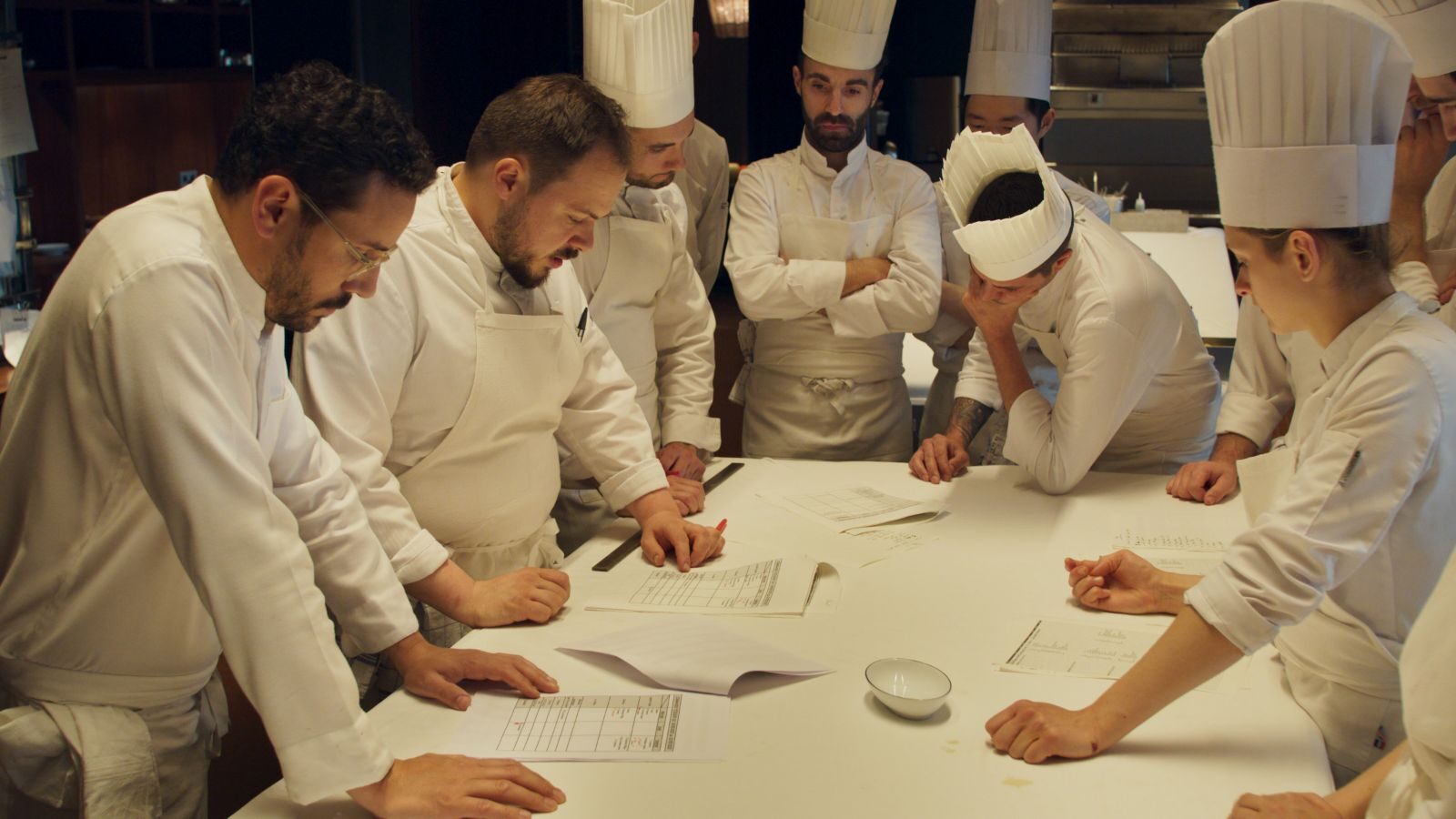 Wednesday, November 22
Menus-Plaisirs Les Troisgros by Frederick Wiseman
The United States's unrivaled maestro of observational nonfiction, Frederick Wiseman, brings his camera into a three-star Michelin restaurant in rural central France, and the results are as expansive, delectable, and provocative as one would hope. La Maison Troisgros, located in the Roanne commune in Loire, is run by head chef Michel Troisgros and his sons César and Léo. In addition to displaying the craft and skill that goes into Troisgros's mouthwatering dishes, Wiseman takes an organic approach, bringing us to the local farms that provide the restaurant's produce and animal products as well as behind the scenes with floor staff and administrators. The result is a patient, kaleidoscopic documentary portrait of the demand for perfection that makes for a surprising but apt subject in Wiseman's decades-long inquiries into the inner workings of complicated institutions that function with their own rules and standards.
Genre: Documentary
240 min
A Zipporah Films release
Coming out in October: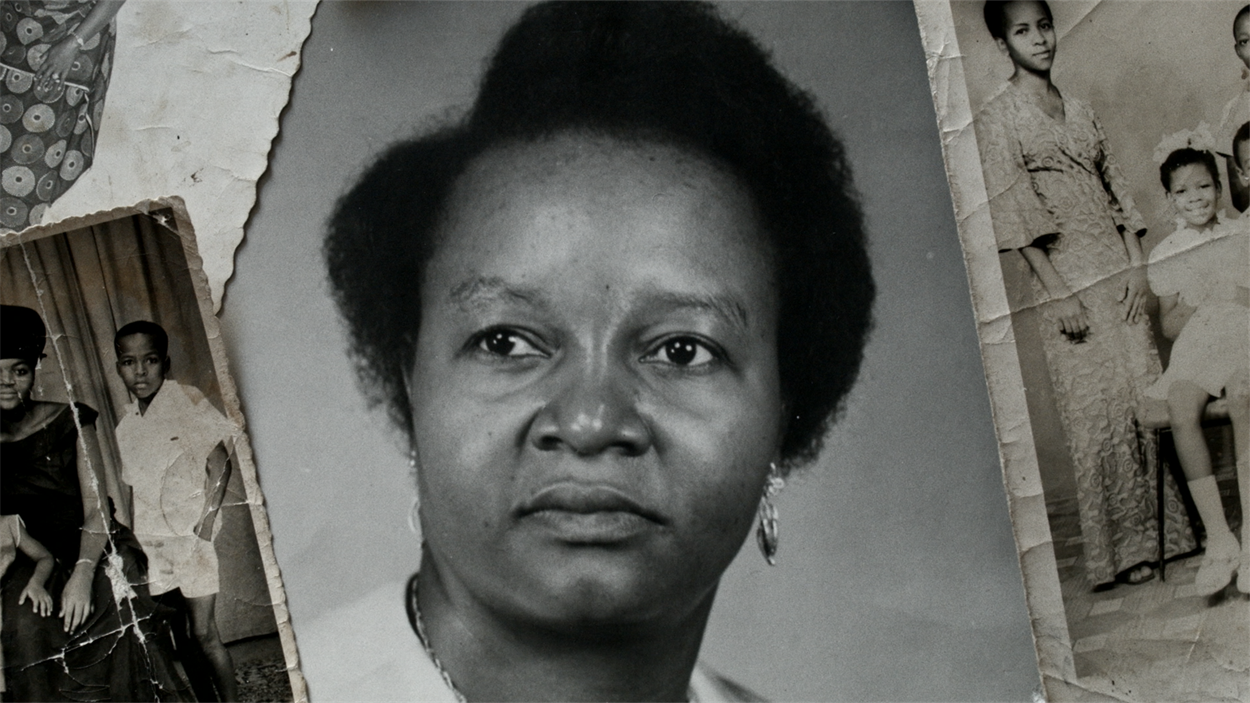 Friday, October 6
Colette and Justin by Alain Kassanda
Born in Kinshasa and living in Paris, filmmaker Alain Kassanda embodies the classic immigrant dual identity: in the Democratic Republic of Congo he is seen as French, while in France he is seen as Congolese. Determined to understand the colonial legacy from which he comes, Kassanda convinces his grandparents — Colette and Justin — to sit for a series of interviews. Together, they watch old news footage, remember a visit from the Belgian king, and recall what life was like as part of the nascent Black bourgeoisie who served the colonial administration. But Colette and Justin is more than a film about family reminiscences. Kassanda uses a wealth of black-and-white archival footage to tell the story, superimposing his own thoughts and his grandparents' voices over the visuals — in effect, using the colonizers' images against them.
Genre: Documentary
88 min
Alain Kassanda will be doing Q&As following screenings over opening weekend.
An Icarus Films release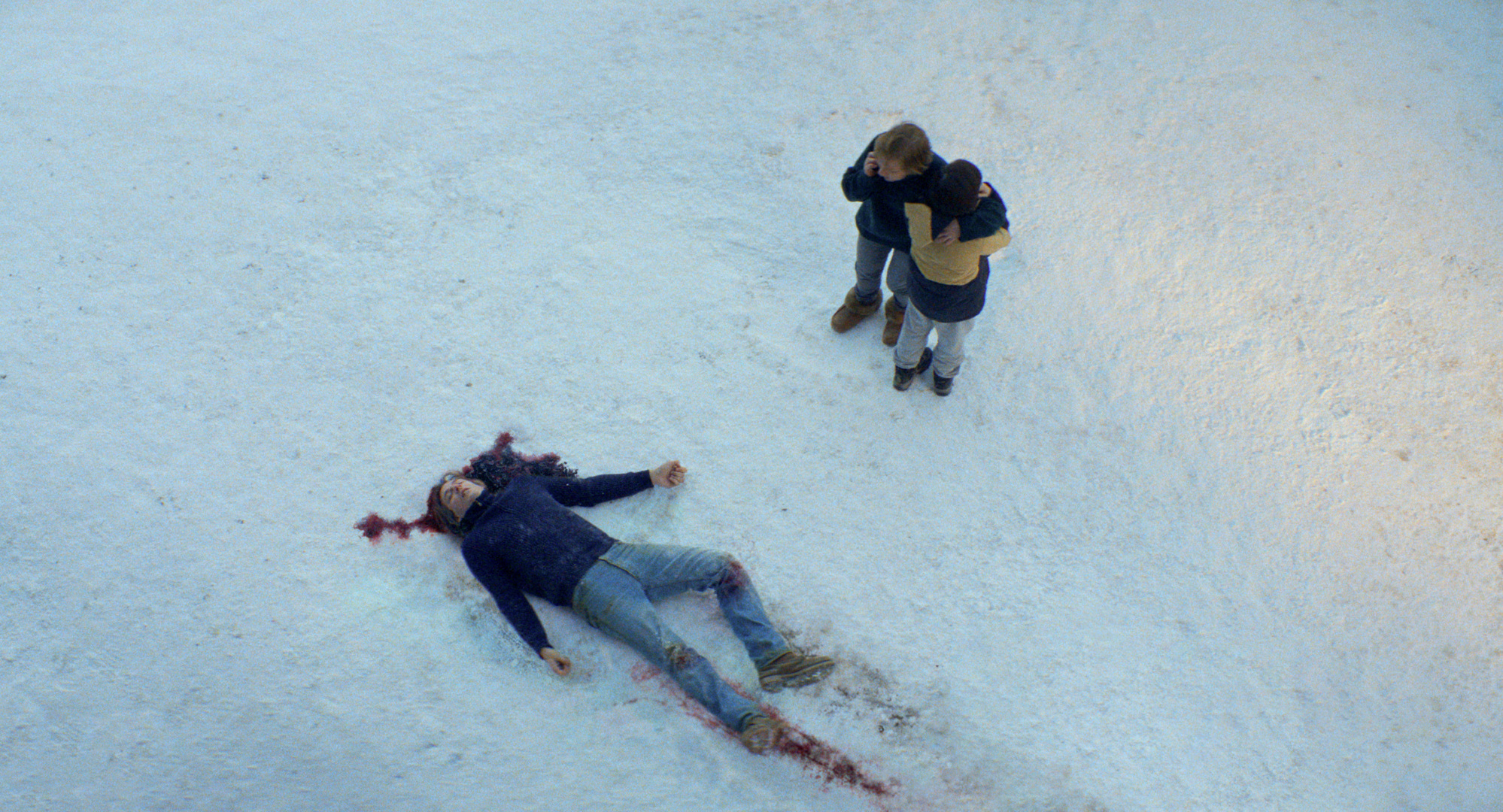 Friday, October 13
Anatomy of a Fall by Justine Triet
For the past year, Sandra, her husband Samuel, and their eleven-year-old son Daniel have lived a secluded life in a remote town in the French Alps. When Samuel is found dead in the snow below their chalet, the police question whether he was murdered or committed suicide. Samuel's suspicious death is presumed murder, and Sandra becomes the main suspect.
What follows is not just an investigation into the circumstances of Samuel's death but an unsettling psychological journey into the depths of Sandra and Samuel's conflicted relationship.
Genre: Drama
Cast: Sandra Hüller, Swann Arlaud, Milo Machado Graner, Antoine Reinartz
130 min
A NEON Rated release
From Friday, October 20 (VOD release Jan 12)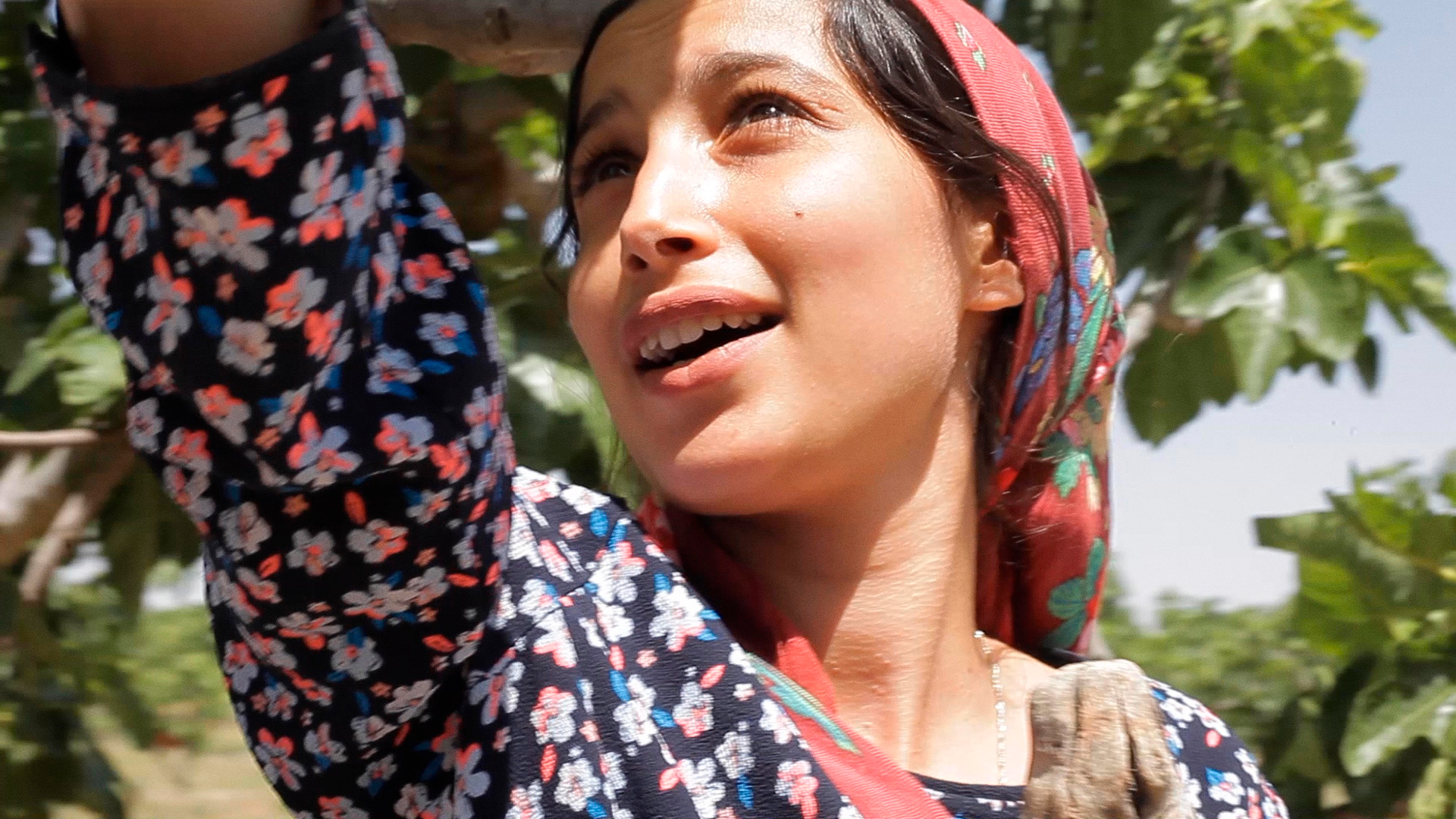 Under the Fig Trees by Erige Sehiri
On a hot summer day, a crew of workers – men and women, young and old – arrive at dawn at a picturesque fig orchard in northwest Tunisia. We eavesdrop, through the sun-dappled leaves of the fig trees, on the young women stealing away precious moments from the foreman's watchful gaze. Meanwhile, the older women, tasked with the careful job of packing the tender fruit, watch and reminisce together as well. They joke, argue, debate, gossip, flirt, all the while painting an unhurried but riveting portrait of everyday life in the rural society, where class, gender, and circumstance often don't allow for such personal freedoms. Set over the course of a single day, and with a cast made up of an intergenerational ensemble of non-professional actors, UNDER THE FIG TREES is "an elegant, understated tapestry of complex interactions [and] a pleasurable and immersive experience" (The Hollywood Reporter) that ultimately reveals the ways in which sisterhood itself becomes an act of resistance.
Genre: Drama
Cast: Ameni Fdhili, Fide Fdhili, Feten Fdhili
92 min
A Film Movement release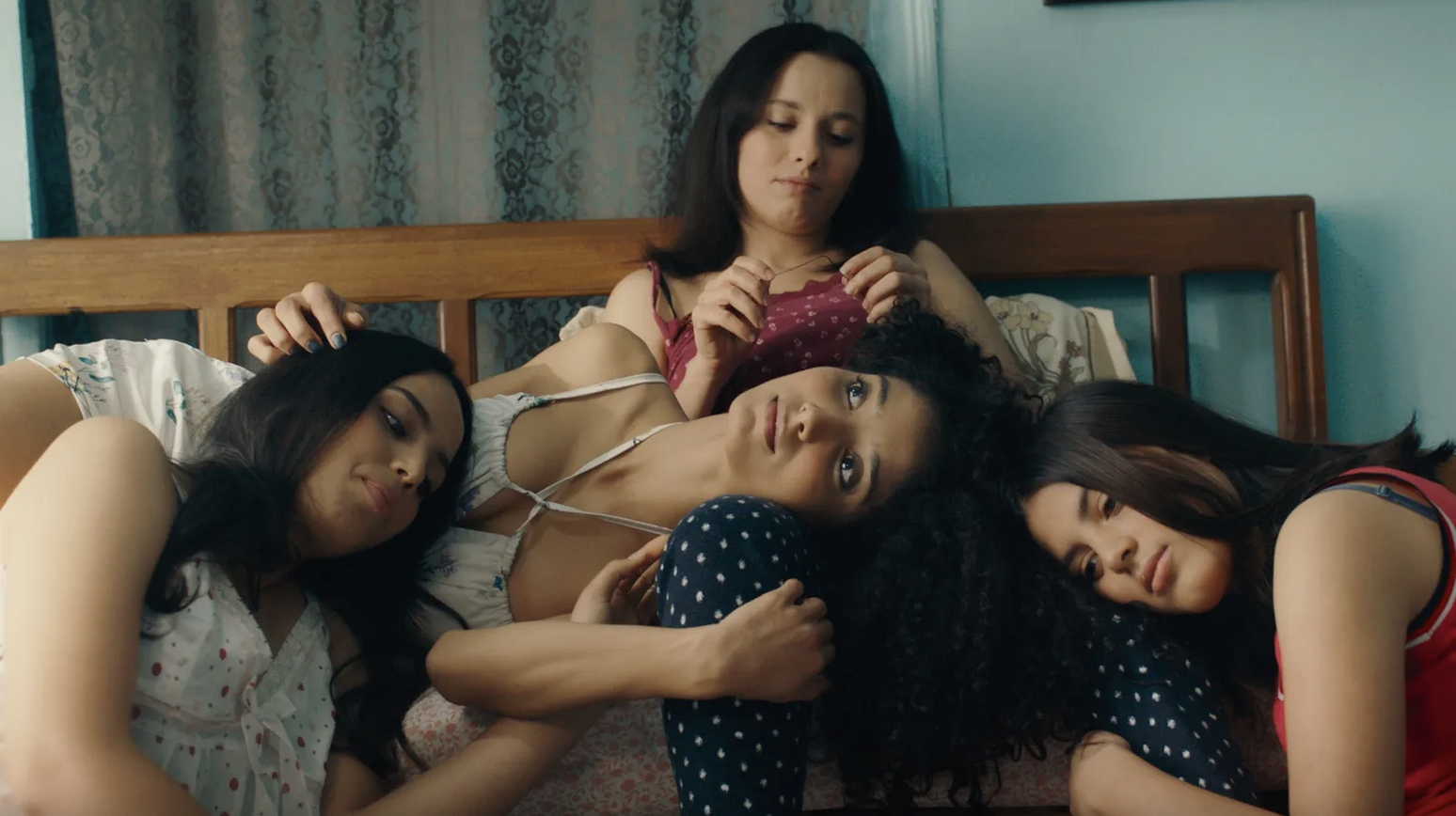 From Friday, October 27
Four Daughters (Les Filles d'Olfa) by Kaouther Ben Hania
This riveting exploration of rebellion, memory, and sisterhood reconstructs the story of Olfa Hamrouni and her four daughters, unpacking a complex family history through intimate interviews and artful reenactments to examine how the Tunisian woman's two eldest were radicalized by Islamic extremists. Casting professional actresses as the missing daughters, along with acclaimed Egyptian-Tunisian actress Hend Sabri as Olfa, award-winning director Kaouther Ben Hania (The Man Who Sold His Skin) restages pivotal moments in the family's life. These scenes are interwoven with confessions and reflections from Olfa and her younger daughters, offering the women agency to tell their own story and capturing moments of joy, loss, violence, and heartache. Winner of four prizes including L'Oeil d'Or (Best Documentary) when it screened in competition at the Cannes Film Festival, Four Daughters is a compelling portrait of five women and a unique and ambitious work of nonfiction cinema that explores the nature of memory, the weight of inherited trauma, and the ties that bind mothers and daughters.
Genre: Documentary
Cast: Hend Sabri, Olfa Hamrouni, Eya Chikhaoui, Tayssir Chikhaoui
110 min
A Kino Lorber release
Coming out in September: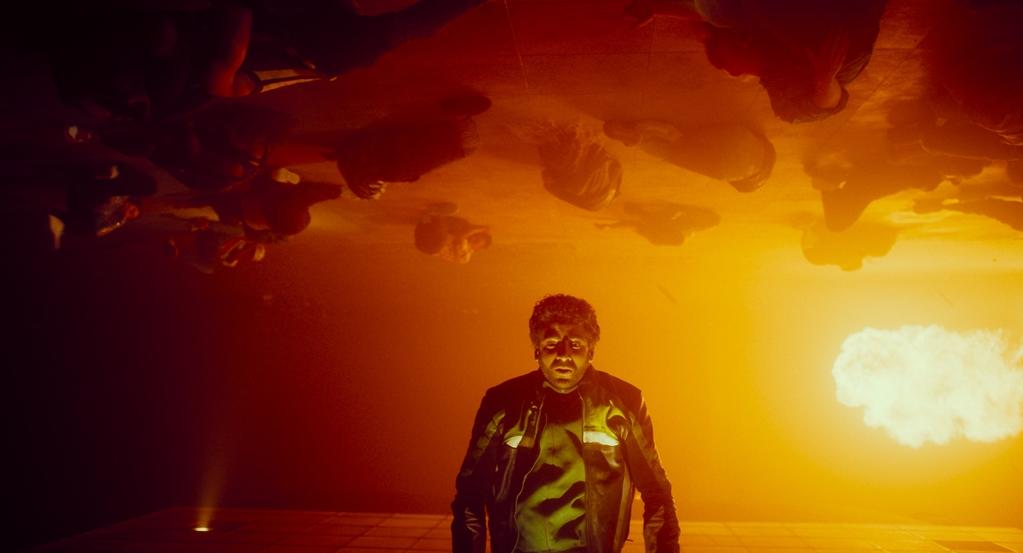 From Friday, September 15
Rebel by Adil El Arbi and Bilall Fallah
When Kamal resolves to change his life for the better, he leaves Belgium to help war victims in Syria. But, having arrived, he is forced to join ISIS and is left stranded in Raqqa. Back home, his younger brother Nassim quickly becomes easy prey for radical recruiters, who promise to reunite him with his brother. Their mother, Leila, fights to protect the only thing she has left: her youngest son.
Genre: Drama
Cast: Aboubakr Bensaihi, Lubna Azabal, Tara Abboud
135 min
A Yellow Veil Pictures release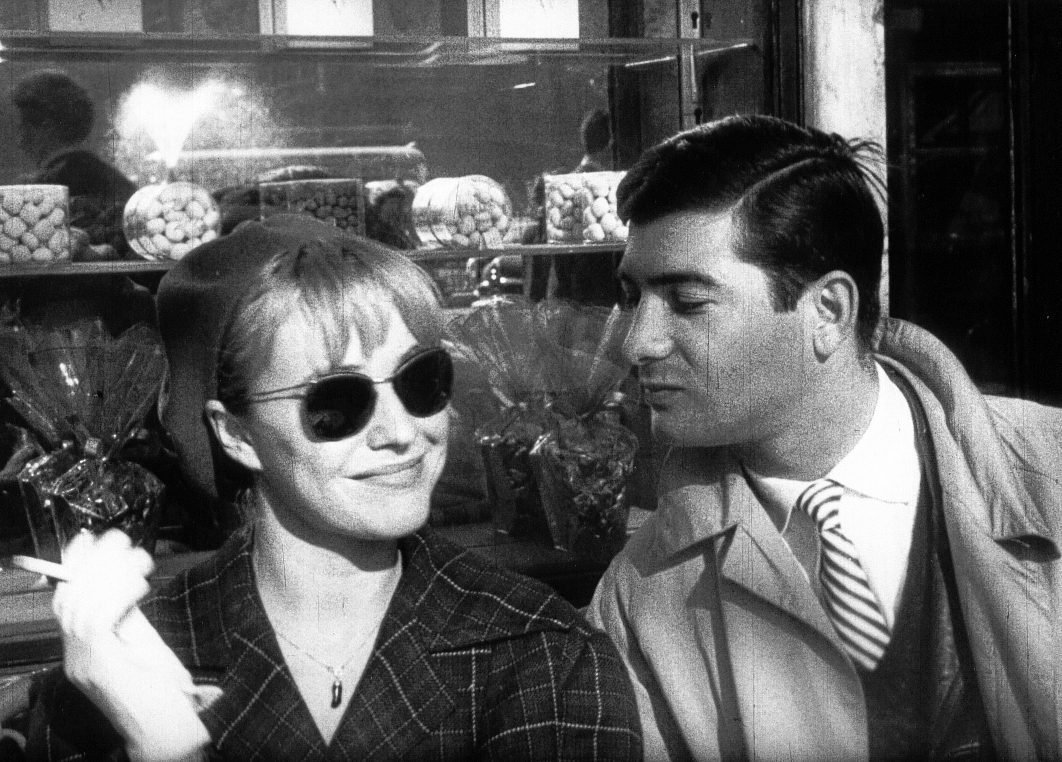 From Tuesday, September 19
Early Short Films by the New Wave with Alain Resnais, Jacques Rivette, François Reichenbach, Jean-Luc Godard, Agnès Varda, Jacques Doniol-Valcroze, François Truffaut, Maurice Pialat, Melvin Van Peebles, Guy Gilles, Jean Rouch, Jeanne Barbillon, Gisèle Braunberger
Icarus Films presents Early Short Films of the French New Wave on Blu-ray and DVD — nineteen short films from the dawn of the French New Wave, a group of talented young filmmakers, including Jean-Luc Godard, Francois Truffaut, Agnes Varda, & more, who presented a radically new vision of French cinema. These shorts are not just steppingstones on the way to the famed New Wave features, but classics that stand on their own, the first forays of a movement that would revolutionize the world of French film and influence cinema around the world for decades to come.
An Icarus Films release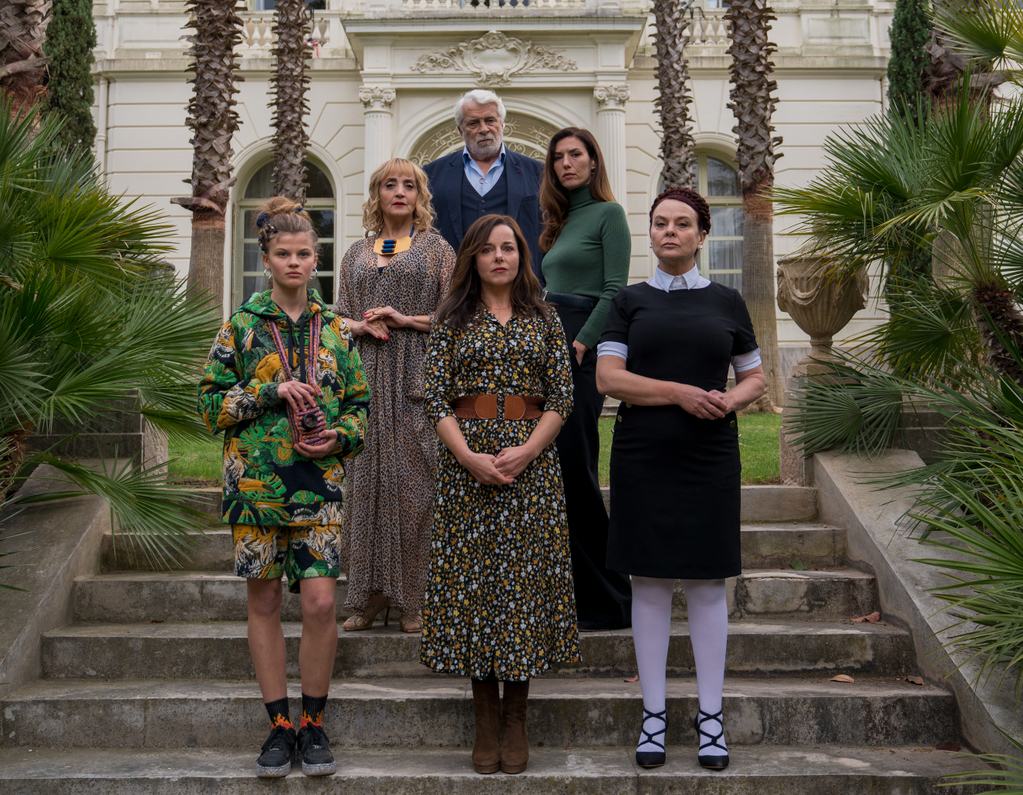 From Friday, September 22
The Origin of Evil by Sébastien Marnier
In a luxurious seaside villa, a modest young woman finds herself in the company of a strange family : an unknown and wealthy father, his extravagant wife, his daughter, an ambitious woman, a rebellious teenager, and their creepy maid.
Someone is lying.
Between suspicions and lies, a mystery grows and the evil spreads.
Genre: Drama, Thriller
Cast: Suzanne Clément, Laure Calamy, Doria Tillier, Jacques Weber, Dominique Blanc
120 min
A IFC Films release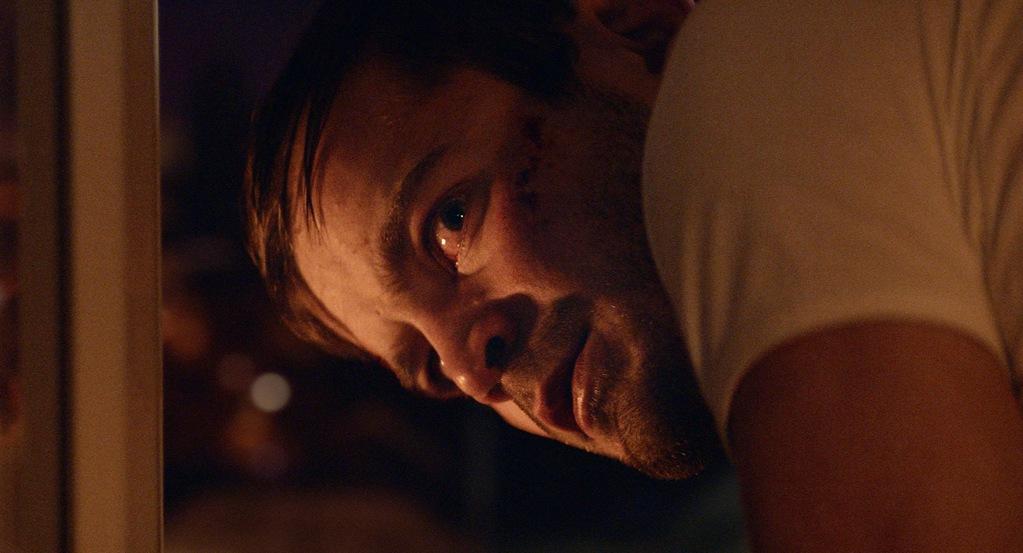 From Friday, September 29
Saturn Bowling by Patricia Mazuy
When his father dies, Guillaume, a police officer, inherits the family bowling alley and decides to give it to his half-brother Armand. But the gift is haunted, setting off a series of murders. Both brothers find themselves drawn into a demon-filled abyss and will have to face their heritage. Darkness reigns over a world where the only rule is the rule of the hunt.
Genre: Thriller
Cast: Arieh Worthalter, Achille Reggiani, Y Lan Lucas, Leïla Muse
114 min
A Dark Star Pictures release
Coming out in August: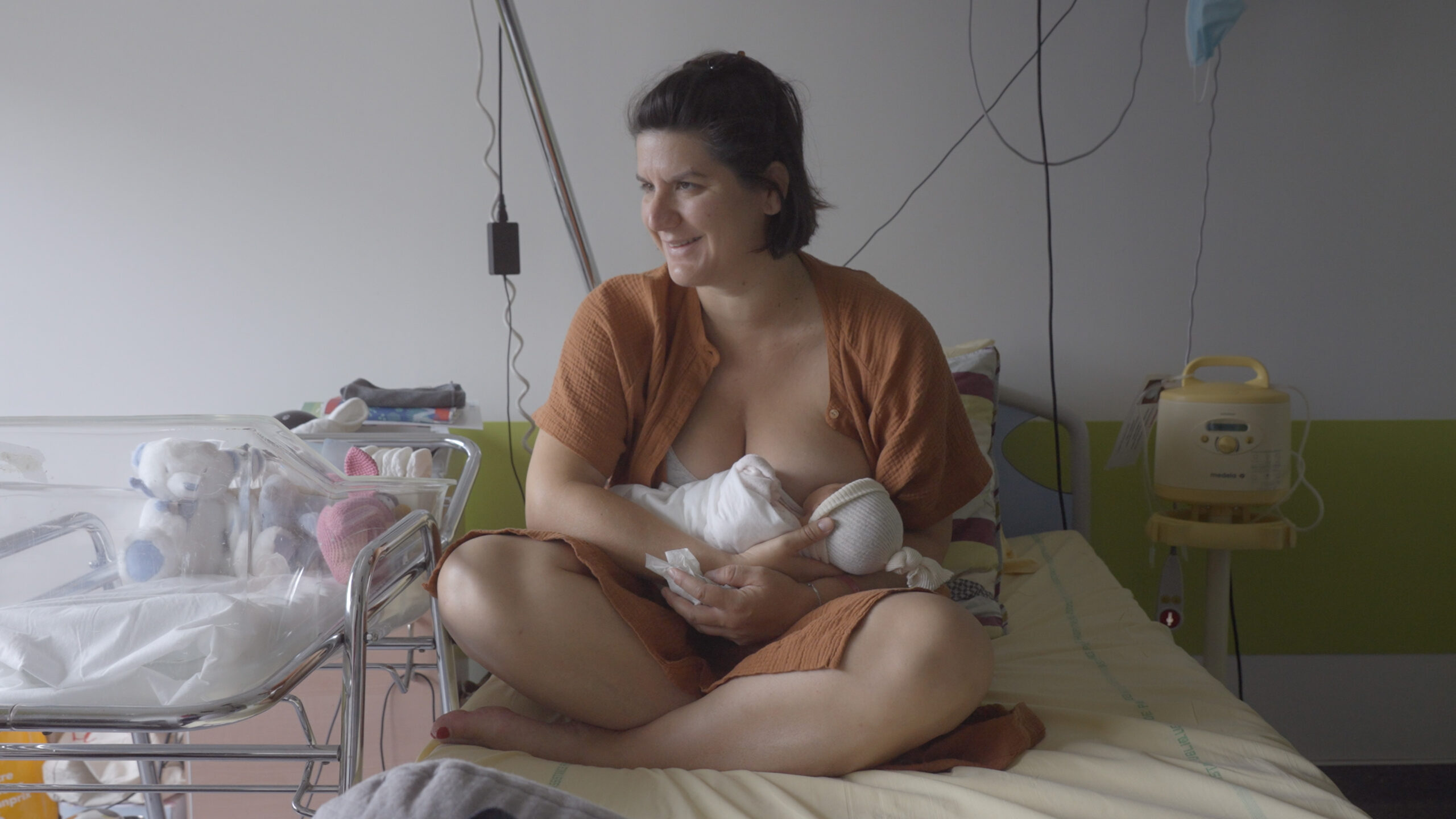 From Friday, August 4
Our Body by Claire Simon
French documentary titan Claire Simon observes the everyday operations of the gynecological ward in a public hospital in Paris. In the process, she questions what it means to live in a woman's body, filming the diversity, singularity and beauty of patients in all stages of life. Through these many encounters, the specific fears, desires and struggles of these individuals become the health challenges we all face, even the filmmaker herself.
Genre: Documentary
168 min
A Cinema Guild release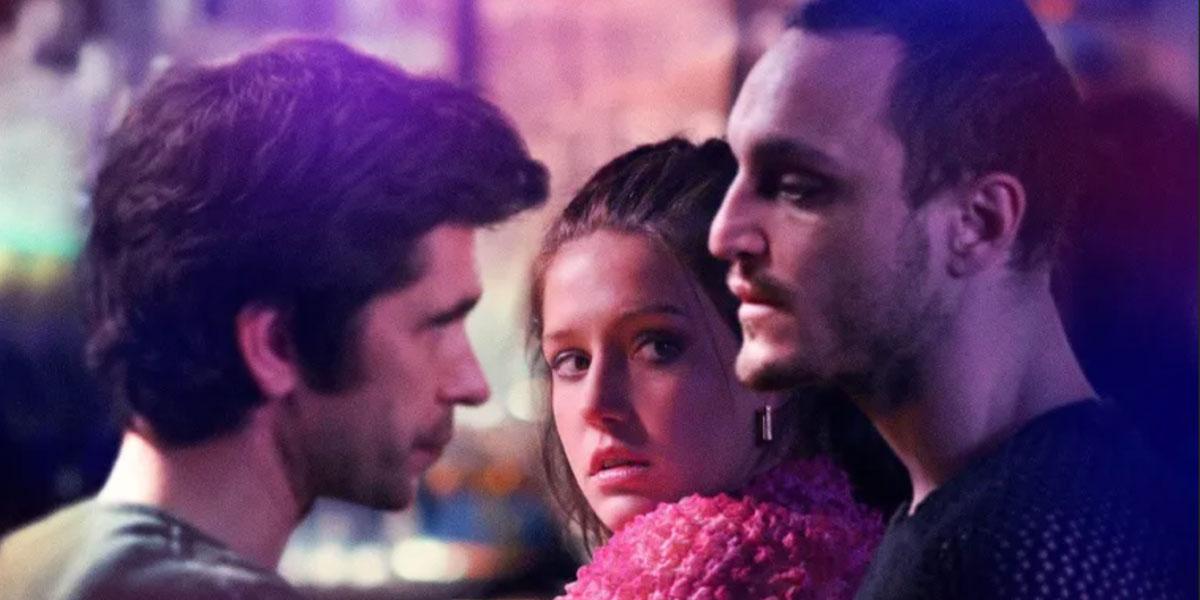 From Friday, August 4
Passages by Ira Sachs
Set in Paris, this seductive drama tells the story of Tomas (Rogowski) and Martin (Whishaw), a gay couple whose marriage is thrown into crisis when Tomas begins a passionate affair with Agathe (Exarchopoulos), a younger woman he meets after completing his latest film. 
Genre: Drama
Cast:  Franz Rogowski, Ben Whishaw, Adèle Exarchopoulos 
97 min
A Mubi release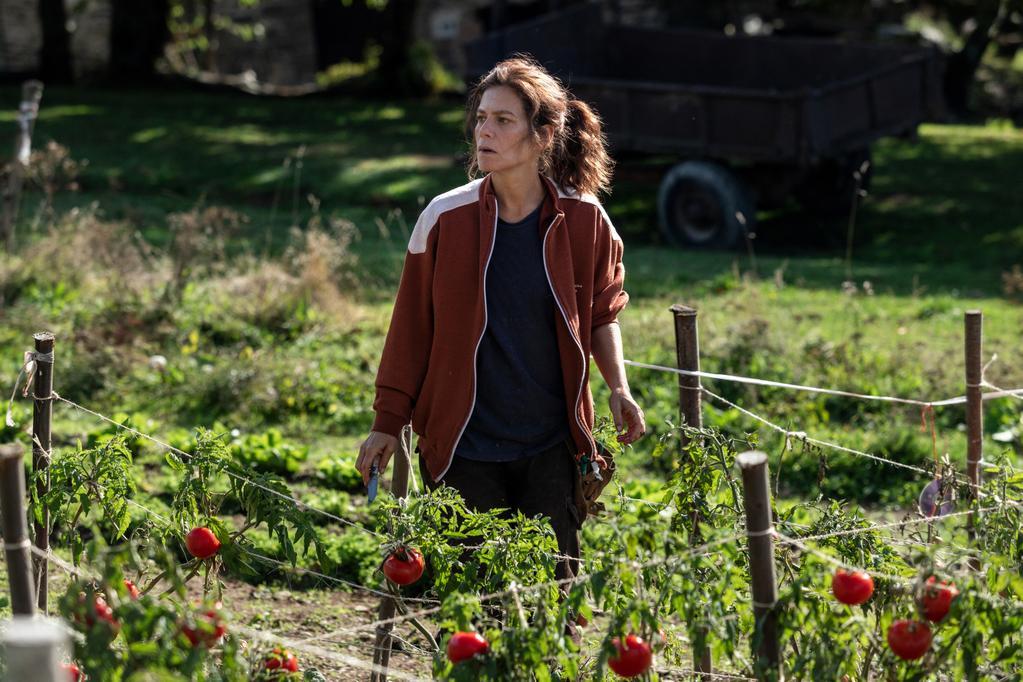 From Friday, August 4
The Beasts by Rodrigo Sorogoyen
Antoine and Olga, a French couple, have been living in a small village in Galicia for a long time. They practice eco-responsible agriculture and restore abandoned houses to facilitate repopulation. Everything should be idyllic but for their opposition to a wind turbine project that creates a serious conflict with their neighbors. The tension will rise to the point of irreparability. 
Genre: Thriller
Cast:  Marina Foïs, Denis Ménochet, Luis Zahera
137 min
A Greenwich Entertainment release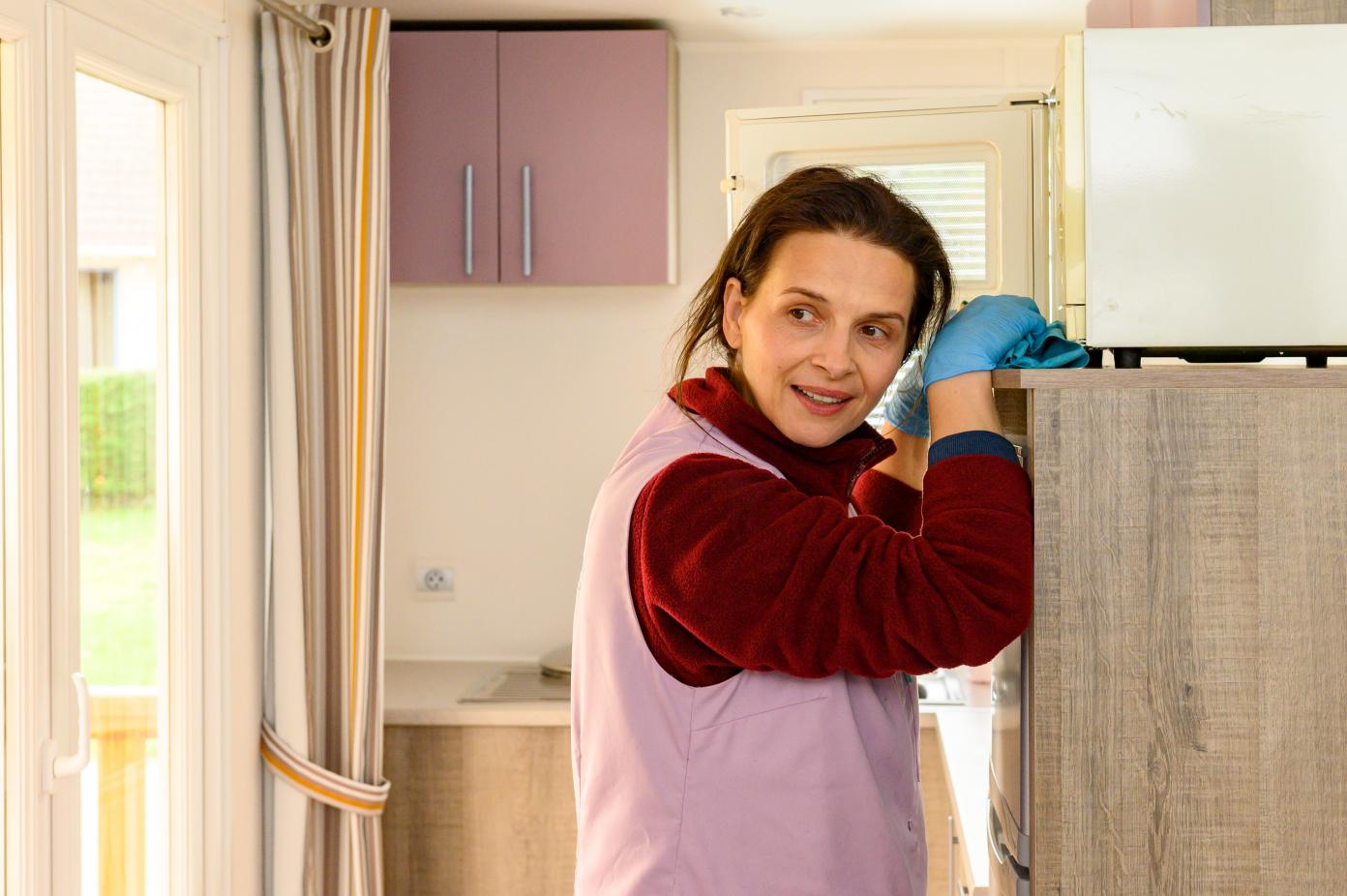 From Friday, August 11
Between Two Worlds (Ouistreham) by Emmanuel Carrère
Marianne Winckler, a well-known author, goes to live in northern France to research for her new book on the subject of job insecurity. Without revealing her true identity, she gets hired as a cleaner, working with a group of other women.
In this new role, she experiences financial instability and social invisibility first-hand. But she also discovers mutual assistance and solidarity, strong bonds shared by these behind-the-scenes working women.
Genre: Drama
Cast:  Juliette Binoche, Hélène Lambert, Léa Carne 
106 min
On August 11, the film will open at the Quad Cinema in New York and at Laemmle's Royal Theater in Los Angeles before the nationwide release on August 25.
On August 18, join us for the Atlanta opening of the film at the Tara Theatre.
A Cohen Media Group release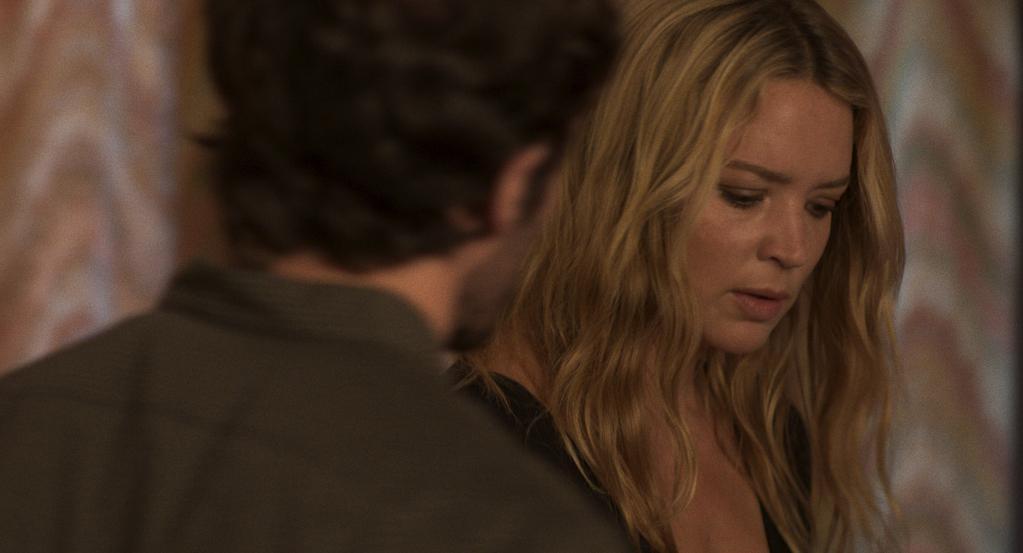 From Friday, August 18
Madeleine Collins by Antoine Barraud
Judith (Virginie Efira)'s life is split between two households in two countries. In Switzerland, she is Margot, a translator who lives with Abdel (Quim Gutierrez) and the little girl they are raising. In France, she is known as Judith and lives a glamorous life with acclaimed orchestra conductor Melvil (Bruno Salomone) and their two older boys. This fragile balance, based on complex lies and tightly scheduled back-and-forth trips, gradually begins to crack and veer dangerously off the rails. The mysterious reasons for her lies, and the complications that ensue from her efforts to keep the two lives separate, propel the third narrative feature from Antoine Barraud anchored by a virtuoso turn from Efira in all of her character's many guises.
Genre: Drama
Cast:  Virginie Efira, Quim Gutierrez, Bruno Salomone 
107 min
A Greenwich Entertainment release
From Friday, August 18
The biopic about Simone Veil (Elsa Zylberstein), one of the prominent women in France in the 20th Century. Simone Veil's life story, from her childhood to her major political battles, seen through the pivotal events of the twentieth century. An intimate and epic portrait of an extraordinary woman who eminently challenged and transformed her era: her humanist message is still keenly relevant today.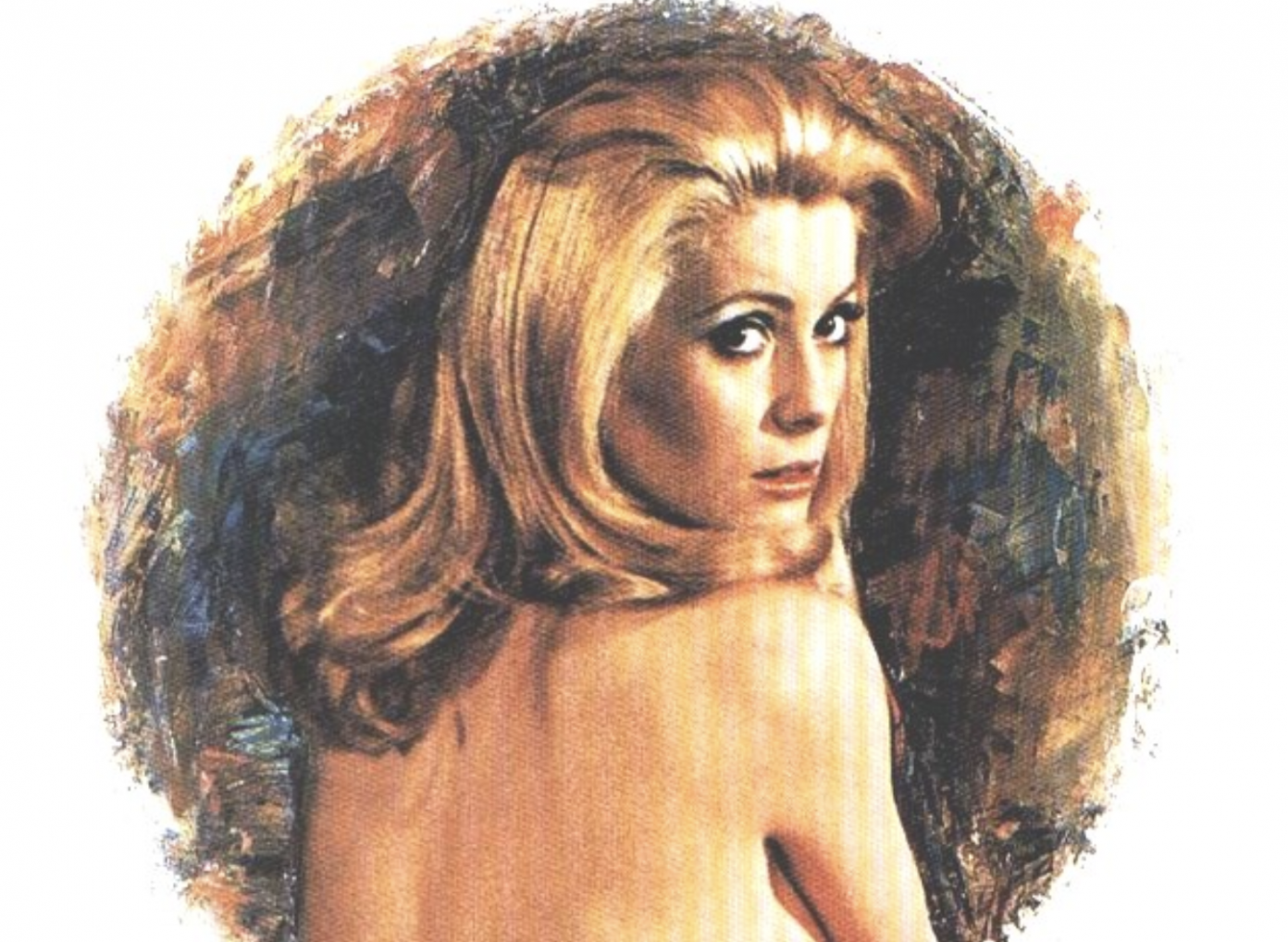 From Wednesday, August 30
Belle de Jour by Luis Buñuel
Beautiful young housewife Séverine Serizy (Catherine Deneuve) cannot reconcile her masochistic fantasies with her everyday life alongside dutiful husband Pierre (Jean Sorel). When her lovestruck friend Henri (Michel Piccoli) mentions a secretive high-class brothel run by Madame Anais (Genevieve Page), Séverine begins to work there during the day under the name Belle de Jour. But when one of her clients (Pierre Clémenti) grows possessive, she must try to go back to her normal life.
Genre: Drama
Cast: Catherine Deneuve, Jean Sorel, Michel Piccoli
111 min
A Janus Films release
Coming out in June:
Coming out in July: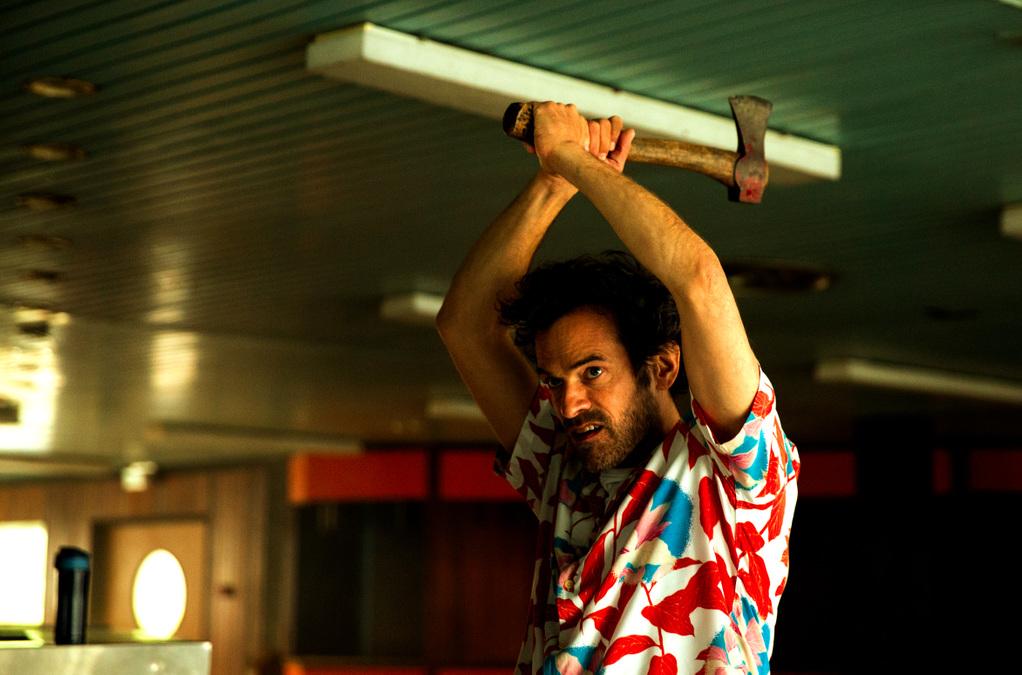 From Friday, July 14
Final Cut by Michel Hazanavicius
In a disused factory, a Z-grade horror film shoot is in full swing. Jaded technicians, uninvolved actors… only the director seems to possess the necessary energy to give life to this umpteenth low-budget zombie movie. During the preparation of a particularly difficult shot, filming is disrupted by an eruption of the real living dead. In front of the camera, everything looks more-or-less normal. Behind it, the crew is freewheeling to save the film while following their one and only watchword: DON'T CUT!
Genre: Comedy
Cast: Romain Duris, Bérénice Bejo, Finnegan Oldfield, Matilda Lutz
110 min
A Kino Lorber release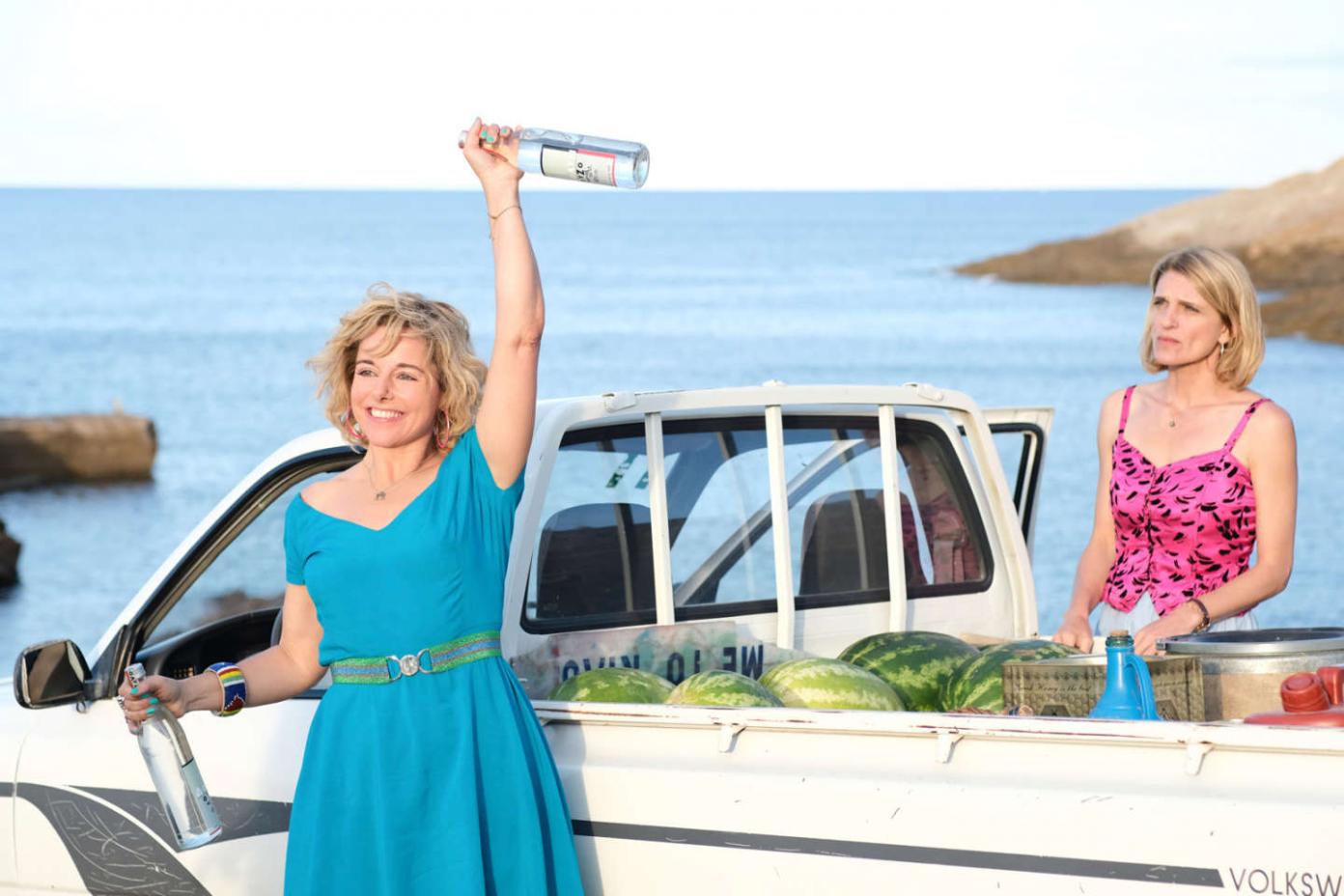 Friday, July 14 in NYC and Los Angeles
Two Tickets to Greece by Marc Fitoussi 
Recently divorced, and watching helplessly as her only son leaves home, 40-something Blandine (Olivia Côte) is struggling to find her footing again. When her childhood former best friend Magalie (a scene-stealing Laure Calamy), loud and fearless, suddenly resurfaces, the two women reconnect, and Blandine reluctantly allows herself to be spontaneous for a change. They decide to take the summer trip to the Greek Islands they had always dreamed of as teenagers, but, as they head off towards their destination, it's apparent that Magalie's very different approach to vacationing – and life – could lead Blandine to her breaking point. Kristin Scott Thomas co-stars as Magalie's free-spirited expat friend and mentor.
Cast: Laure Calamy, Kristin Scott-Thomas, Olivia Côte
110 min
A Greenwich Entertainment release.
Simone: Woman of the Century by Olivier Dahan
Genre: Fiction
Cast: Elsa Zylberstein, Rebecca Marder, Olivier Gourmet
180 min
A Samuel Goldwyn Films release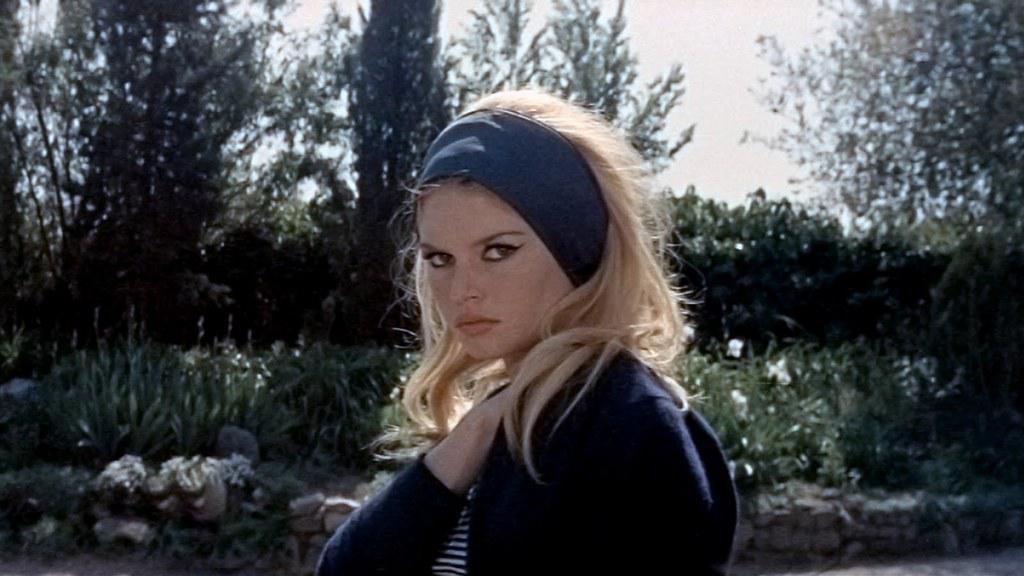 From Friday, June 30 to Tuesday, September 5
Contempt by Jean-Luc Godard
Scenes from a marital breakdown between screenwriter (Michel Piccoli) and his wife (Brigitte Bardot), as both become enmeshed in the behind-the-camera struggles of a director (Fritz Lang) and producer (Jack Palance) as they film an adaptation of Homer's The Odyssey.
Restored and digitized in 4K by Studiocanal at Hiventy with support from the CNC, from the original 35mm negative, interpositive, and reference print by Raoul Coutard.
Genre: Drama
Cast:  Brigitte Bardot, Jack Palance, Michel Piccoli, Fritz Lang
103 min
A Rialto Pictures release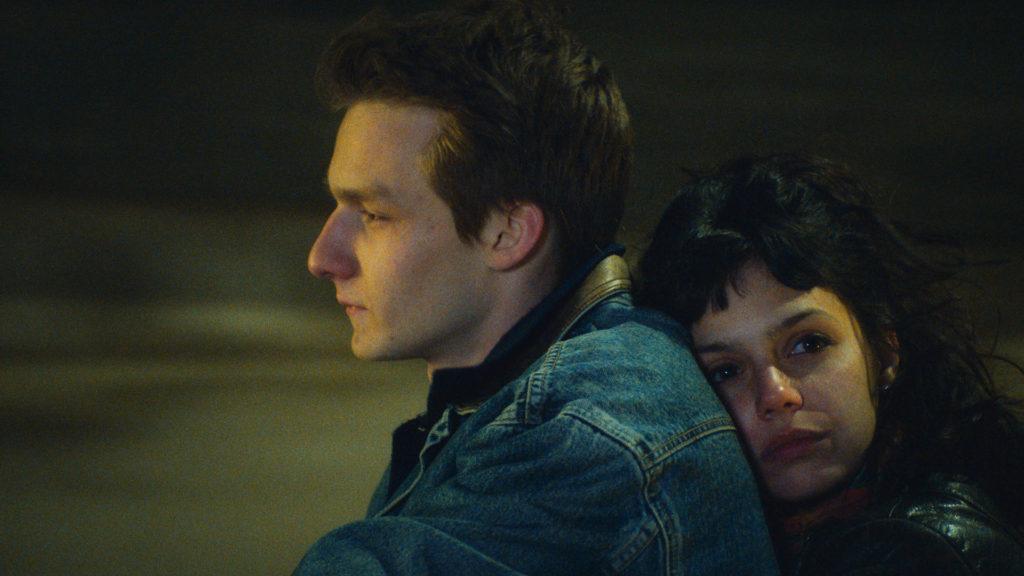 From Friday, June 30
The Passengers of the Night by Mikhaël Hers
Paris, 1981: on election night, celebrations spill out onto the street. An air of hope and change courses throughout the city, but the future doesn't look rosy for Elisabeth (Charlotte Gainsbourg)– her marriage is coming to an end, and she'll have to support herself and her two teenage children.  Things start to look up, however, when she finds work at a late-night radio show.  And then a troubled young woman enters her life.
Genre: Drama
Cast:  Charlotte Gainsbourg, Noée Abita, Quito Rayon Richter, Emmanuelle Béart, Megan Northam 
111 min
A KimStim release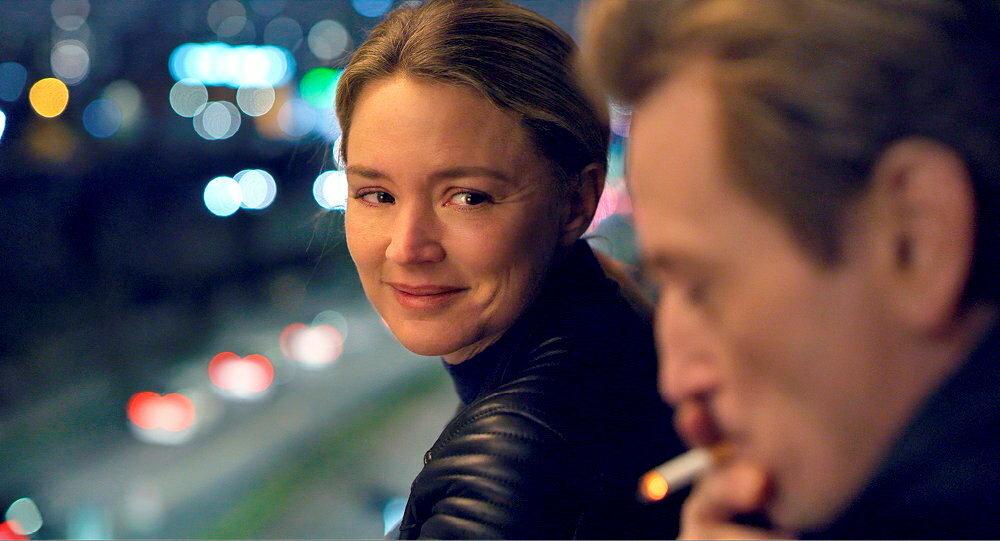 From Friday, June 23 in NYC (Film at Lincoln Center and IFC Film Center) & June 30 in LA (Laemmle's Royal)
Revoir Paris by Alice Winocour 
After surviving a mass shooting in a Paris restaurant, Mia (Virginie Efira) is haunted, unable to resume life as usual, and left with a total blackout where her memories of the traumatic incident should be. Determined to reconstruct the sequence of events and reestablish a sense of normalcy, Mia finds herself repeatedly returning to the bistro where the shooting happened. In the process, she forms bonds with fellow survivors.  
Genre: Drama
Cast:  Virginie Efira, Benoît Magimel, Nastya Golubeva 
104 min
A Music Box Films release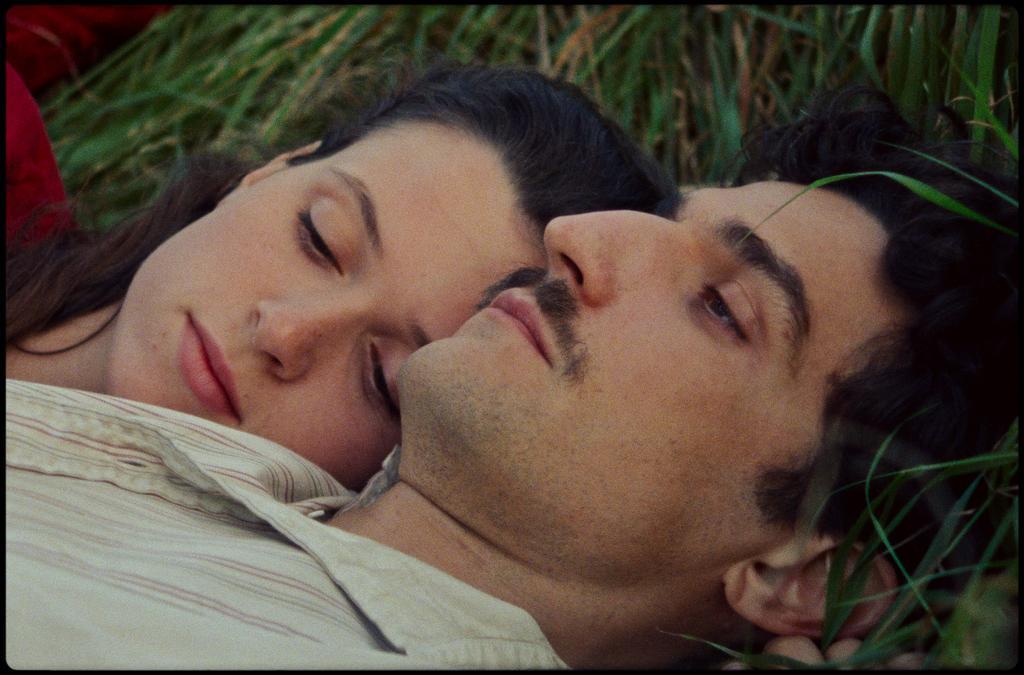 From Friday, June 9 
Scarlet by Pietro Marcello 
The film begins as the tale of a sensitive brute (Raphaël Thiéry) who returns home from World War I to his rural French village to discover that his wife has died and he must take care of their baby daughter, Juliette, then blossoms into a pastoral portrait of Juliette (Juliette Jouan) as a free-spirited young woman reckoning with a local witch's prophecy for her future and falling for the modern man (Louis Garrel) who literally drops from the sky. In his first film made in France, Marcello proves again that he is as comfortable in the realm of folklore as he is in creative nonfiction, delicately interweaving realist drama, ethereal romance, and musical flights of fancy. An NYFF60 Main Slate selection. 
Genre: Drama
Cast:  Juliette Jouan, Raphaël Thiery, Noémie Lvovsky, Louis Garrel 
103 min
A Kino Lorber release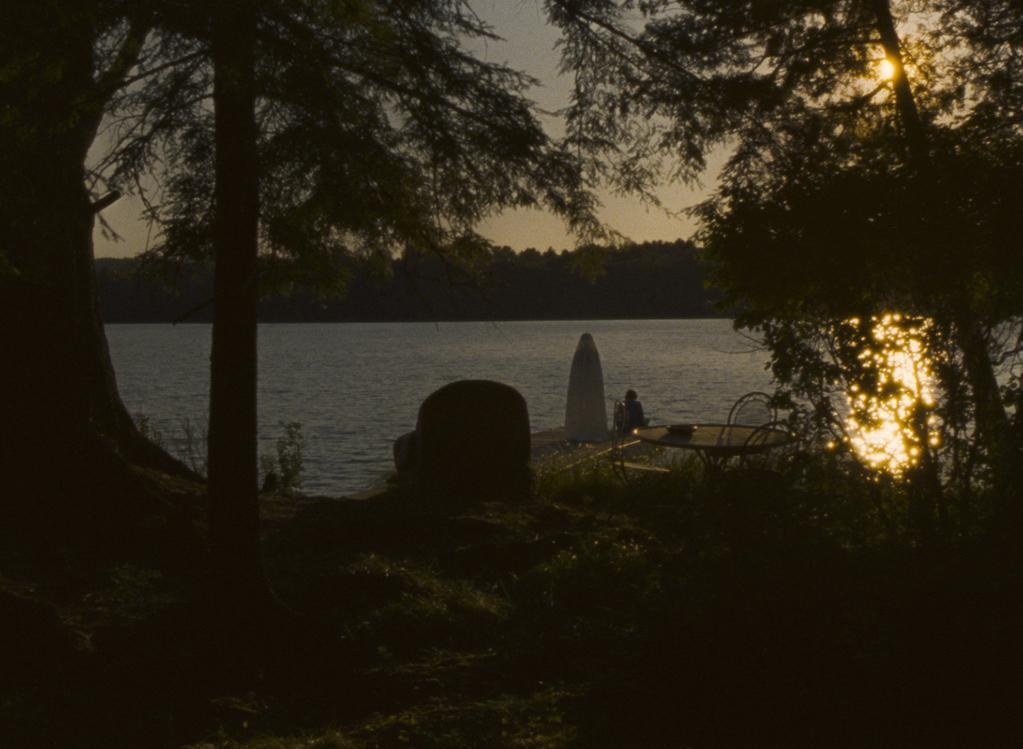 From Friday, June 2 in LA (Laemmle's Monica Film Center)
Falcon Lake by Charlotte Le Bon
Prix Louis-Delluc 2022 for best first film
Bastien (Joseph Engel) and Chloé (Sara Montpetit) spend their summer vacation with their families at a lake cabin in Quebec, haunted by a ghost legend. Despite the age gap between them, the two teenagers form a singular bond. Ready to overcome his worst fears to earn a place in Chloé's heart, the holiday becomes a turbulent pivotal moment for the young boy. Based on the book Une sœur by Bastien Vivès (2017).
Genre: Drama, romance
Cast: Joseph Engel, Sara Montpetit, Monia Chokri, Arthur Igual, Karine Gonthier-Hyndman
100 min
A Yellow Veil Pictures release.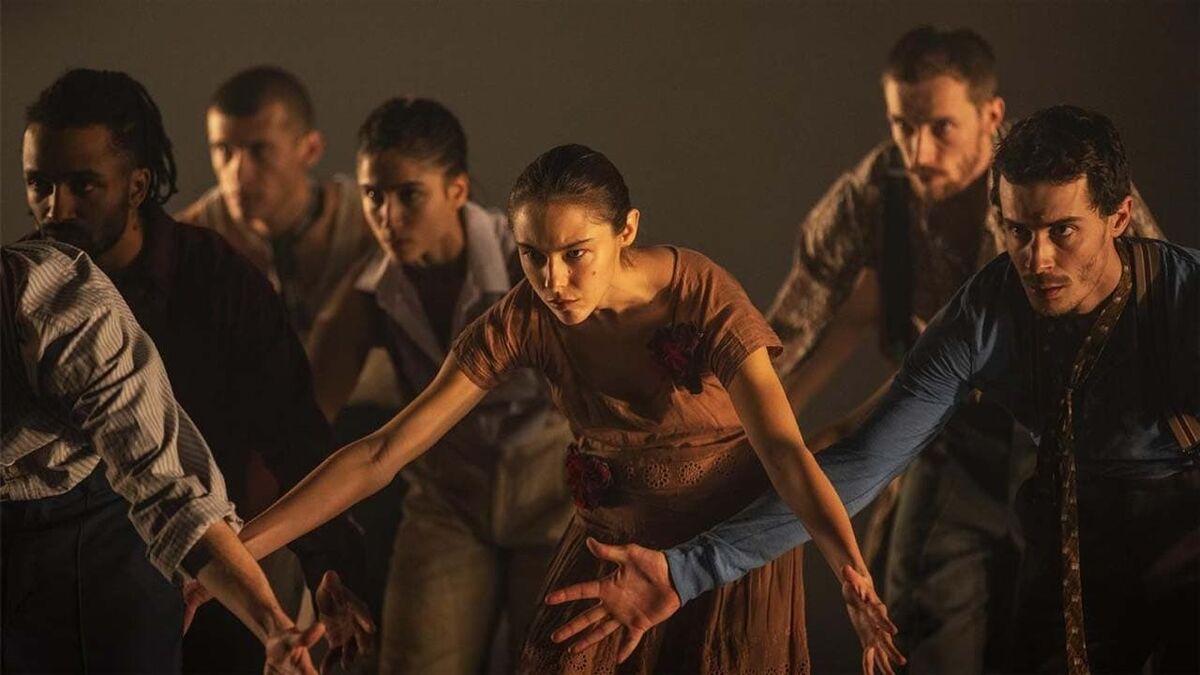 Friday, June 2
Rise by Cédric Klapisch
Élise thought she had the perfect life: an ideal boyfriend and a promising career as a ballet dancer. It all falls apart the day she catches him cheating on her; and after she suffers an injury on stage, it seems like she might not be able to dance again. The path to physical and emotional recovery will lead her away from Paris to a picturesque location in Brittany – where her friends, a new love and the freedom of contemporary dance will help her reconnect with her father and most importantly, herself. A heartwarming and inspiring story that tells us how sometimes, the worst thing that could happen may turn out to be the best.
Genre: Comedy, Dance
Cast: Marion Barbeau, François Civil, Pio Marmaï, Denis Podalydès, Hofesh Shechter 
120 min
A Blue Fox Entertainment release.
Sign up to receive exclusive news and updates